Why Miley Cyrus Is Celebrating 'P***ing People Off'
Singer-songwriter Miley Cyrus has been in the spotlight for years. Now, she's taking advantage of an anniversary to send a message.
It's not easy to be a pop star, or an actor, or anyone in the limelight. And few people know this more than Miley Cyrus. Because she grew up famous, there's been a lot of focus on her career and relationships over the years. But Cyrus takes it all, even her pending divorce, in stride. Here's why she's embracing this special anniversary.
Miley Cyrus' image has changed a lot over the years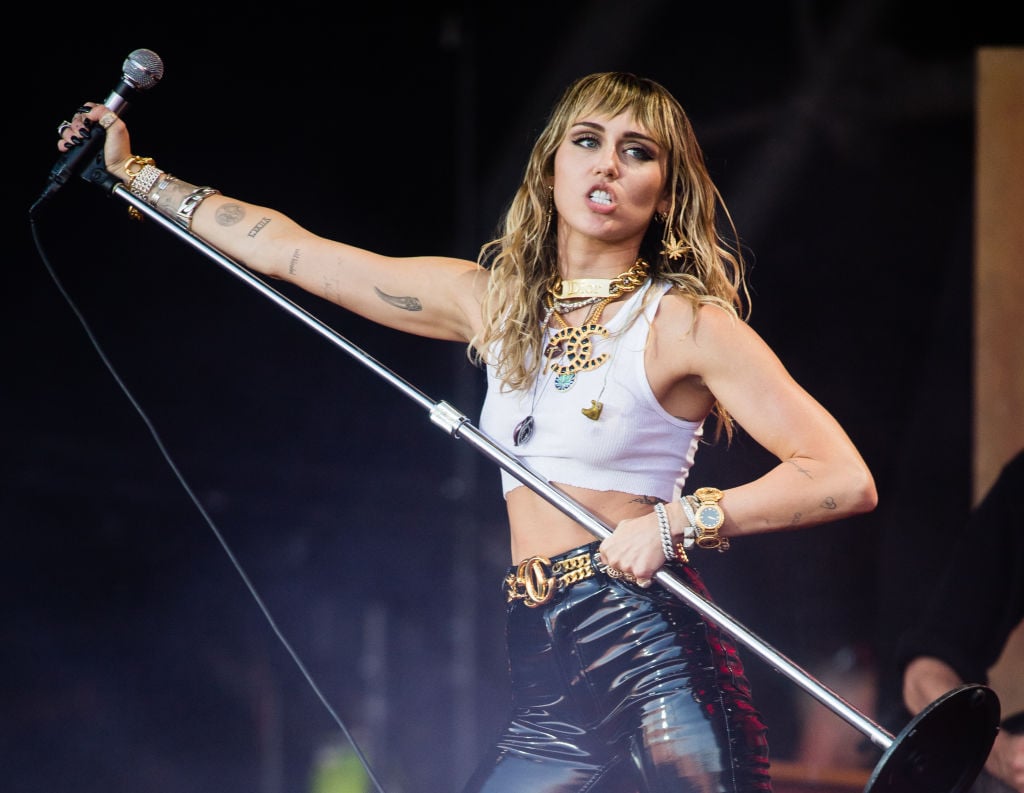 Growing up in the spotlight, Cyrus has changed right in front of our eyes. And, naturally, everyone has an opinion. She went from Disney darling and star of Hannah Montana to the girl in the "Wrecking Ball" video who grinded with Robin Thicke at the VMAs.
There was a period there, after the "We Can't Stop" period, where Cyrus' image appeared to shift back into the more "wholesome" realm, with her album Malibu and the rekindling of her relationship with Liam Hemsworth. However, even before their split, she appeared to be relaxing and putting her whole self out there once again.
She's dating Cody Simpson
People also care way too much about who Cyrus is dating. Her pending divorce from Liam Hemsworth is fairly new, but she hasn't allowed this to stop her from dating publicly. She was linked to Kaitlynn Carter for a while, and now, it would appear she's dating singer Cody Simpson.
Sadly, because of all of the attention surrounding her new relationship with Simpson, Cyrus felt that she needed to justify it on social media. Among other things, she explained that "This 'dating' this is new" for her, and that she's "grown now and make(s) choices as an adult." Cyrus also pointed out the gender discrepancy, writing that "Men…are rarely slut shamed" while "women are called sluts/whores" in situations like hers.
Cyrus is celebrating an anniversary
Despite all of the hubbub surrounding her love life, Cyrus has other things on her mind. She's always working hard, and she deserves to celebrate. And yesterday, Oct. 4, marked six years since her album, Bangerz was released. It was her first outside of Disney's Hollywood Records, and so the one that established her as an artist, in a way.
Cyrus was happy to focus on this. She wrote on social media, "Happy 6 year anniversary #Bangerz," followed by several fitting emojis. She added, "Here's to 6 more years of p****ing people off!" It was the perfect sentiment for this moment in her very public life.
She's heading back into the studio
With everything going on for her right now, Cyrus has no place she'd rather be than creating again. Her single, "Slide Away," which included many references to the end of her relationship with Hemsworth, and her team-up effort "Don't Call Me Angel" for the Charlie's Angels movie have gotten fans excited for new music.
And now, it looks as though she's ready to deliver. Cyrus tweeted a photo of herself back in the studio a few days ago, writing, "Back in the yo! I am so f***ing inspired right now." With any luck, there will be a new record from her in 2020.