Why Mister Rogers Had Beef With Ice Cube
Yes, friends, you read that headline correctly. The Mister Rogers once had a bone to pick with the Ice Cube, the rapper/actor. Now that we are connected by the internet and social media, it's easier to unearth and share such stories which were once obscure.
Though celebrity squabbles can veer into the territory of strange or hilarious, this is one square off that is kind of hard to imagine. Ice Cube turned into a griot and took fans down memory lane and shared something about Mister Rogers.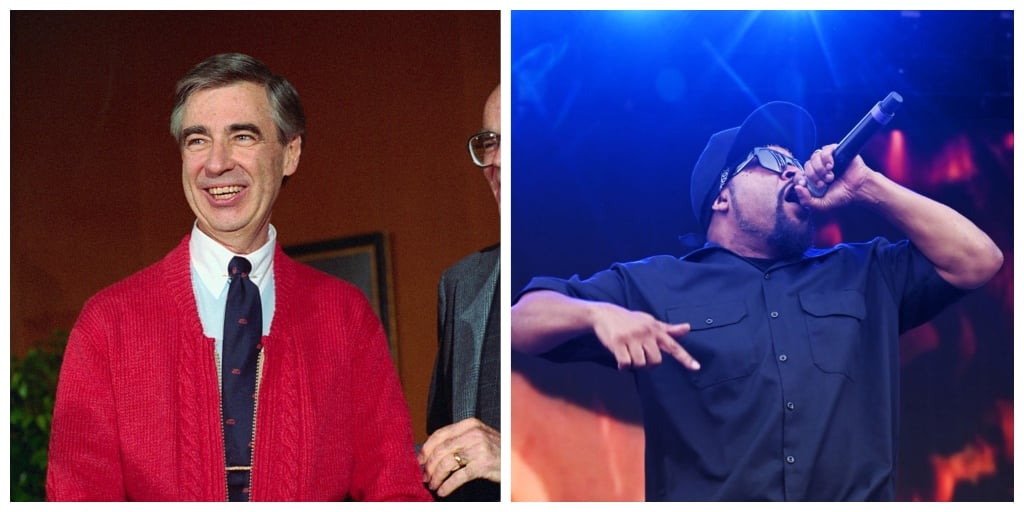 Ice Cube talks 'Gangsta's Fairytale' origins
Ice Cube recently hopped on Instagram Live to chat with fans about the 30th anniversary of his solo debut, AmeriKKKa's Most Wanted. The classic album dropped on May 16, 1990 and he celebrated the milestone with an Instagram listening party where he told the backstories about each track.
"Gangsta's Fairytale," was one of the songs that came up during his discussion. He explained it was about Eazy-E.
During that period, he and the late rapper had a falling-out, causing Cube to leave NWA and go solo. He also talked about how Mister Rogers had an issue with the song.
If you notice, Ice Cube's lyrics reference Sesame Street, Cinderella, a few nursery-rhyme characters, and Mister Rogers. That wasn't the issue.
Mister Rogers' jingle was source of beef with Ice Cube
Depending on when you grew up, you're probably familiar with the theme song for Mister Rogers' Neighborhood. When creating "Gangsta's Fairytale," producer Eric Sadler sang a snippet (slightly reworded) from "Won't You Be My Neighbor?" in the intro. That turned into a lawsuit.
When talking about the song on Instagram Live, Ice Cube said "It's a trip because off this song, Mister Rogers sued us. He was mad because we had the Mister Rogers theme in the beginning."
He added that the children's show host collected five cents per record until they removed it from the song. Calling it a fun fact, he said "Mister Rogers was getting money from gangsta rap."
Ice Cube mentioned this before
It's not the first time Ice Cube talked about the Mister Rogers royalty dispute. As explained during a 2014 interview with Medium, only 200,000 copies of the album contain the original version of "Gangsta's Fairytale" with the Mister Rogers opener.
Ice Cube's producer Sir Jinx talked about the ordeal and said, "If you got the version with the dude singing Mister Rogers then it's probably worth some money! Ultimately we had to pay Mister Rogers five cents a record, he got paid off of that. After the first 200,000, we took it off."
Ice Cube chimed in during that interview to say the lawsuit proceeded. "Actually, yeah, I remember. He told us we couldn't use it, we took the song off the album and he sued us anyways. I think they made us give him damages because we mention his name one time."
Ice Cube shared other fun facts about the 'AmeriKKKa's Most Wanted' album
For fans who weren't aware, Cube said he flew out to New York to work on the project, and he heard rumors that Eazy-E and other members of NWA laughed off his efforts.
He told Hank and Keith Shocklee—who are brothers and superproducers—about that and they decided to do production for the whole thing.
The meeting of East Coast and West Coast was official with the partnership between Ice Cube and The Bomb Squad producers, which also included the aforementioned Sadler and Carlton Ridenhour.
They were the team behind Public Enemy's beats and their work with Ice Cube helped AmeriKKKa's Most Wanted achieve platinum status.