Why NBA Legend Larry Bird Said Michael Jordan Is God in Disguise
Due to the release of the ESPN documentary The Last Dance, Michael Jordan has received a considerable amount of attention recently. The highly acclaimed series talks about Jordan's last season on top of the basketball world with the Chicago Bulls.
Jordan defeated many great teams along the way. But what's less known by basketball fans is that in his younger years, Jordan had trouble beating some others. 
One of those teams was Larry Bird's Boston Celtics. Even though Bird had Jordan's number early on, he still respected him. Let's take a closer look at both men's careers as well as the reason why Bird one time said that Jordan was "God in disguise."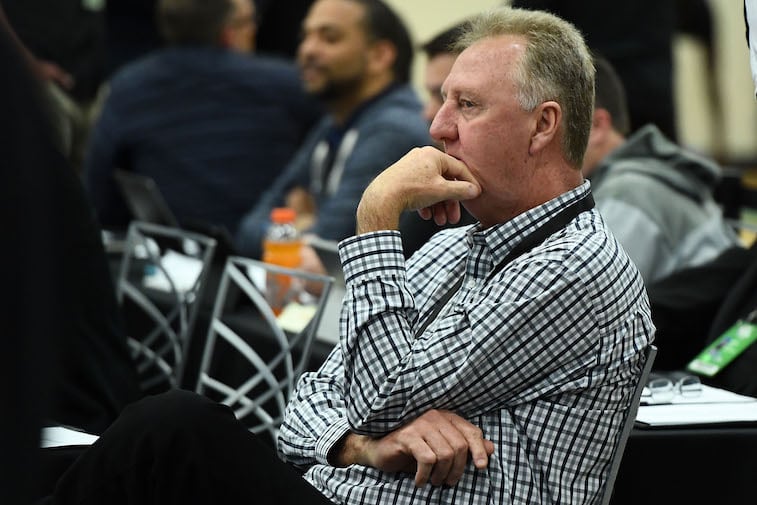 Larry Bird career overview
Drafted by the Boston Celtics out of Indiana State University, Bird first entered the nation's consciousness with his epic Final Four showdown against Earvin "Magic" Johnson and his Michigan State Spartans. Bird lost, but it was only the beginning of his rivalry with Johnson. The two went on to reenergize the NBA in the 80s. Bird won three titles during the decade, leading the Celtics franchise to new heights they hadn't seen in years. 
Bird was an incredible passer, three-point shooter, and a trash talker. He wasn't someone who gave respect easily. But Jordan wasn't someone who anyone took lightly.
Michael Jordan career overview
After Bird and Johnson brought the NBA to national prominence, Jordan's emergence turned the game into a global phenomenon. Jordan wowed crowds everywhere with his aerial game in the 80s. He won multiple NBA Slam Dunk contests. One of his most famous dunks involved him taking off from the free-throw line after getting a running start – a nearly otherworldly display of sheer athleticism.
As he aged, his dunks became less acrobatic but his legend only grew. Jordan's truly dominant run came in the 90s, where he led the Chicago Bulls as they became the team of the decade. Jordan had two separate three-peats as NBA champion. He led the Bulls in the NBA Finals over the Los Angeles Lakers, Portland Trail Blazers, Phoenix Suns, Seattle Supersonics, and the Utah Jazz (twice).
Jordan ushered in a new era of basketball greatness that has led to the game's overwhelming popularity behind stars such as LeBron James, Steph Curry, and Kevin Durant. Of course, Jordan would have never been able to accomplish what he did on the stage that he did if not for the path that Bird paved for him.
So what did Bird think of Jordan?
Why Larry Bird said Michael Jordan was "God in disguise"
When it comes to regular-season game high scoring totals, Jordan doesn't have any that come close to Kobe Bryant's 81 or Wilt Chamberlain's 100. But when it comes to the playoffs, Jordan is the single-game scoring king. On April 20, 1986, he scored 63 points in a playoff game against Bird's Celtics. No one before or since has ever scored that many in a postseason contest.
The player with the most cache on either side at that point was Bird. Superstars can often be proud, refusing to heap praise on a much younger player out of some misguided sense of hubris and pride. Not Bird. He was ready to anoint Jordan as "The One" that very day. After the game he had this to say about Jordan according to Bleacher Report: 
"I think he's God disguised as Michael Jordan…He is the most awesome player in the NBA. Today in Boston Garden, on national TV, in the playoffs, he put on one of the greatest shows of all time."
It's hard to argue with Bird's assessment. Jordan's legend only grew from that night on as he became the greatest player in NBA history.