Why 'Office' Alum John Krasinski Says He Owes David Letterman An Apology
John Krasinski is now an established director after his box office hit A Quiet Place. While the actor has several directing credits to his name, most will always see him as the lovable Jim Halpert from The Office. Though the NBC sitcom aired its last episode in 2013, Krasinski's character of the affable Dunder Mifflin paper salesman is still beloved by fans.
Krasinski is known be be just as down-to-earth as the character he portrayed for nine seasons. Yet he may have some explaining to do with a late night talk show icon regarding a pivotal episode of The Office.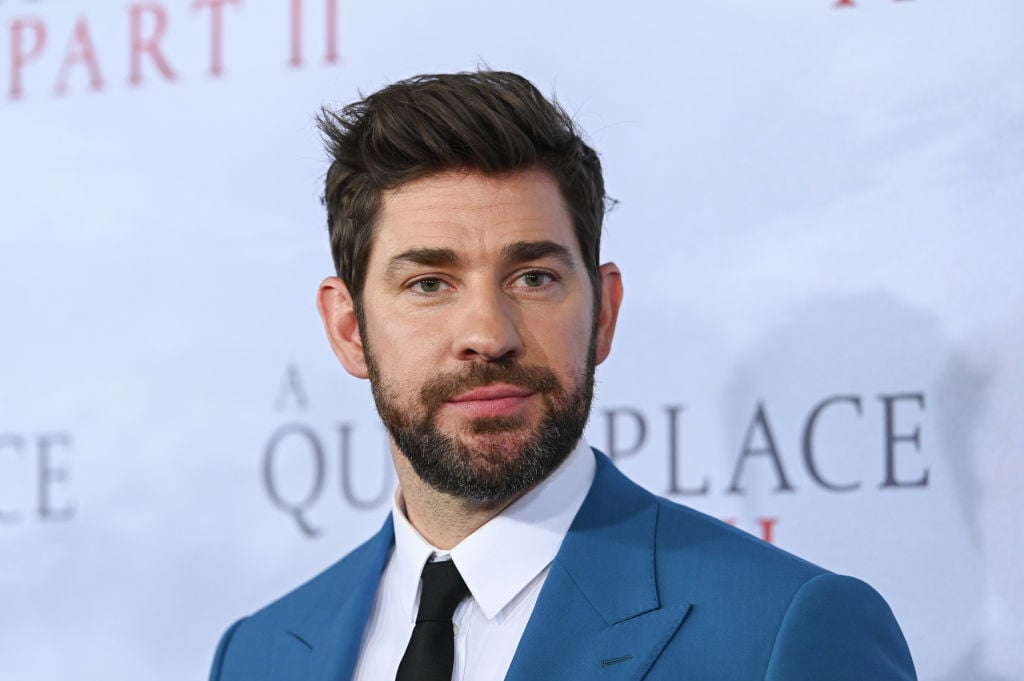 Mini reunion for John Krasinski and Steve Carell
In his online show Some Good News, Krasinski recruited a former co-star for an appearance. Steve Carell brilliantly portrayed the socially inept Michael Scott for seven seasons and catapulted to stardom while on the NBC sitcom. The two virtually waxed nostalgic regarding their time on The Office in celebration of the show's 15th anniversary.
"I was a waiter when I got that job," Krasinski said during the show, according to CNN. "I was 23 years old, I was a waiter and after the pilot I went back to waiting tables 'cause I was sure nothing was going to happen with it."
Carell shared his gratitude that The Office maintains such a strong fan base. "It's such a happy surprise that after all these years people are still tuning in and finding it even today," Carell said. "It's pretty cool."
Though there's no word yet on an Office reboot or reunion, Krasinski is clearly on board to reconvene. "Listen, I know everybody's talking about a reunion," Krasinski said. "Hopefully one day we just get to reunite as people. And just all get to say hi."
Will Michael Scott return for Dwight and Angela's wedding?
When The Office aired its final episode in May 2013, the plot was centered around Dwight's wedding to Angela. The on-again, off-again couple, played by Rainn Wilson and Angela Kinsey, were finally tying the knot much to the delight of viewers.
The number one question on everyone's mind regarding the finale was whether or not Carell would return. The Office alum was happy to come back to wrap the show, but didn't want to be the center of attention.
"[Showrunner] Greg [Daniels] talked to Steve and Steve said he would come back, but he really didn't want to promote it and didn't want the show to be Michael Scott comes back to The Office," producer Steve Burgess told Andy Greene, author of The Office: The Untold Story of the Greatest Sitcom of the 2000s. "He wanted The Office to end without this big promotion of him coming back, and Greg agreed."
Keeping Steve Carell's cameo quiet
"His pages were numbered and collected, and anything that had Steve Carell's dialogue on it was only given to the people who needed to see it," Burgess recalled. "Then it was collected again afterward so that no extra pages could get out."
Apparently, the few who knew about Carell's return had to keep it quiet, even if it meant telling a fib.
"I lied," Carell told TVLine in 2013. "I lied for months to the press, to almost everyone, really. And I felt terribly for the cast and for Greg Daniels, because they all lied, too."
Krasinski revealed that he had to hedge on the truth to a late night talk show icon. "I lied to Letterman!" he told Greene. "I have to apologize to him at some point. It was just one of those things that we all vowed and had to protect."
Known for his generous spirit, Carell's intention of keeping his cameo under wraps was to keep the spotlight on his former cast mates.
"I didn't want it to be a big thing. I did it out of respect for the show and for the actors," Carell explained. "My only hope with it was I didn't want it to be about Michael coming back. I didn't want the story to be about him in any way. I wanted it to be more of a tip of the hat to the show."
The Office finale definitely would not have been the same without Carell.