Why 'Outlander' Doesn't Have Americans Playing Cherokee and Mohawk Characters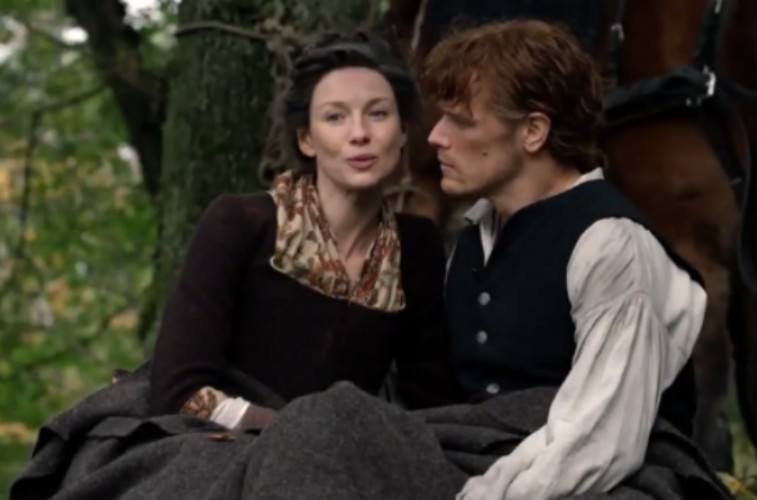 Season 4 of Outlander shows Jamie (Sam Heughan) and Claire (Caitriona Balfe) making it to the American Colonies before the Revolution. This means different aspects of American history will be covered including slavery and the displacement of First Nation people. This led to some obstacles for the Scottish show, which is still mostly filmed in Europe.
Cast member Caitriona Balfe, Sam Heughan, Sophie Skelton, Richard Rankin, and producers Ronald D. Moore and Maril Davis talked about the upcoming season at PaleyFest on Oct. 5. They explained how they navigated these difficulties and why the show couldn't get First Nation people from America for the show.
SAG rules kept them from hiring Americans for Outlander so they hired Canadians
#Outlander Exclusive First Look: 100 First Nation Canadians arrive in Scotland for season 4 filming https://t.co/WyvMek6SsV pic.twitter.com/lsTBp6pBsu

— Radio Times (@RadioTimes) June 14, 2018
The show couldn't get actors from the country because of union rules. Executive producer Maril Davis said, "ideally we would have brought actors and background actors from the United States, but due to SAG rules since we're non-SAG it wasn't a possibility. But it was very important to us that we bring indigenous people to play those roles, to not bring white people to play those roles."
She continued, "So we went to Canada where we didn't have the union rules and brought over 100 plus First Nation actors." She also revealed that they consulted a Cherokee leader to make sure they got the culture and language right in the early stages of making the season.
"[Matthew] Roberts who's one of our producers went and met with one of the Cherokee leaders early on in the process to talk about the stories and make sure we were doing things the right way," she said. "I hope we were sensitive in some ways and depicted that culture in a way that we did right by people but still told Diana [Gabaldon]'s story."
The cast made sure to not spoil too much about how these characters will come into play. But Heughan did tease that Jamie will empathize with First Nation people due to the similarities in their culture.
Fans will have to watch to see how that will play out. Outlander Season 4 premieres Nov. 4 on Starz.
Read more: Starz's 'Outlander': Every Secret Revealed About Jamie and Claire's Epic Reunion
Check out The Cheat Sheet on Facebook!