Why 'Outlander' Star Sam Heughan Pushed to See Jaime in a Red Coat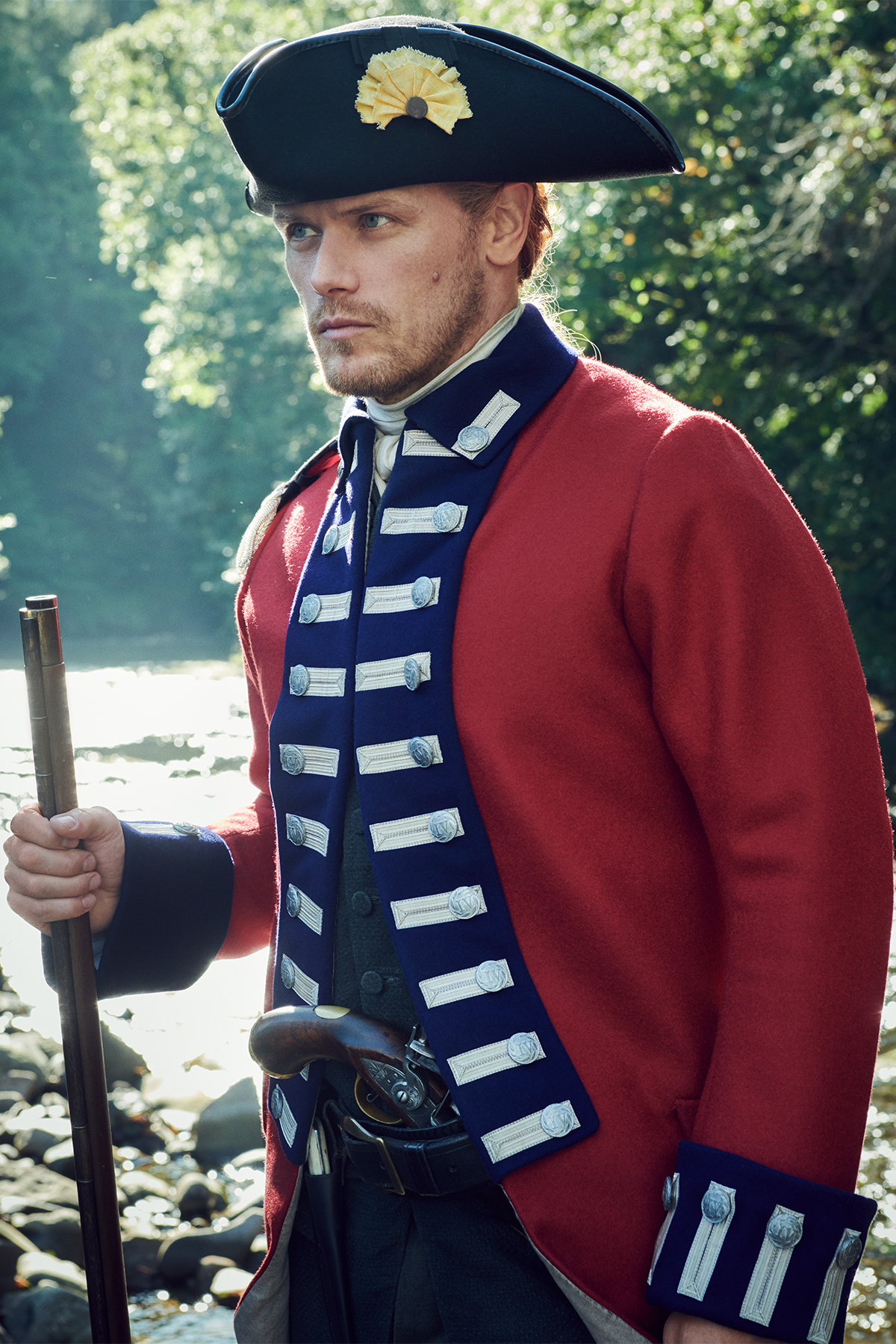 Outlander fans will see Jamie Fraser don an unexpected color in the upcoming March 29 episode. In the trailer for "The Ballad of Roger Mac," the highlander is wearing a red coat, signifying he's either whole-heartedly joining the King's cause or is pretending to. It might be a jarring sight for fans. But as it turns out, actor Sam Heughan actually pushed to see Jamie in this defiant new light.
Why Jamie is being forced to join the Red Coats on 'Outlander'
Jamie (Sam Heughan) has been stuck between a rock and a hard place all season. On one hand, he's keeping in line with the deal he made with Governor Tryon (Tim Downie). In season 4, Tryon gives Jamie a large piece of land (which Jamie named Fraser's Ridge). He also makes Jamie a colonel and asks him to remain loyal to the crown.
Claire (Caitriona Balfe) and Jamie settle on Fraser's Ridge, along with the rest of their family and friends. Brianna (Sophie Skelton), Roger (Richard Rankin), baby Jemmy, Fergus (César Domboy), Marsali (Lauren Lyle), Lizzie (Caitlin O'Ryan) and other fellow Scotsmen now live and farm on the land. And it almost feels like they've become Jamie's new clan.
With small rebellions rising all over the colonies, Tryon is getting tough on the regulators, including Murtagh (Duncan LaCroix). And as per his deal from season 4, he expects Jamie to join him. If Jamie doesn't comply with Tryon's wishes, he could put his family and the people of Fraser's Ridge in danger.
Why Jamie doesn't really believe in the King's cause
Jamie is a Scottish highlander. And all throughout season 1 of Outlander, he fought for his country's freedom. He battled the British crown in Scotland, and now in America, he's seeing the monarchy carrying out similar injustices again.
Plus, Jamie already knows the future. In season 4, Claire tells him that revolutionaries will win the war and gain independence. So, Jamie knows that the Red Coats are getting ready to fight a long bloody war they will not win.
Why 'Outlander' star Sam Heughan pushed for Jamie to wear a Red Coat
Outlander is based on Diana Gabaldon's series of novels. But the Starz series does take creative liberties with certain characters and storylines. Fans who've read the books know Jamie never wears a Red Coat uniform in the novels. So many are surprised to see him do so on the show.
In an interview with Vanity Fair, Sam Heughan talked about Jamie's current predicament. And the actor revealed how and why he advocated for Jamie to wear a red coat in season 5.
"He's really made a deal with the devil," said Heughan. "I pushed for it. I really wanted to see Jamie in this coat, because it symbolizes everything that he's fought against—from Culloden, the British rule over the Scots, the suppression of all of their culture, and Black Jack Randall and Ardsmuir prison. It just represents everything that Jamie's fought against."
The actor also revealed how uncomfortable he felt putting on the uniform. "I had a really strong reaction to it — a real revulsion," Heughan told the outlet. "It just felt so wrong. There was definitely a physical reaction." But Heughan said despite Jamie's inner struggle, he wanted to make sure the character looked "good" and "powerful" in the uniform.
It's not clear exactly why Jamie is wearing the King's uniform. But hopefully, in the new episode, fans will learn how things played out.