Why Paul McCartney Couldn't Recognize the Rihanna Song He Co-Wrote
If you go by commercial appeal, Paul McCartney is easily the most successful songwriter in history. Between his time in The Beatles and his post-1970 work, McCartney has racked 32 No. 1 hits on the Billboard pop charts. John Lennon (26 No. 1 hits) falls in closest behind him.
The Lennon-McCartney alliance might not hold those marks forever. Max Martin, the 49-year-old writer-producer who's worked with the likes of Katy Perry, Britney Spears, and Taylor Swift, has posted 23 No. 1 hits. (His scored his latest with The Weeknd in 2020.)
But of all the 21st-century pop stars Martin has worked with, he still has one performer on his wishlist: Rihanna. After winning his ninth songwriter-of-the-year award in 2016, Martin said he'd like to work with Rihanna more than anyone else on the scene.
McCartney, who's always been up to collaborate with hot pop stars of the day, already did that. In 2015, a song he co-wrote with Kanye West shot up the Billboard charts on the strength of a killer hook and Rihanna's lead vocal. That came as a surprise to McCartney, who didn't recognize his contribution to the track.
Paul McCartney and Kanye West had a productive songwriting session in 2014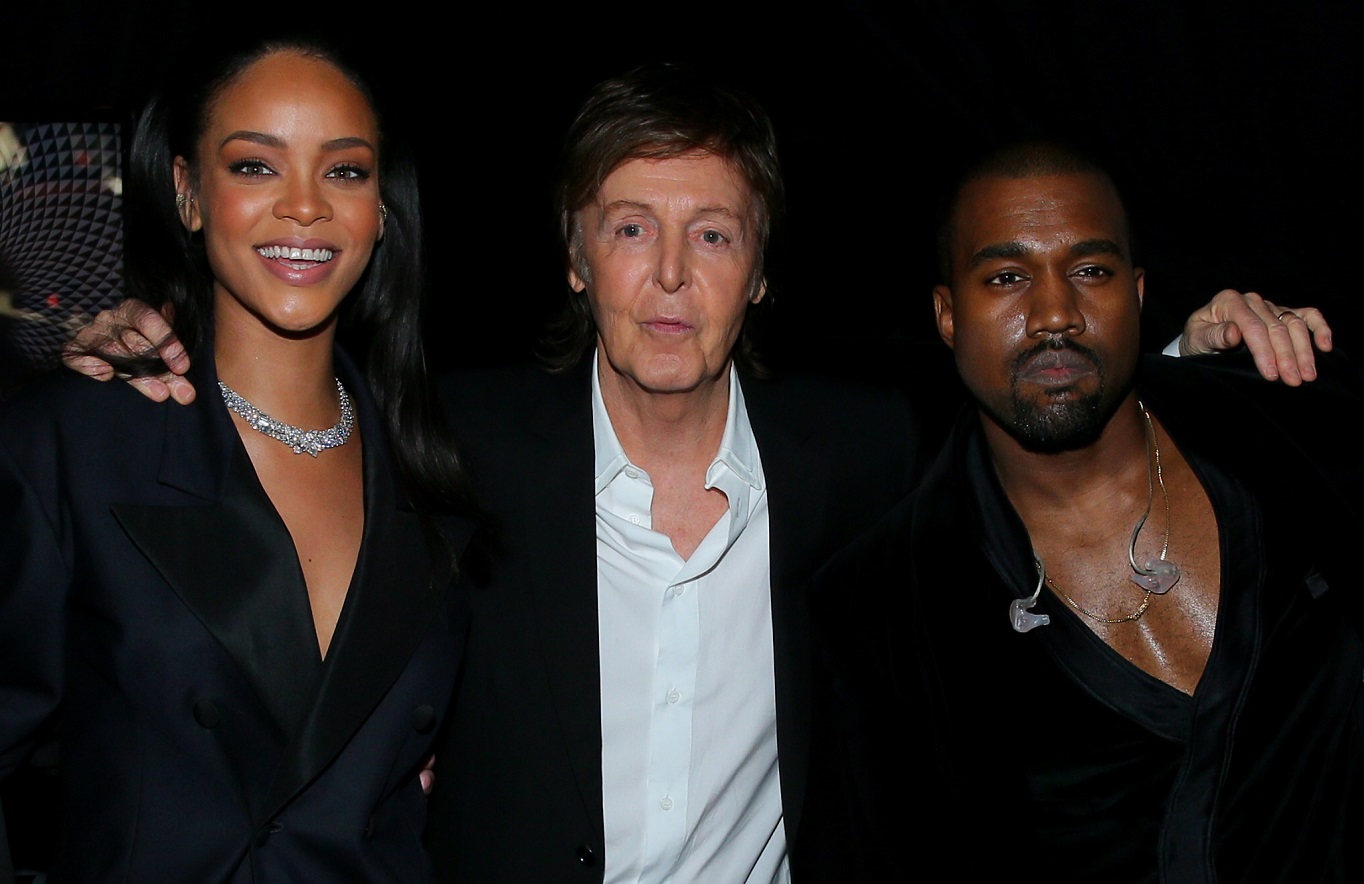 You could call the road to McCartney's collaboration with Rihanna long and winding, if you liked. It began with a songwriting session McCartney had with Kanye in 2014. The two actually met in secret, thinking they'd just forget about it if it didn't produce anything.
But it produced plenty. McCartney got a co-writing credit (along with Kanye and three others) and "featuring" billing on the 2014 Kanye track "Only One." That song began with with McCartney telling Kanye how he wrote "Let It Be" after his late mother came to him in a dream.
However, at the session with Kanye, McCartney wasn't sure if they'd gotten anywhere with the "Only One" track. "I sat down at this little Wurlitzer keyboard and started playing some chords, and he started singing," McCartney told Billboard in 2019.
McCartney wondered where the two might take it from there. "I thought, 'Oh, are we going to finish this?' but that was that," McCartney recalled. "And it became 'Only One.'" Something similar happened with "FourFiveSeconds," a No. 3 hit the pair had with Rihanna in 2015.
McCartney didn't recognize himself because of a key change on the Rihanna collaboration 'FourFiveSeconds'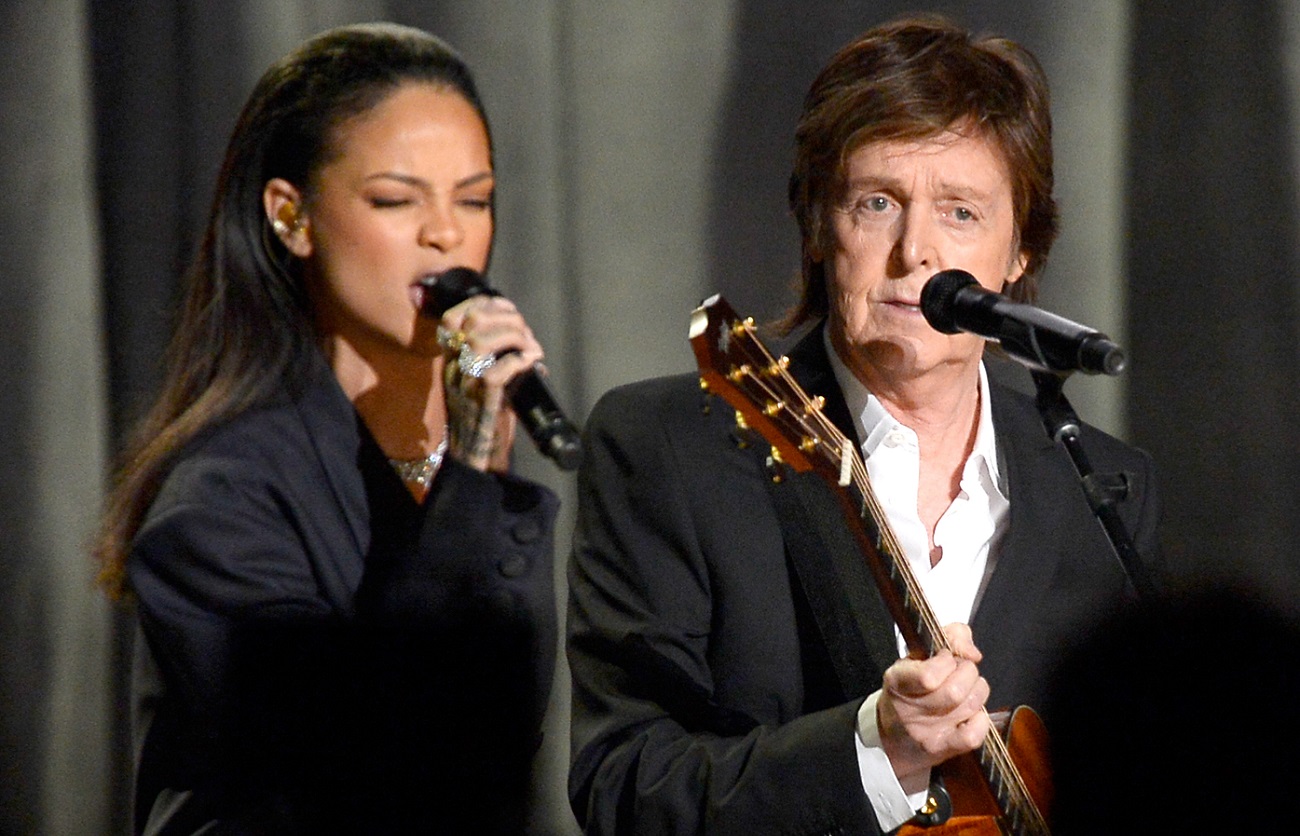 Though "Only One" is "featuring Paul McCartney," many listeners might not know it if they only heard it. McCartney knows that feeling well. In fact, he said he didn't recognize himself on the song that eventually became "FourFiveSeconds."
"I was sitting around, just strumming a little groove," he told Billboard. "Nobody said, 'Let's make a song of that.' But months later I got a song with Rihanna on it and I said, 'Where am I?'" After producers changed the key of his guitar part, he couldn't recognize his own contribution.
McCartney didn't mind a bit. "It's this modern process that I was happy to open myself up to," he told Billboard. "You've got loads of stuff, and the skill is to distill it." As for "FourFiveSeconds," he agreed with the listeners who made the track a hit. "I thought that record was great," McCartney said.