Here's Why People Are Mad at Taylor Swift's 'You Need to Calm Down' Video
Have you heard Taylor Swift's new song "You Need to Calm Down" yet? If so, you probably didn't think people would be mad at such an LGBTQ-friendly single released during Pride Month with a video featuring the world's most famous queer faces — but here we are.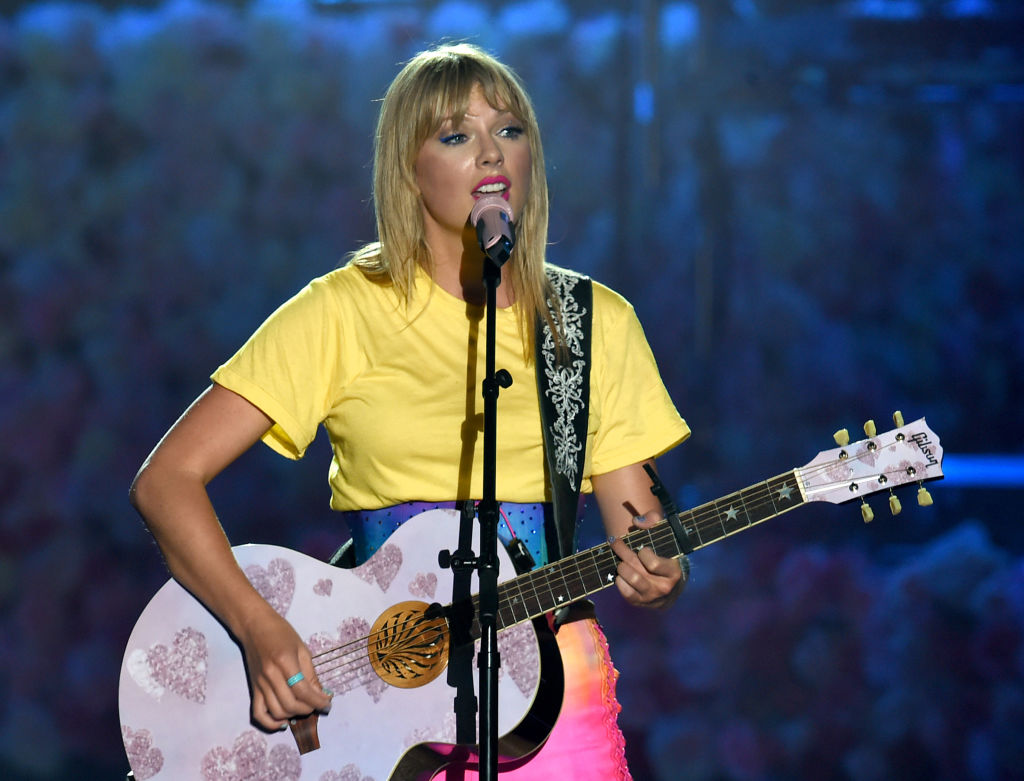 In the days since its release, social media users have been debating Swift's intention as a queer ally. While some say the singer created the video with genuine intentions, others maintain that she is using gay rights for profit.
Let's talk more about the backlash below.
The 'You Need to Calm Down' video features strong pro-LGBTQ messaging
If you haven't seen it, Swift went all out with the video. No, seriously — it's arguably the brightest and boldest thing you'll ever see. The video features queer stars like the Queer Eye Fab 5, Ellen DeGeneres, Laverne Cox, and Billy Porter. At the end of the video, a message appears urging viewers to sign a petition demanding Senate support of the Equality Act. The bill confirms that discrimination based on sexual orientation or gender identity is unlawful.
That's pretty different from the content Swift tends to put out, which has raised some eyebrows.
Why are people upset at 'You Need to Calm Down'
Swift has been apolitical for much of her career, which has raised concerns. She didn't break her political silence until late 2018 when she endorsed two candidates in the midterm elections. So people have been calling her an opportunist and accusing her of exploiting gay rights.
Taylor Swift has defended her political silence
The "Bad Blood" singer opened up about why she stayed away from politics for so long back in March. In a post for Elle magazine, Swift said she didn't feel informed enough to comment on political issues and only did so once she felt confident enough.
"I took a lot of time educating myself on the political system and the branches of government that are signing off on bills that affect our day-to-day life. I saw so many issues that put our most vulnerable citizens at risk, and felt like I had to speak up to try and help make a change," she wrote in the post.
Swift continued, "Only as someone approaching 30 did I feel informed enough to speak about it to my 114 million followers. Invoking racism and provoking fear through thinly veiled messaging is not what I want from our leaders, and I realized that it actually is my responsibility to use my influence against that disgusting rhetoric."
Taylor Swift isn't the only one who has caught backlash for the video
Ciara has faced criticism for her role in the video. The "Body Party" singer, who is openly religious and has a cameo in the video, got called out on Instagram on June 17.
"Ciara. You shouldn't be doing this. We respect u too much, Being at a gay wedding is one thing and joining them together is even more a greater sin. We love you but this is wrong," one commenter wrote on Ciara's page.
"Firstly, Christians don't judge. Secondly, #YouNeedToCalmDown," Ciara shot back.
The "You Need to Calm Down" video is so popular that it seems almost certain that people will continue making criticisms. We'll see what happens.