Why People Are Upset With Dave Chappelle's New Netflix Special 'Sticks and Stones'
Many viewers are slamming Dave Chappelle's new Netflix special.
Have you watched Dave Chappelle's newest comedy special yet? His fifth Netflix comedy special, Sticks and Stones, premiered on Aug. 26 and it's… a lot, to say the least.
While there are some funny moments in the program (well, depending on who you ask), there are other parts that have fans super upset. From the jokes about Michael Jackson's accusers to Chappelle's snarky comments about the LGBTQ community, here's why people are angry with Sticks and Stones.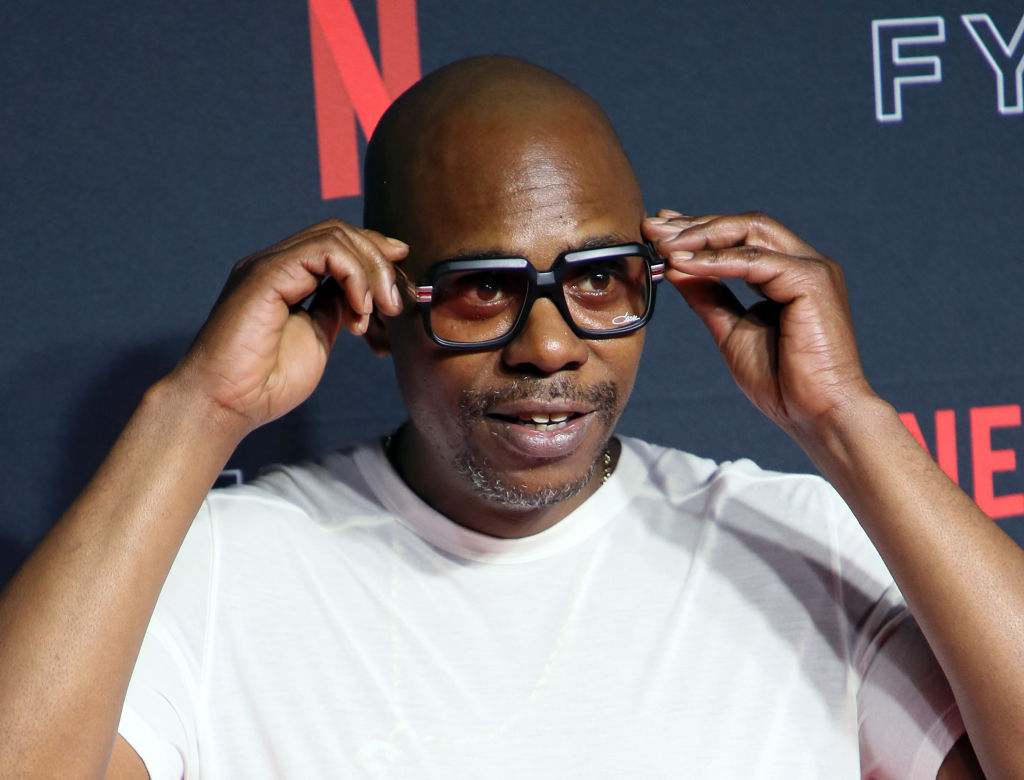 More on Chappelle's comedy special
If you know anything about Chappelle, you know that he's known for offering hilarious commentary on some of the world's most sensitive subjects. But fans aren't finding much to laugh at in his latest special.
Throughout the program, the comedian delivered a variety of jokes that many have described as misogynistic, homophobic, transphobic, and downright exhausting.
It basically starts with Chappelle making jokes about the two men who made sexual abuse allegations against Michael Jackson in the HBO documentary Leaving Neverland that aired in January. He seemed to side with Jackson and said that, even if the accusers are being truthful, they should feel honored to have been molested by such an icon. 
"I know more than half the people in this room have been molested in their lives. But it wasn't no godd*mn Michael Jackson, was it? This kid got his d*ck sucked by the King of Pop! All we get is awkward Thanksgivings for the rest of our lives," he said (via BuzzFeed News).
"I know it's harsh," he continued. "But somebody's gotta teach these kids there's no such thing as a free trip to Hawaii," he said, referencing trips and other gifts Jackson gave many of his accusers.
That segment alone has prompted thousands of angry tweets, including these:
The two Jackson accusers also criticized the segment. In a statement shared with TMZ, they said they were "heartbroken" by the potential impact Chappelle's comments could have on other child victims. 
Viewers weren't happy with his jokes on the LGBTQ community, either
Chappelle tends to make jokes about transgender people, and he certainly didn't change his routine in Sticks and Stones. At one point, he said, "[Trans people] hate my f*cking guts and I don't blame them. […] I can't stop writing jokes about these n*ggas." He then joked about being a Chinese person born inside a black person's body. "This is how I feel inside," he quipped.
As you can imagine, the comments did not sit well with many people. One person tweeted that they couldn't believe Chappelle's comedy went from "the most cutting edge sh*t on the planet" to such jokes.
Others were just as baffled.
But some defended Chappelle
The comedian arguably had just as many defenders as critics. Many Twitter users pointed out how Chappelle has made fun of various communities and sensitive subject areas. And others supported his comments on Jackson.
Despite the criticism, it seems likely that Chappelle will stick to his routine. As music critic Craig Jenkins pointed out, Chappelle has always toyed with controversial topics, including R. Kelly's infamous sex tape, the O.J. Simpson murder case, and presidential affairs. 
Besides, Chappelle predicted that he would face backlash early in Sticks and Stones anyways, saying that criticism is the reason his public appearances are so spaced out. 
"That's why I don't be coming out doing comedy all the time," he said (via The Guardian). "I'm goddamn sick of it. This is the worst time ever to be a celebrity. You're gonna be finished. Everyone's doomed."
He later added, "I don't think I did anything wrong… but we'll see."