Why People Hate Listening to Rachael Ray Say 'Extra Virgin Olive Oil'
Lots of people out there are incredibly passionate about cooking. There are plenty of great television shows on channels like the Food Network to help these people hone their skills, but one of the best is the award-winning Rachael Ray.
Rachael Ray's show is a perfect way for home cooks to learn delicious new recipes while enjoying a variety of lifestyle segments. Ray's down-to-earth personality and warmth helps her to effortlessly connect with the audience. She can get a bit quirky at times, a trait that everyone might not appreciate. One thing's for sure, though–the girl knows how to cook!
A passion for food runs in the Ray family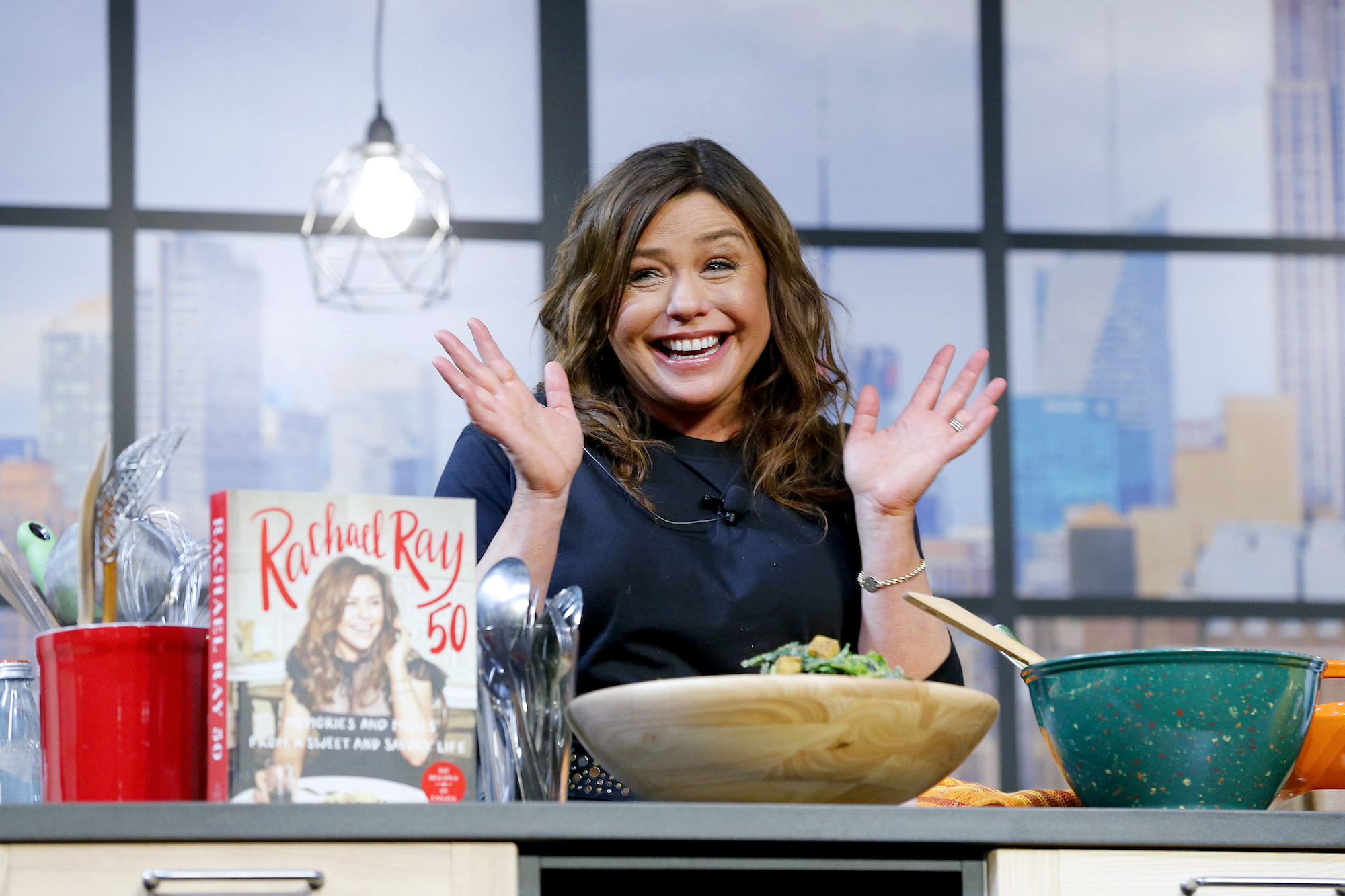 Rachael Ray's interest in the food industry started at an early age. As far back as she can remember, in fact. "My first vivid memory is watching my mom in a restaurant kitchen. She was flipping something with a spatula. I tried to copy her and ended up grilling my right thumb!" Ray's inspiration came directly from her family, which is apparently filled with incredible cooks on both sides.
The native New Yorker had numerous jobs in the food industry, all of which helped her develop her own unique cooking style. She started out at a candy counter at Macy's, then moved up to the manager of the fresh foods department. Eventually, Ray left Macy's to take on a new endeavor. She took her management expertise to a new level and helped open the renowned gourmet market, Agata & Valentina.
Eventually, Ray moved back to upstate New York, where she dabbled in restaurant management in Lake George. Cowan & Lobel, another gourmet market, was impressed by the Rachael's phenomenal talent in the food industry and recruited her. She was working there as a food buyer when she caught her big break.
When Ray began "30-Minute Mediterranean Meal" cooking classes in an effort to increase holiday sales, the local news station caught wind of the courses rapidly growing popularity. They offered her a weekly "30-Minute Meals" segment on the evening news. Ray gave viewers exactly what they needed–simple, tasty meals in just 30 minutes. Two regional Emmy nominations and 10,000 cookbooks later, and the rising star was on her way to fame!
Ray is now a world-renowned celebrity with numerous cookbooks, merchandise, and an Emmy-award winning self-titled television show. Her bubbly charm and her creativity in the kitchen has garnered a loyal fan base. While these loyal fans might know all the quirky little eccentricities about Ray's life, there are a few odd facts the rest of us will find very interesting…
Rachael Ray compares her shopping lists to serial killer's notebook entries
Ray is a genius when it comes to cooking, and geniuses often have really weird ways of doing things. According to People magazine, the celebrity cook actually compares her shopping list to a fictional serial killer's notebook entries. "I know they look a lot like Kevin Spacey notebook entries from the film Seven, but the end result is a whole lot of good food served to deserving people rather than a ranting wild plan for their 'righteous' demise in a sick plot to cut off Gwyneth Paltrow's head causing Brad Pitt to scream 'What's in the box?'"
Ray is referring to the sheer volume of print crammed chaotically onto one sheet of paper. In addition to groceries, the lists include notes about how to choose the items and plans for meals. Her shopping lists aren't the only papers that reflect Ray's "organized chaos"–her handwritten recipes are just as crazy.
The unconventional cook has plenty of other quirks as well. This might sound unbelievable, but she can't make toast. Or coffee. The toast catches on fire and the coffee looks like mud. Or pee. Either way, it's not good. On the positive side, she is obsessed with dogs, especially pitbulls. She has her own pet food brand, Nutrish, which partners with animal rescues and has raised millions of dollars to help homeless dogs.
People get really annoyed when Rachael Ray says 'EVOO'
RELATED: Rachael Ray Reveals the Meal She Says 'Made It All Happen' With Husband John Cusimano
Some people are a bit less tolerant of Ray's personality traits, especially her habit of using catchphrases (sometimes referred to as "Rachael-isms"). "Delish," "Yum-O!," and "How good is that?" are just a few exclamations Ray likes to use when she's cooking something particularly delectable. There is one phrase, however, that annoys people so much that it sparked a few threads on Reddit.
Ray's use of "EVOO" (or overuse, as the case may be) really seems to get under people's skin. It's not so much "EVOO" itself that bothers people, but the fact that Ray usually follows it up by saying "extra virgin olive oil." Some Reddit users find this a bit repetitive, and wonder why she bothered shortening the phrase if she's going to say it anyway.
"I think what's so annoying about EVOO is that she always says "extra virgin olive oil" after. "What is the point of the acronym if you are going to ALWAYS say the full name?!"
Rachael Ray isn't the only celebrity cook that annoys some viewers. Reddit users also had very strong feelings about Anne Burrell's growling voice and the way she says "That's it, hands up, you're done." They don't like Giada's exaggerated annunciation of Italian words or Bobby Flay's monotone voice. Whew, tough crowd.