Why Pete Townshend Said The Beatles Were 'Not Rock 'n' Roll' at All
Though you couldn't begin to count all the Beatles fans in the world, you can't count Pete Townshend among them. The Who's guitarist and primary songwriter got his feelings out there early on in the Fab Four's career (in the Rubber Soul era, in fact).
Townshend, never one to shy away from speaking his mind with tape rolling, said in a 1965 interview that The Beatles sounded "flippin' lousy" when you head their music isolated from the vocals. It was nothing personal, of course.
Paul McCartney and the other Beatles didn't seem to take offense to it. When A Quick One came out a few years later, Paul was among those who sought Townshend out to tell him how much he liked the record.
While we don't know if Townshend returned the compliment that night, we know at least one reason why he never was a fan of The Beatles. For starters, Townshend didn't think the Fab Four even played rock 'n' roll.
Townshend said The Beatles were 'a pop phenomenon' and 'light music'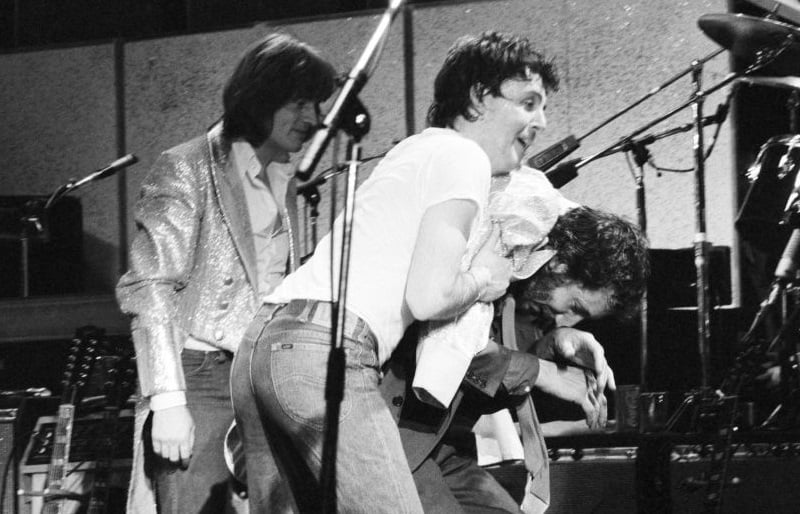 Speaking with Rolling Stone in 1982, Townshend was asked about McCartney's latest album, Tug of War. When the interviewer (Kurt Loder) told Townshend it had "virtually nothing to do with rock & roll," Townshend asked if McCartney "ever really had anything to do with rock."
Then he answered his own question. "No, he never did," Townshend said. "You know, I could sit down and have a conversation with Paul about rock & roll, and we'd be talking about two different things." After complimenting McCartney's collaboration with Stevie Wonder, he got back to the former Beatle's music.
"To me, rock was the Rolling Stones, and before that, Chuck Berry, and before that, maybe a few people who lived in fields in Louisiana," Townshend said. "But I can't really include the Beatles in that. The Beatles were over with Herman's Hermits. That's not rock & roll."
He went on to wonder why Americans always thought of the Fab Four as rock when "they were such a big pop phenomenon." As to Beatles songs he did enjoy, Townshend saw it as "light music with occasional masterpieces thrown in."
Townshend was no fan of hard-rocking Led Zeppelin, either
The Beatles weren't the only mammoth British act Townshend never like. He's gone on the record on several occasions saying how little he appreciates the music of Led Zeppelin. And he hates how Zep took The Who's band setup (the power trio) and ran with it.
Townshend has admitted professional jealousy plays a role in his feelings. Though The Who have been wildly successful — they still record and tour 56 years after forming — they never got as big as Zeppelin. And Jimmy Page's playing intimidated Townshend from a young age.
But it's definitely more than that. Townshend doesn't seem to like Page's compositions, some of which show an influence of the California sound Townshend loathed. If you want to pin down Townshend's taste, he offered clues when he pointed out rock pioneer Berry and The Who's contemporaries, the Stones.
Basically, Townshend prefers heavier rock in a pop-song format. So if you're keeping score at home, Townshend doesn't like The Beatles because they're too soft and aren't dynamic musicians. And he doesn't like Led Zep despite how heavy they play and how virtuosic the three musicians were.
Also see: Why Jimmy Page Played Guitar on The Who's First Hit Single