Why Princess Charlotte's Children Won't Inherit the Title of Prince or Princess
We know that there are plenty of rules when it comes to who gets and who doesn't get regal titles in the royal family. Sometimes though even trying to understand who should receive and should not receive a fancy title is made more complicated because the rules about it are no longer set in stone.
For example, the only one of Prince William and Kate Middleton's children that is supposed to have the HRH title in their name is George. So why do Princess Charlotte and Prince Louis have it as well?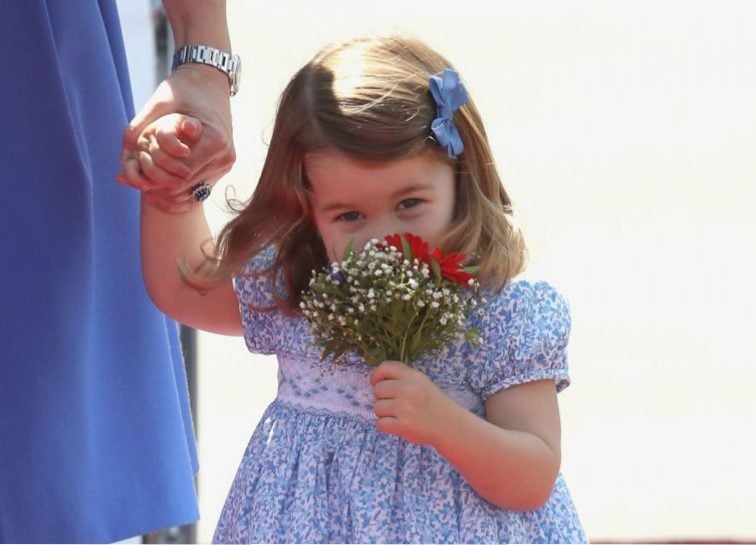 Here's more on that and the reason why any children the Duke and Duchess of Cambridge's daughter has won't inherit the title of prince or princess.
What the original law stated
The whole reason the young princess has her title today is because her great-grandmother aka Queen Elizabeth II sought legal notice in order to give Charlotte and any siblings born after her the HRH title with their names.
Prior to the birth of Prince George, Her Majesty stepped in to change a law dating back to 1917 from the Letters Patent issued by King George V. The decree stated that only the eldest great-grandchild through the male line of the reigning sovereign would get the HRH title. All other children would take the surname Mountbatten-Windsor.
That meant that George would have been the only child of William's with prince in his name and his younger siblings would have been called Lady Charlotte Mountbatten-Windsor and Lord Louis Mountbatten-Windsor.
Why Princess Charlotte's children won't have titles
Even though she is a princess now, Charlotte's children likely won't have any titles at all since grandchildren born to the sons of the monarch receive the prince or princess title, but those born to daughters do not.
"Royal titles are inherited through sons, so if Princess Charlotte has children they would not automatically inherit the titles 'HRH,' 'prince,' or 'princess," Lucy Hume, associate director of Debrett's, told Town & Country.
This is why Prince Andrew's daughters Eugenie and Beatrice are princesses and why Princess Anne's children do not have HRH in their names. Therefore, any children born to Princess Charlotte won't enjoy the HRH title. However, there is a chance that her future kids could receive some lower ranking title. That will depend on whatever the reigning monarch at the time chooses to do. Queen Elizabeth did offer to give her daughter's children courtesy titles but Anne declined.
Will Charlotte get another title?
As for Princess Charlotte's current title, she may get another one when she gets older.
When Prince William becomes king, she can be given the rare title of Princess Royal. Currently, her great-aunt Princess Anne carries the title and because only one female in the family can carry it at a time, Charlotte, could not receive it until after Anne passes away. Then, it all depends on when and if her father chooses to give it to her.
Read more: Where Does Prince George Go to School and What's on the Lunch Menu?
Check out The Cheat Sheet on Facebook!