Queen Elizabeth's Decision About Prince Harry and Meghan Markle's Exit Isn't 'Spiteful,' Claim Royal Experts
Queen Elizabeth's decision about Prince Harry and Meghan Markle's use of Sussex Royal was nothing personal, according to royal experts.
When Prince Harry and Meghan, Duchess of Sussex released a statement clarifying the details of their exit, including their agreement to give up using the Sussex Royal brand, many wondered if Queen Elizabeth was punishing them in some way. It turns out that it's really her "following the law of the land."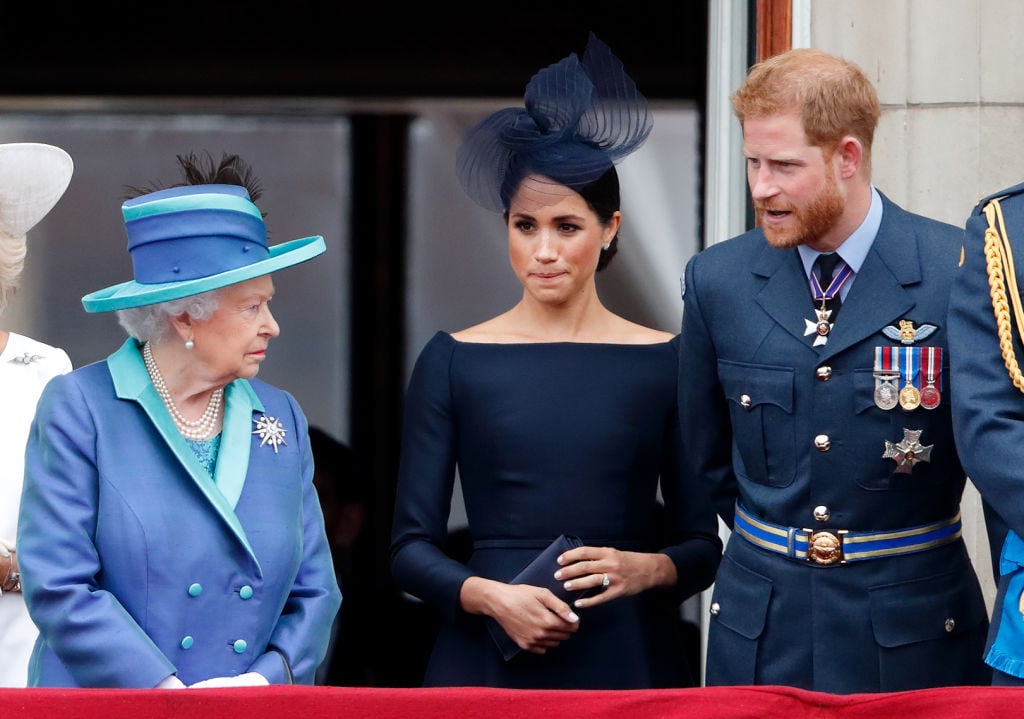 Prince Harry and Meghan's statement laid out specifics
On Feb. 21, the Sussexes released a statement that provided clear details about their exit and had many fans and critics focusing on how they would no longer use the Sussex Royal brand.
"While The Duke and Duchess are focused on plans to establish a new non-profit organisation, given the specific UK government rules surrounding use of the word 'Royal', it has been therefore agreed that their non-profit organisation will not utilise the name 'Sussex Royal' or any other iteration of 'Royal,'" the statement on their website read.
The statement continued: "For the above reason, the trademark applications that had been filed as protective measures and that reflected the same standard trademarking requests as done for The Royal Foundation of The Duke and Duchess of Cambridge, have been removed,"
The statement noted: "While there is not any jurisdiction by The Monarchy or Cabinet Office over the use of the word 'Royal' overseas, The Duke and Duchess of Sussex do not intend to use 'Sussex Royal' or any iteration of the word 'Royal' in any territory (either within the UK or otherwise) when the transition occurs Spring 2020."
Queen Elizabeth is enforcing the law
The queen's decision to rule against the couple's use of Sussex Royal, it turns out, wasn't a "spiteful" move, according to one expert, since she was enforcing a royal precedent.
Royal photographer Arthur Edwards explained to The Sun how the queen's decision is "the law."
"You know, when the queen says you can't do something, you can't do it. She's not saying it because she's being spiteful to Harry, who she absolutely adores, but it's because it's the law — it's part of the Companies Act, you can't do that," Edwards explained. "And you certainly can't use a royal title for commercial gain. They can't have tea towels and cups with their brand on it, it's not on."
He continued, "Prince Edward, when he married Sophie, he had a film production company and Sophie had a PR company. They both had to pack that up because it was conflicting with their royal duties and then they joined the royal firm. People have tried it but it doesn't work and the Queen doesn't want you to do that."
Princess Beatrice and Princess Eugenie, by contrast, aren't working royals and have regular jobs, Edwards shared, explaining, "Prince Andrew's girls, Eugenie and Beatrice, they work in the private sector. That's not for commercial gain, that's to earn an income because they're not part of the Sovereign Grant."
Prince Harry and Meghan will leave their royal duties behind and no longer receive public funding on March 31.
The decision is not about the queen
TV commentator Andrew Pierce further broke down the specifics of the law that the queen is honoring, sharing during an ITV Good Morning Britain appearance how she is "following the law of the land."
He believes that Harry and Meghan's statement gets something wrong. "Harry is incorrect to say this is just about the queen and who owns the word 'royal,'" Pierce explained, adding, "It was all set in something called the Paris Convention in 1883. Countries all around the world signed up to what words can be not borrowed, not used, not exploited."
"And that was followed by an Act of Parliament in 1977 and 1994," he continued. "The queen was merely following the law of the land."