Why Queen Elizabeth Stripped Prince Harry and Meghan Markle of Their Titles, But Not These Other Non-Working Royals
As a consequence of stepping away from their royal duties, Queen Elizabeth has revoked Prince Harry and Meghan Markle's HRH titles. The decision was made in the weeks following Harry and Meghan's exit announcement on social media, which reportedly blindsided the royal family. While the royals continue to move forward following Megxit, royal experts question the decision to strip Harry and Meghan of their titles when other non-working members of the royal family have not been treated the same.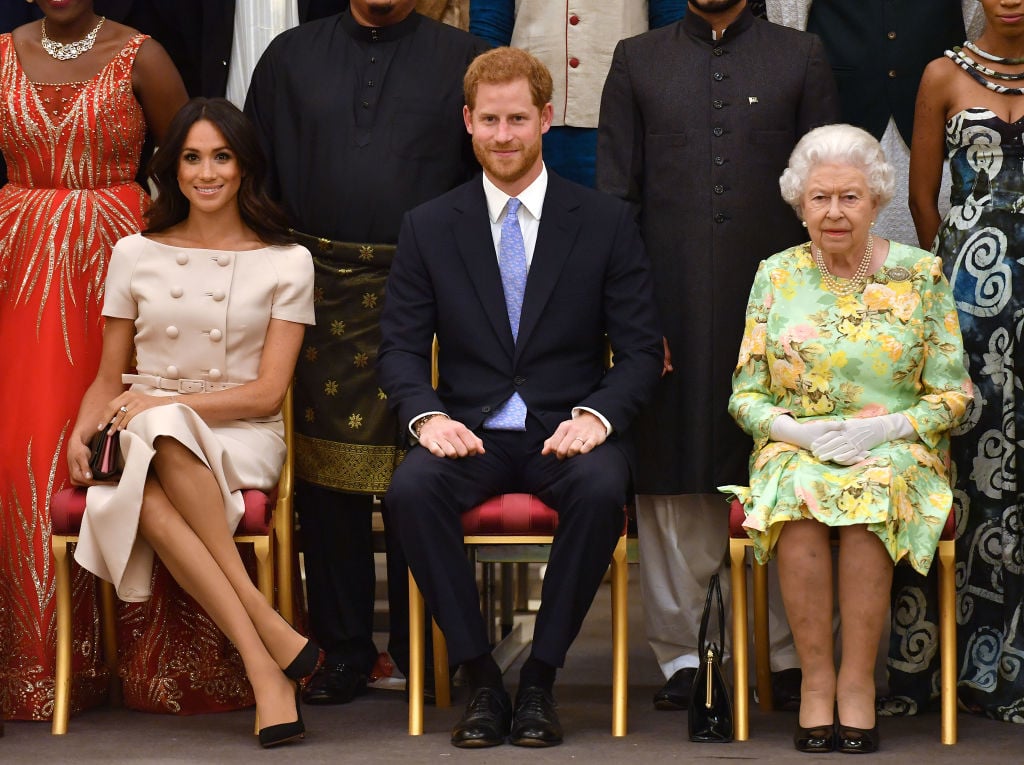 Queen Elizabeth allows these non-working royals to still have their HRH titles
There are plenty of examples of non-working royals who have retained their HRH titles. The best example of this is Prince Andrew's daughters, Princess Beatrice and Princess Eugenie.
The two still have their HRH titles yet are not considered full-time members of the royal family. In fact, both Beatrice and Eugenie have careers in the private sector and only appear for major royal events.
"It is bizarre that Princess Beatrice and Eugenie are allowed to retain the style, even though they are not working royals, yet the palace asked for Harry not use it," royal author Nigel Cawthorne pointed out. "It makes no sense under the current system that Queen Elizabeth generally follows for her relatives."
Beatrice currently works as the vice president of a software company called Afiniti, while Eugenie is the director of an art gallery in London called Hauser & Wirth.
There have been a lot of reports about Queen Elizabeth asking Princess Beatrice and Princess Eugenie to take on more responsibilities in the royal family now that Harry and Meghan are gone, but nothing official has been announced.
Beatrice and Eugenie have worked on several charities over the years, but Harry and Meghan are expected to continue their charitable work with Sussex Royal, despite their exit.
Prince Harry and Meghan Markle lose their titles
At the beginning of the year, Harry and Meghan announced their plan to step down as senior members of the royal family, reportedly shocking Queen Elizabeth and Prince Charles with the timing of the news.
Taking to social media, the pair revealed that they will no longer accept public funding and will be living part of the year in North America.
Following the stunning announcement, Harry met with senior members of the royal family at Queen Elizabeth's Sandringham estate while Meghan flew back to Canada. Harry has since reunited with Meghan, though it is unclear if Canada is their final choice for a second home.
Following the closed-door meetings, Queen Elizabeth issued a statement confirming that Harry and Meghan are stepping away from the royal spotlight. Her Majesty also revealed that the two will be losing their HRH titles and will pay back the money that was used to renovate Frogmore Cottage.
Why did Queen Elizabeth strip Harry and Meghan of their HRH titles?
Queen Elizabeth's decision to strip Harry and Meghan of their royal titles has confused many royal watchers. But experts agree that the decision has something to do with Prince Charles' vision for a slimmed-down monarchy.
According to Express, Charles reportedly wants the monarchy to only include a select few. In his vision, the royal family would be made up of the ruling couple plus their direct descendants, i.e. those who will actually sit on the throne someday.
"However, it is undoubtedly a shot across the bow by Prince Charles what will happen once he is king," Cawthorne explained. "He is saying to all the current HRHs I am prepared to take the style away from my own son, so don't count on keeping it forever."
The idea behind Charles' grand scheme is that the royal family could better manage itself with only a handful of individuals in the spotlight. It was also cut down on the number of scandals, which have been a huge pain for the royals in recent years.
This is reportedly one reason why Andrew was forced to step down a few months ago. It could also explain why Queen Elizabeth stripped Harry and Meghan of their royal titles.
Prince Harry opens up Megxit
Harry and Meghan have been largely silent following Queen Elizabeth's confirmation of their exit announcement. But before reuniting with Meghan in Canada, Harry spoke about his departure during a royal engagement in London.
Speaking to a charity called Sentebale, Harry admitted that the decision to leave the royal family was not easy. He also made it clear that he is not stepping away from his charitable work and will continue his various projects in the years to come.
"It brings me great sadness that it has come to this," Harry shared. "What I want to make clear is we're not walking away, and we certainly aren't walking away from you. Our hope was to continue serving the Queen, the Commonwealth, and my military associations, but without public funding. Unfortunately, that wasn't possible."
Queen Elizabeth has requested that Prince Harry and Meghan Markle to the UK next month for the Commonwealth Day service. They have not confirmed their appearance, but if they do make the trip, it will likely be their final royal engagement for the foreseeable future.