Why Royal Family Is 'Scared' of Harry and Meghan's Ambitious New Plans
There has been a lot of drama following the British royal family these past few years. While the public often holds a favorable opinion of Queen Elizabeth, the same can't be said about most of her family. 
Criticisms of how the royal family treated Princess Diana continue to surface, Prince Andrew faces very serious allegations, and Prince Harry and Meghan Markle decided to leave Buckingham Palace behind.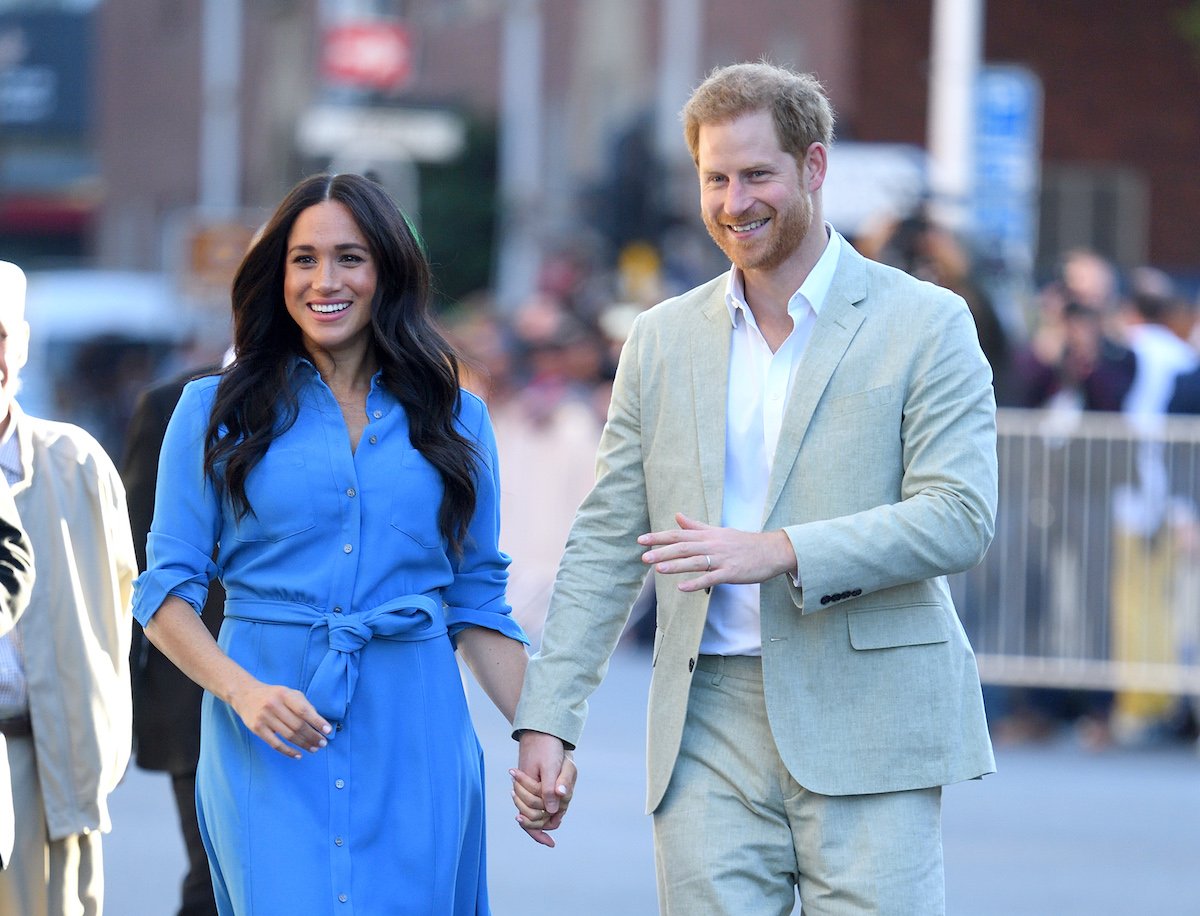 Harry and Meghan's departure sent shockwaves through the royal family. Yet, it seems there may be more shocks in the future caused by the young couple. So much so that some royal officials are "scared," according to Best Life. 
Leaving official monarchical duties
On the surface, Harry and Meghan seemed like an unlikely couple. In the previous generation, a prince would never marry a commoner. Marrying a divorced American would be grounds for abdicating the throne. That was the case for Harry's great-granduncle, Edward VIII. 
Times have since changed. Harry and Meghan were able to marry with little objection from royal or religious institutions. At least that's how things seemed to the public. Even though the newlyweds were royalty, their lives were far from a fairy tale. 
The two were hounded by the media and British tabloids. A touchy subject for Prince Harry, as he does consider tabloids to be partly responsible for the death of his mother. The couple would frequently file lawsuits against newspapers for printing false information. As for Meghan, she never really felt welcomed by her royal in-laws.
Accusations of racism emerged, including one conversation that involved the skin color of future children. The two have had enough and decided to resign from their royal duties and move to North America. The resignation was a scandal in the royal family, one that continues to scare Queen Elizabeth. 
The future for the Prince and the Duchess
While Harry and Meghan have been doing charitable work these past few months, the road is sure to get rocky again. The two have inked multimillion-dollar deals with Netflix, Spotify, and book publishers. These media exposes are expected to be "tell-alls" about their grievances with the royal family. 
The queen has repeatedly stated that Harry and Meghan would be welcome back into the royal family at any time. Instead of considering this offer, it seems they are comfortable widening the reported divide. This has made Buckingham Palace "scared."
The queen is known for being quiet about family drama, but a royal insider provided some insight as reported by Best Life. "Having all this hashed out again in a book or brought up in new interviews would reopen wounds that have barely started to heal." It would appear that Harry and Meghan are comfortable making their separation from the royal family permanent. 
Life after royalty
The two had planned to balance their lives between North America and the United Kingdom. But coronavirus (COVID-19) left the two stranded in North America. They have mainly resided in Canada and California. 
The past year has been a quiet one for the couple, as they had just welcomed the birth of their second child in June. However, their paternal breaks are over and both are now back to work. Meghan focuses most of her working hours on the couple's charity called the Archewell Foundation.
Specifically, she has launched a new initiative called the "40×40." In this program, the Duchess recorded conversations with 40 successful women for 40 minutes each. The aim of these conversations is to assist women who are returning to the workforce. Interviewees include Melissa McCarthy, Adele, and Princess Eugenie. 
The prince has been doing charitable works as well. He has participated in fundraising events that generate money for orphans affected by HIV/AIDS. Such work is very similar to what his late mother used to do.