Why 'Scrubs' Creator Bill Lawrence Got 'S**t-Canned' From 'Friends' After 1 Season
It's been 20 years since Bill Lawrence created the medical comedy Scrubs, the biggest show of his TV career. But, that series wasn't the first that he worked on.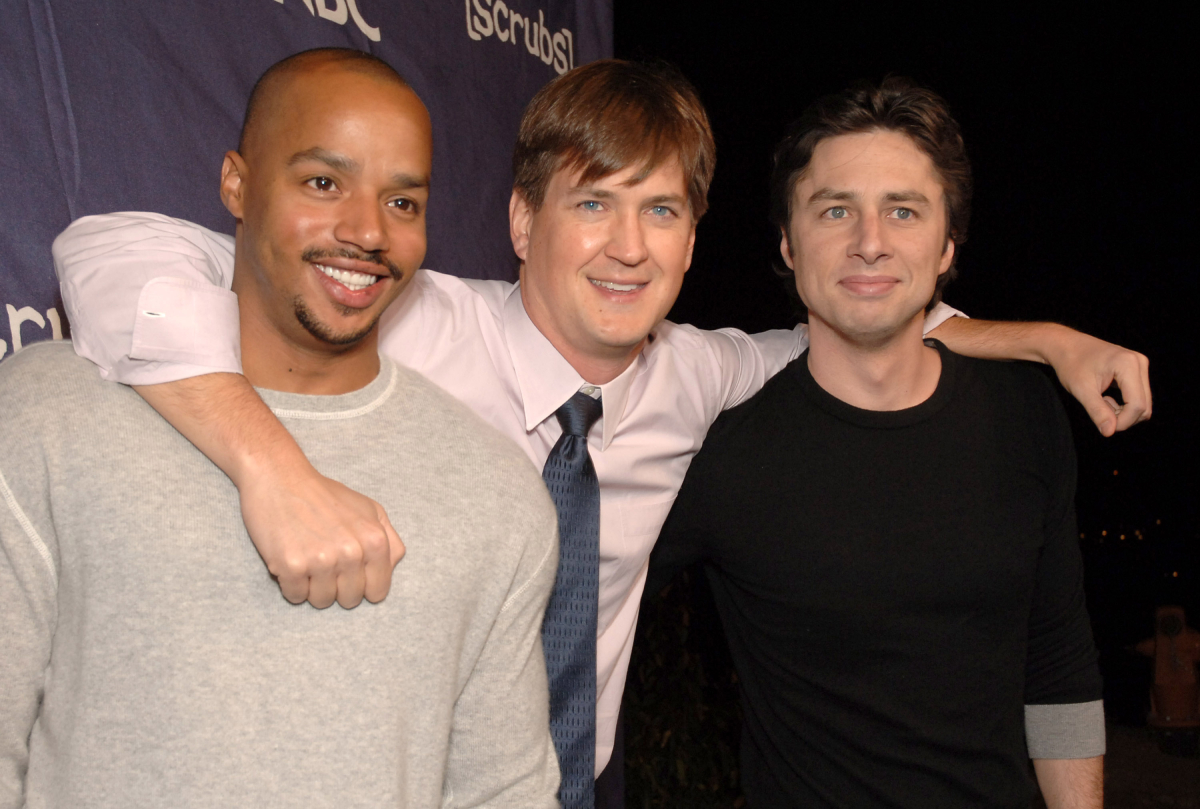 Lawrence also created the 90s political sitcom Spin City and was a staff writer on Boy Meets World and Friends. However, Lawrence says he got "s**t-canned" from Friends after just one season.
A season 5 'Scrubs' clip went viral during the pandemic
Early on in the pandemic, a one-minute video clip from the season 5 Scrubs episode "My Cabbage" went viral. The 15-year-old clip featured an infection spreading like wildfire throughout the hospital. Whenever anything touches the virus – a hand, a face, or a surface – it suddenly glows green. The short video clip was so relevant to the spread of COVID that it felt like it was made in 2020.
According to The Austin Chronicle, the video clip wasn't just a teachable moment. It also offered insight into the thinking behind Scrubs. The last person to contract the virus is a patient who was already sick, and in the next episode, she died.
RELATED: 'Scrubs' Creator Bill Lawrence Has an Insane Net Worth — But Is It More Than Zach Braff?
Instead of offering it up as "a very special episode," Scrubs simply reflected the reality of hospital life, albeit in a weird way sometimes.
"We're going to kill these three patients right away, and we're going to bring a movie star, Brendan Fraser, and we're going to give him leukemia immediately," Lawrence recalled. "The only decision we made was that we weren't going to kill him immediately, because that might be too much even for our networks."
Bill Lawrence found inspiration from his 'goofy friend' who went through medical school
As fans know, Scrubs followed Zach Braff's character, medical intern J.D. Dorian, and his close friend, trainee surgeon Christopher Turk, played by Donald Faison. The show definitely got weird at times, but it also had its share of serious moments. Just like with Spin City, Lawrence said there had to be a balance between sincerity and ridiculousness.
"You have to believe that people that go into those businesses give a crap, and they're trying to be of service in some way. Then you can have them be ridiculous or behave inappropriately, and still be protected as characters," Lawrence explained.
RELATED: 'Scrubs' Star Donald Faison Has Been in Way More Movies Than Even His Biggest Fans May Think
The TV producer says he learned about that much-needed balance from the inspiration behind Scrubs, his "goofy friend" Jonathan Doris. He watched Doris go through medical school, and Lawrence recalls meeting up with Doris at a bar or at a basketball game.
Lawrence says that if Doris was 15 minutes late, he would sometimes be shaken. This is because at a very young age, Doris was already dealing with people dying and families falling apart on a daily basis.
The 'Scrubs' creator admits he got 's**t canned' from 'Friends' after just one season
While speaking with The Off Camera Show in 2016, Lawrence revealed that he got fired from a big job early in his career. He was a staff writer during the first season of Friends. And it gave him the opportunity to witness a show become "a huge Zeitgeist-y giant hit where these young people became huge celebrities overnight."
But right when Friends was becoming a huge phenomenon at the end of its first season, Lawrence got "s**t canned." However, he now sees it as a "good moment" for him and his career.
"I knew my work was good, and I knew that I was doing funny stuff," Lawrence recalls. "And I knew that I was being let go because one of the bosses and I didn't get along. At my own fault, because I was still a dumb kid that didn't realize it was somebody else's world, and you have to behave as they want you to behave."
RELATED: 'Scrubs' Stars Zach Braff and Donald Faison Are Best Friends in Real Life, But Who Has the Higher Net Worth?
Having the sense that he was "really, really good" on Friends, Lawrence refused to crawl up into the fetal position and cry about losing everything. Instead, he knew he would get another job quickly after working on the number one show on TV.
"I came out of that with a confidence, instead of negativity. Having learned a lesson," Lawrence said.
If it wasn't for that confidence, the world might have never received the gift of Scrubs.