Why Some Fans Think Steve Carell's Character on 'The Morning Show' Parallels Michael Scott in More Ways Than One
When the first three episodes of Apple TV +'s The Morning Show dropped on Nov. 1, 2019, The Office fans were excited. While it is true, they do see an abundance of Michael Scott from The Office coming through in Steve Carell's performance; they also get a lot more than they wanted. Let's take a look at the similarities fans see between the two characters and why they are now distraught over it.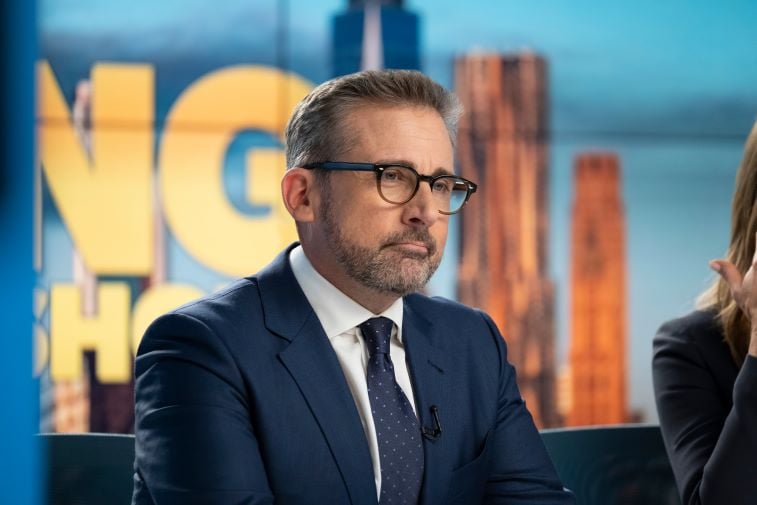 Why are 'The Office' fans seeing bits of Michael Scott on 'The Morning Show'?
In Apple TV +'s flagship series, Steve Carell plays the former cohost of The Morning Show, Mitch Kessler, who has just been fired for sexual misconduct allegations. There are so many similarities between Michael Scott and Mitch Kessler that fans were excited at first. 
The first clue that Michael was going to show through in Carell's performance was the song, "Goodbye Stranger" by Supertramp, which plays throughout the trailer of The Morning Show. That song was the musical inspiration for Michael's "Goodbye, Toby" rendition. As soon as the trailer was released, the comments were flooded with users writing, "#goodbyetoby." 
When The Office Fans tuned into the show, they found that Mitch's workplace behavior is very similar to Michael's; neither man knows how to act appropriately in a work setting. Carell shows many Michael mannerisms and phrases. Even his facial expressions and delivery have fans sometimes seeing Michael instead of Mitch while watching The Morning Show.
"You're going down, muthaf*cka," Mitch says in episode five, with such a Michael inflection that fans are unsure which show they are watching. The Office fans rejoice over to many ways they see their beloved Michael in Mitch on The Morning Show. 
What happened recently on 'The Morning Show' to upset 'The Office' fans?
Throughout the first seven episodes of The Morning Show, viewers begin to feel sorry for Mitch. He lost his job, and his wife, and he is very alone. He doesn't know what to do without his career as cohost. 
However, in episode eight, the series does a flashback to before Mitch was fired. Viewers find out that Mia Jordan (Karen Pittman) broke off the affair she was having with Mitch because he wouldn't leave his wife. Consequently, Mitch takes her off of his team.
Next, he tells his executive producer, Chip Black (Mark Duplass) to bring along junior producer, Hannah Shoenfeld (Gugu Mbatha-Raw) with the team to cover the breaking news story in Las Vegas. 
At the end of the night, Mitch runs into Hannah, who is distraught over the events of the day. Mitch consoles her and takes her back to his hotel room to watch a movie to help them both take their mind off of things. When she gets up to leave, Mitch holds their hug too long.
He sexually assaults Hannah but seems oblivious to the fact that she does not consent to what he is doing. The next day he calls Harvey Weinstein "a pig" for his sexual misconduct in the workplace, evidently not believing that he is doing the same thing.
Why are 'The Office' fans saddened by the Michael Scott they see on 'The Morning Show'? 
After the events of the recent episode, fans who were loving all of the Michael mannerisms of Mitch are appalled.
"Why oh why did you have to make Steve seem that bad," wrote one Instagram user. "I can never look at Michael Scott the same way ever again!"
It was a turning point for fans who were hoping to catch more of their favorite character from The Office on The Morning Show. He's no longer the beloved dimwit he used to play. Mitch steps over the line and fans do not like seeing Michael that way. 
"I love Steve Carell so much, I've [had] to stop watching this show after episode 6 because I genuinely can't stand seeing Steve as the bad guy," wrote another fan. "Like nooo, Michael Scott is the kindest purest person in the world! He would never hurt a fly. He might accidentally hit you with his car, though."
Some of The Office fans might stop watching the show when they find out how terrible Mitch is. However, we do not know if Carell's character could redeem himself with an apology in the future. Viewers will have to wait until the next episode of The Morning Show drops on Apple TV+ on Dec. 13, 2019, to find out.