Why Some Upset Fans Don't Want John Boyega to Be in 'Star Wars' Anymore
Now, Boyega has come out swinging, posting a video of himself "fighting off" all the tweets that angry fans have directed his way.
John Boyega just couldn't catch a break when promoting The Rise of Skywalker. First, his co-workers called him out for an honest but embarrassing mistake that could have gotten him fired.
Then the actor stepped in it after making comments about co-star Kelly Marie Tran that were widely perceived as graceless at best. 
Now, Boyega has come out swinging, posting a video of himself "fighting off" all the tweets that angry fans have directed his way. Now some fans don't want to see Boyega in Star Wars anymore – and that might actually be OK with him. 
John Boyega left behind his script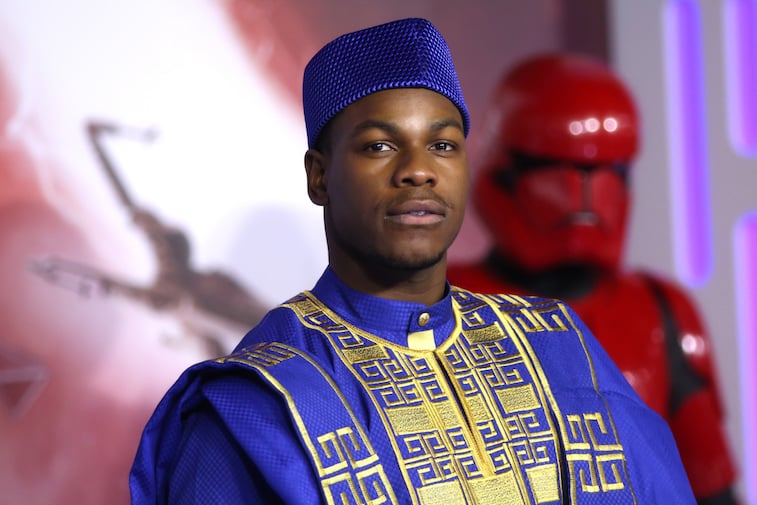 When you're working on just about any movie, it's generally considered careless to leave your script behind. When you're working on a corporate mega-franchise in which nondisclosure agreements are ironclad, that's potentially a catastrophe.
Scripts are sometimes watermarked with the actor's name, so it is known exactly who made the mistake if the script ends up where it's not supposed to be. 
Director JJ Abrams gave an interview saying one of his actors left The Rise of Skywalker screenplay behind. Then another person found it and tried to hawk it on eBay, and Disney found out about it Abrams did not reveal the culprit, although he said wanted to. Boyega later confessed to the misdeed, saying: 
"Let me tell you how this one went down," Boyega explained, per CNBC.  "I was moving apartments, and I left the script under my bed. I was just like, you know what, I'll leave it under my bed. When I wake up in the morning, I'll take it and move, but my boys came over and, you know, we started partying a little bit and then the script just — it just stayed there."
John Boyega gave many apologies for his mistakes 
Boyega, Abrams and Disney, publicly at least, laughed the incident off as an embarrassing "oopsie." However, that offense turned out to be minor compared to what was to come later. 
During The Last Jedi, Boyega shared much of his screen time with Kelly Marie Tran, who played Rose Tico. The vitriol directed at Tran by racist Star Wars trolls became so intense, it drove Tran away from social media, and her diminished role in The Rise of Skywalker was seen as a reaction to this. 
According to Screen Rant, Boyega said of social media, "For those who are not mentally strong, you are weak to believe in every single thing that you read. That's, you know, it is what it is."
Incensed fans took this as a shot at Tran. Boyega insisted he didn't mean it that way, but he apologized all the same, saying, "I was really speaking from my own perspective throughout this franchise. Sometimes I've felt strong and sometimes I've felt weak."
These two instances would have been more than enough to make the press tour something an actor would want to put behind him quickly. But Boyega wasn't finished. 
John Boyega ups the ante on Instagram
Now that the initial reaction to The Rise of Skywalker has died down, it would follow that the uproar over Boyega's comments would too. But then, Boyega threw gasoline on the fire, posting the Instagram video of himself deflecting tweets calling him out for his remarks. 
In the video, Boyega appears to be fighting off tweets from fans who were angry with him about his stance on shippers of Reylo, those who love the idea of romance between Rey and Kylo Ren.
One way to read this response is that Boyega is fighting off the kind of toxic trolls who made life miserable for Tran. But another way to read this response is that Boyega doesn't care what fans say about him, and that's a fine line to walk. 
Fans have wondered if they would see Finn again, if not in a movie, then maybe a Star Wars TV series. Boyega laughed this idea off, saying "You ain't gonna Disney+ me!"
After all this negative attention, Boyega seems eager to put Star Wars far, far behind him.