Why Sterling K. Brown's Wife Ryan Michelle Bathe Felt 'Defective' After Giving Birth
This Is Us star, Sterling K. Brown, is a husband father, and all-around grateful guy. His wife, Ryan Michelle Bathe, is successful in her own right, having starred on BET's The First Wives Club in 2019. Now, Bathe is opening up about her experiences as a mother and how it's affected things like self-esteem and marriage to Brown.
Ryan Michelle Bathe struggled with body image post-childbirth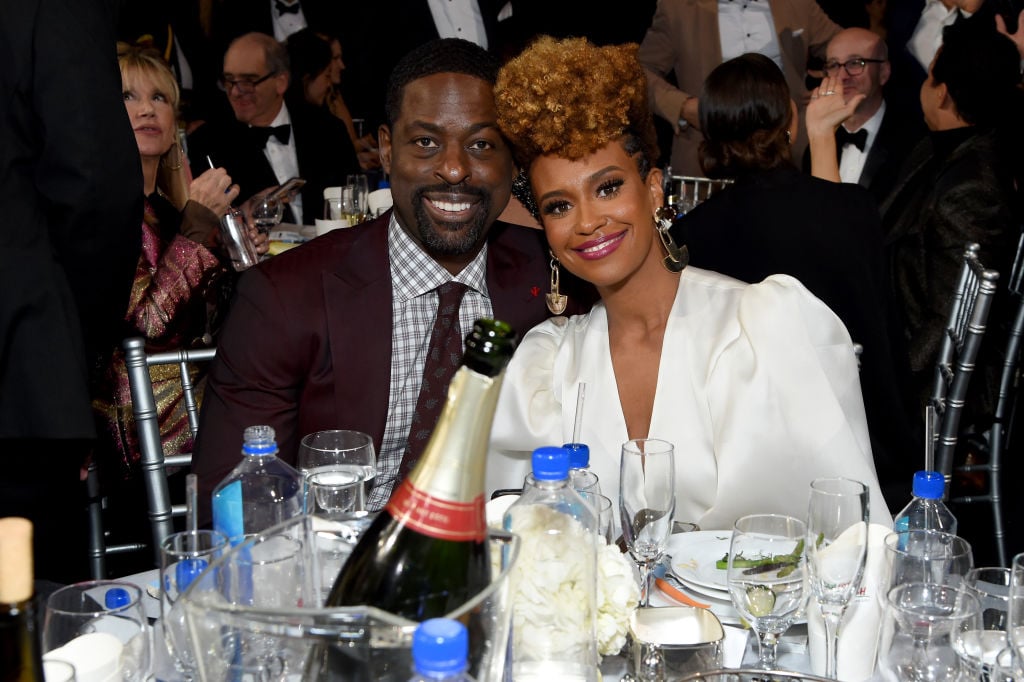 Though Sterling K. Brown may garner all the awards, his wife, Ryan Michelle Bathe, kills it o screens big and small, too. The mother of two recently shared her painful experiences post-childbirth in hopes of saving any mother out there who feels the same.
In an interview with Hollywood Life, Bathe explained her inability to "snap back" after giving birth causing her to feel felt really bad about not losing her baby weight fast enough."
After the birth of the couple's first son, Andrew (who is now 8 years old), Bathe said losing weight was all she could focus on.
"I had this beautiful, perfect little baby and I loved nursing him. I had so many positive things…but I spent all this time feeling down on myself because I didn't get skinny."
Her fears stretched far past motherhood and into her 14-year marriage to Brown where she revealed she feared she'd never "be sexy again." Bathe also admitted he grew "very angry, really, really angry with Sterling."
She continued: "Angry at him for not gaining weight, at him for being able to continue with his career. I remember saying things to him like, 'well, you deserve a career because you work out more', or 'you deserve a career because you're not fat.' You know what I mean? And just being angry that he wasn't a woman."
Postpartum depression set in months later
As for her career, she was sure she'd never act again and thought, "I had ruined my career." Those initial feelings about her body became something bigger around seven months after Andrew's birth: postpartum depression, though she didn't understand it at the time.
"I didn't even know I was depressed. I was like, 'I have to get it together'" she said.
She added those motherly instincts didn't immediately settle in. "I couldn't be a good mom and protect my baby son the way that I was supposed to. That he didn't deserve me, that he deserved better."
Brown and Bathe survived, but Bathe hadn't sought professional treatment because she didn't think much of it at the time and somehow learned t manage the depression. This doesn't work for everyone and Bathe's bout lasted over two years — until she became pregnant again.
"I think I knew what to expect a bit more, but I also think that once I had two kids, I was like- 'oh, there is no going back. There is no pre-kid life. It is kid central here.'"
What kind of husband is Sterling K. Brown?
Obviously Brown has been a steady rock for Bathe to lean on or she likely wouldn't have gotten through those scary times with much success. However, that doesn't mean the man America knows and loves as Randall Pearson is perfect.
"He is perfectly imperfect," Bathe said, adding, "Aren't we all? Everybody is. The wonderful thing about Sterling is that he embraces his foibles, he embraces his vulnerability. He never tries to pretend that he knows… sometimes he pretends that he knows everything. But for the most part, he does not pretend that he knows everything."
More than that, Bathe recognized one of Brown's best traits saying he knows when to apologize and admit wrongdoing.
"I think that's the mark," she continued. "Man, woman and anything in between, that is the mark of a human being who's really trying to grow."
Still, there's one thing the actress won't do in terms of reaching out to her loving husband.
"If you get into trouble, listen, I have been in some sticky situations in my life and imma tell you something," she said. "As much as I love Sterling Kelby Brown, if I'm in the pokey, I'm not calling Sterling because I'll get a lecture. I'm calling my [girls]."
Here's how Bathe envisions the future for her boys
Bathe has her hands full. She has an upcoming film, Sylvie's Love (acquired by Amazon), but she's stepping up to tell women to "ask for help" if postpartum is in question.
"It's okay," she said. "There is no such thing as a one-size approach- a majority of us don't fit into that certain 'magazine mold'".
As for the bigger picture, Bathe has hopes she, Brown, Beyoncé, and Jay-Z will become family someday.
"You know, I'm trying to get Blue Ivy and Andrew together," she told Entertainment Tonight. "Wouldn't that be great? Ryan and Sterling and Beyoncé date. We can all [get together]! I can cook, girl! I got you for Thanksgiving."