Why Some 'Stranger Things' Fans Think Eddie Might Be From the Hawkins Lab
Stranger Things fans are looking very closely at the first part of season 4. Some believe there are clues to Eddie Munson's (Joseph Quinn) past.
[Spoiler alert: This article contains Stranger Things Season 4 Volume I spoilers.]
What happens to Eddie in 'Stranger Things 4' Volume 1?
RELATED: 'Stranger Things 4': Why the Dungeons and Dragons Storyline Has Fans Feeling Bad for Will Byers
Season 4 introduced Eddie Munson, the leader of the Dungeons and Dragons club in Hawkins High called the Hellfire Club. He also sells drugs on the side.
He was with Chrissy Cunningham (Grace Van Dien) when a monster, unfortunately, killed her. The teenager was then on the run from the law because he was blamed for it.
Eventually, Steve Harrington (John Keery), Robin Buckley (Maya Hawke), Dustin Henderson (Gaten Matarazzo), and Nancy Wheeler (Natalia Dyer) met up with him to explain the Upside Down. Volume I ended with Steve, Robin, Eddie, and Nancy going to the alternate universe and fighting monsters. Everyone escaped except for Nancy and Steve in the end.
Some 'Stranger Things' fans think Eddie is 010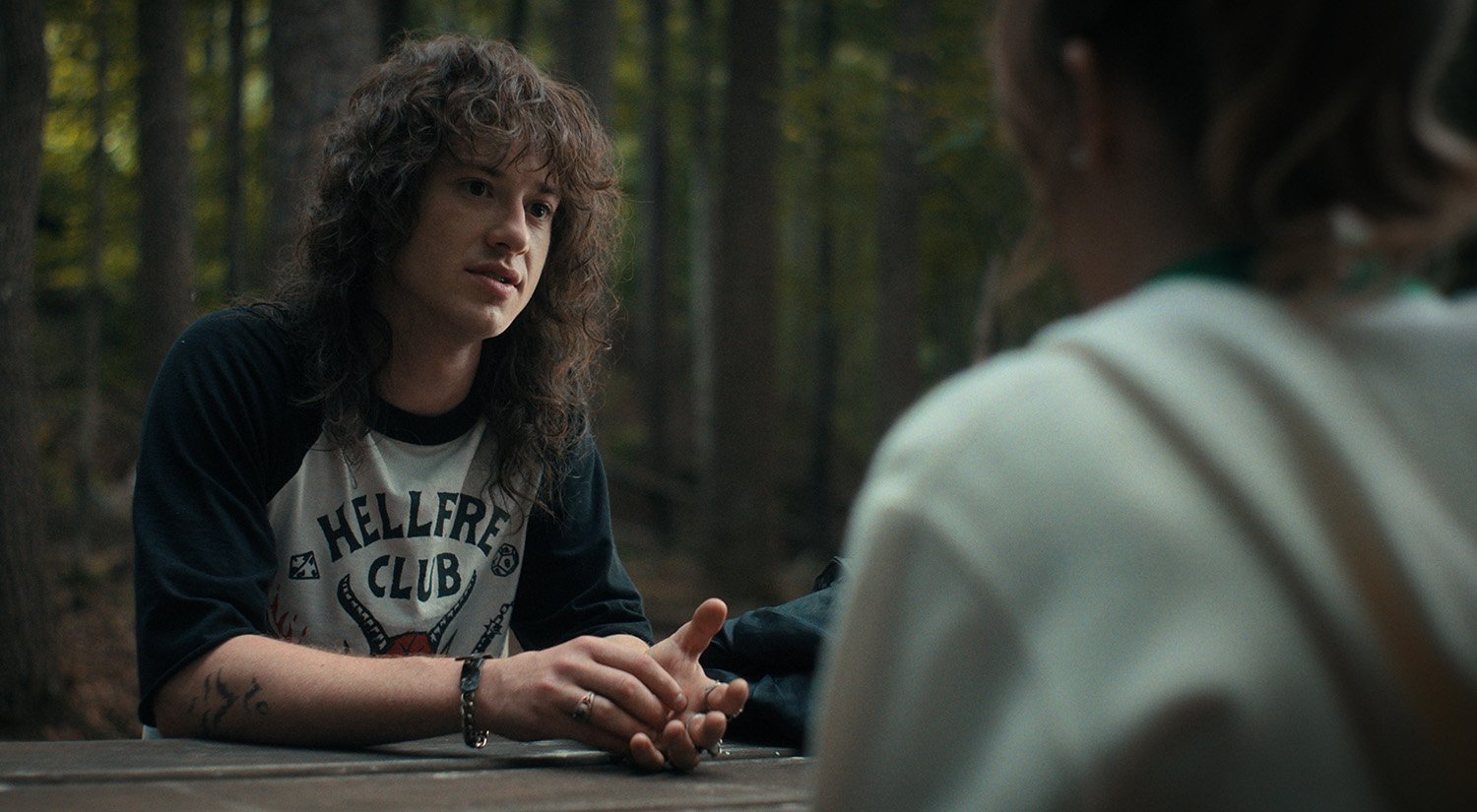 RELATED: 'Stranger Things 4': Was the Grandfather Clock in Season 1?
Since fans got to see the other kids in the Hawkins lab, it got them thinking that maybe there are other survivors. A fan on TikTok made a video explaining this theory. 
Eddie told Chrissy that she didn't recognize him because he used to have a buzz cut and didn't have tattoos. The video then showed the flashback to 010 and claimed the young actor (who has a buzz cut) looks similar to future Eddie. 
Another clip used to fuel this theory is Eddie's scene with the Hellfire Club. The creator notes he's wearing a black bracelet on his wrist. This could conveniently cover a "010" tattoo if he has one like Vecna (Jamie Campbell).
Lastly, in the flashback to when all the kids are killed by Number One, Papa (Matthew Modine) crawls to 010. He cradles his body, but the child's face isn't turned toward the camera. If the audience doesn't see he's dead with his face toward the screen, there is hope he was alive. Other theories are circulating about the new character.
Other 'Stranger Things' fans think Eddie will die
New characters don't fare well on the Netflix show. Bob Newby (Sean Astin) was introduced in season 2 as Joyce Byers' boyfriend (Winona Ryder). He was later killed by monsters.
Season 3 introduced Billy Hargrove (Dacre Montgomery) as a bully and the lifeguard all the moms liked to crush on. The season ended with him also being killed by a monster.
Season 4 already showed a new character being killed with Chrissy. But many fans believe Eddie isn't out of the woods either because of this trend. They'll have to wait to see if more of his past is revealed in the next two episodes and if he'll survive.
RELATED: 'Stranger Things 4': Is The Upside Down Completely CGI?