Why Tamar Braxton Is No Longer a Fan of 'Braxton Family Values'
It's no secret that Tamar Braxton became the breakout star of Braxton Family Values because of her sass and opinionated personality. But Braxton says fame has come at a price, particularly in terms of her relationship with her family. The Love & War singer says her family has been torn apart in some ways due to their reality series and she's no longer a fan of the show.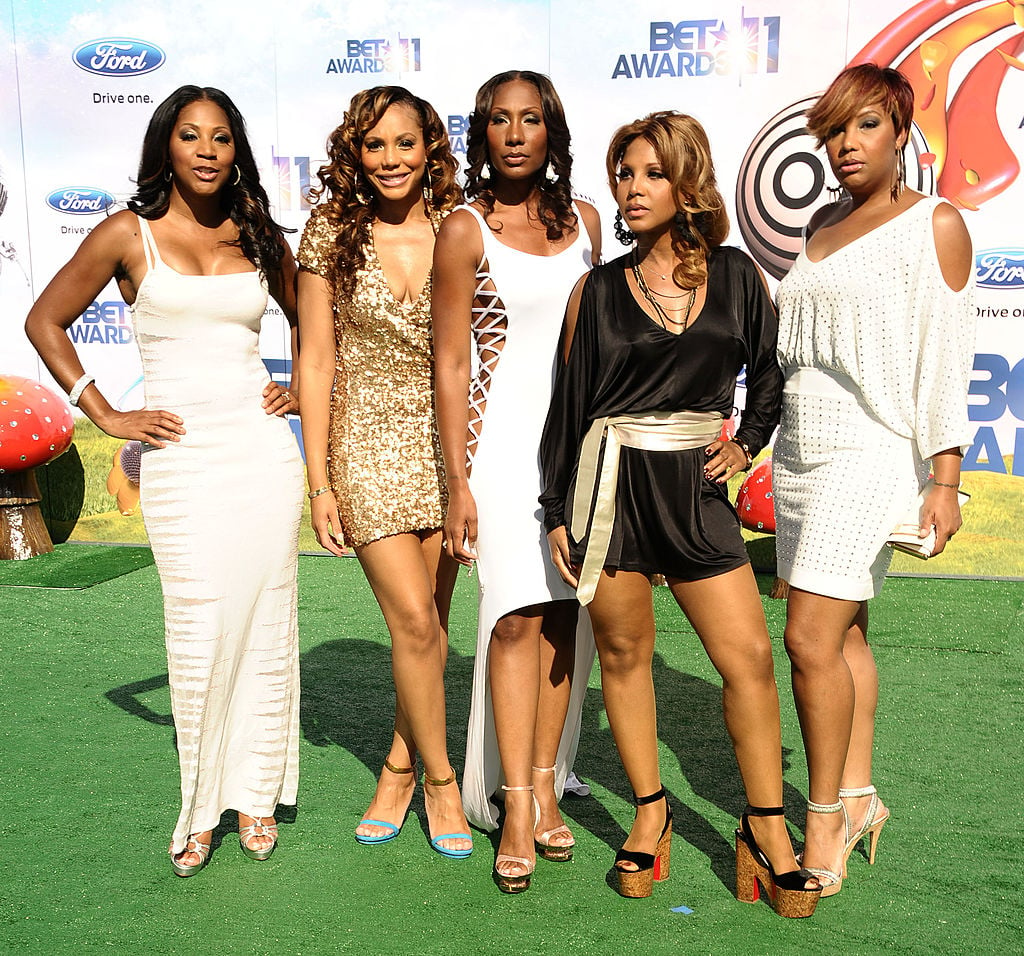 'Braxton Family Values' was Tamar Braxton's idea
A huge fan of reality television, Tamar knew her family would make for great TV. Never before had a talented Black family made up of women have their lives on full display. She thought a reality show would be the perfect way to show her family and her singing chops.
Her former husband, music executive Vincent Herbert, pitched the idea to several networks before getting an offer from WeTV. The network agreed under the condition that Toni participate. But, Toni was not initially on board.
It came down to a game of monopoly. If Toni lost, the family would do the show. "Looking back, it's funny because that game could have been a scene out of the show," Toni told Ebony Magazine in a 2012 interview. "It was very Braxton. I lost, I had to live up to [my end of the deal], and now we have the No. 1 show on WE tv."
Toni would later reveal in her memoir Unbreak My Heart that she agreed to do the show out of guilt to help her sisters with their career aspirations one final time. 
The sisters have had several major fallouts throughout the series
The Braxton sisters have always had their disagreements but as seasons progressed, the arguments have gotten more intense and they've been less eager to forgive. The past few seasons have put a huge strain on the family, and despite how many high profile counselors they've sought counsel from, their old habits have always seemed to resurface.
Tamar and Herbert's divorce and her mother and sisters speaking out about the alleged domestic violence that took place during their marriage proved to be a breaking point for Tamar. There have also been consistent breakdowns in communication between the sisters, most notably involving Tamar, Towanda, and Traci.
The sisters were estranged from Traci for several months when she decided against the family's wishes to go on strike from filming. They resolved their issues briefly with famed life coach Iyanla Vanzant, but it was shortlived.
Last season ended with a major blowup between Traci and the rest of her sisters after Traci felt excluded and blindsided by their significant others' attempt to have the sisters talk through their issues. As a family, they agreed to take an extended break from filming. 
Tamar Braxton says the show has caused damage to her family and has become a negative portrayal of African-American families overall
Tamar was noticeably absent from much of season 6 as she dealt with the fallout of her divorce. She also was not in much communication with her sisters as a result.
In the episode featuring Vanzant, it was discovered that it was Tamar's idea to strike out, as she'd become fed up with production and editing. She's been vocal since the show has been on a break that she's not happy with the direction of the show.
In a new interview with Nick Cannon on his LA radio show, the youngest of the Braxton family elaborated on why she's fallen out of love with the show and says it's caused major issues within her family.
"At first, it was a lot of fun because I felt like we were speaking for the African American family and then for the African American female and being individuals – and that was maybe for the first five years," she said. "I absolutely, positively hate it. I hate what it's done to my family."
Fans have noticed that Tamar and Traci are currently not following one another on Instagram, hinting that there may still be tension between the sisters. When Showbiz interviewed Towanda, she spoke on the status of their sisterhood. 
"Looking back and watching how the situations grew into something else, we realized that we had to create boundaries and a lot of the sisters were resistant," she said. "We are going through the growing pains now to get to a better place and with prayer and everything we will get there one day at a time."
Related: Interview: Towanda Braxton Carves Out Her Own Lane From Her Singing Sisters With New Skin Care Line and Talks 'BFV'
Tamar does not believe the show portrays positivity anymore, which frustrates her the most. 
I don't feel like you get anything positive from it – a lot of arguing and fighting and shenanigans and it's not what my parents raised and designed for our family. And I think what it's turned into, what you see on television is definitely not something I want to stand by…if you're not gonna tell the real story…the ups and downs but also the resolve…if you can show the chaos, the resolve, and the success then you have a true American Black family story.

Tamar Braxton on Nick Cannon Mornings
Tamar believes that the downfall of the show is a combination of production issues and viewers used to certain negative behaviors portrayed on reality television, which she believes they tend to crave. Braxton Family Values is set to return to WeTV this fall.