Why Tarek El Moussa's Girlfriend Heather Rae Young Contacted His Ex-Wife For Advice
HGTV's Tarek El Moussa and girlfriend Heather Rae Young are spending some quality time together during quarantine. Recently moving in together as their relationship continues to get more serious, the Selling Sunset star recently shared that she's hoping to soon tie the knot with El Moussa.
Divorced from HGTV's Flip or Flop co-star Christina Anstead since 2018, El Moussa and his ex now make co-parenting their two children, Taylor and Brayden, a top priority. While she has limited experience with kids, Young is also doing everything in her power to be a positive influence on her boyfriend's offspring.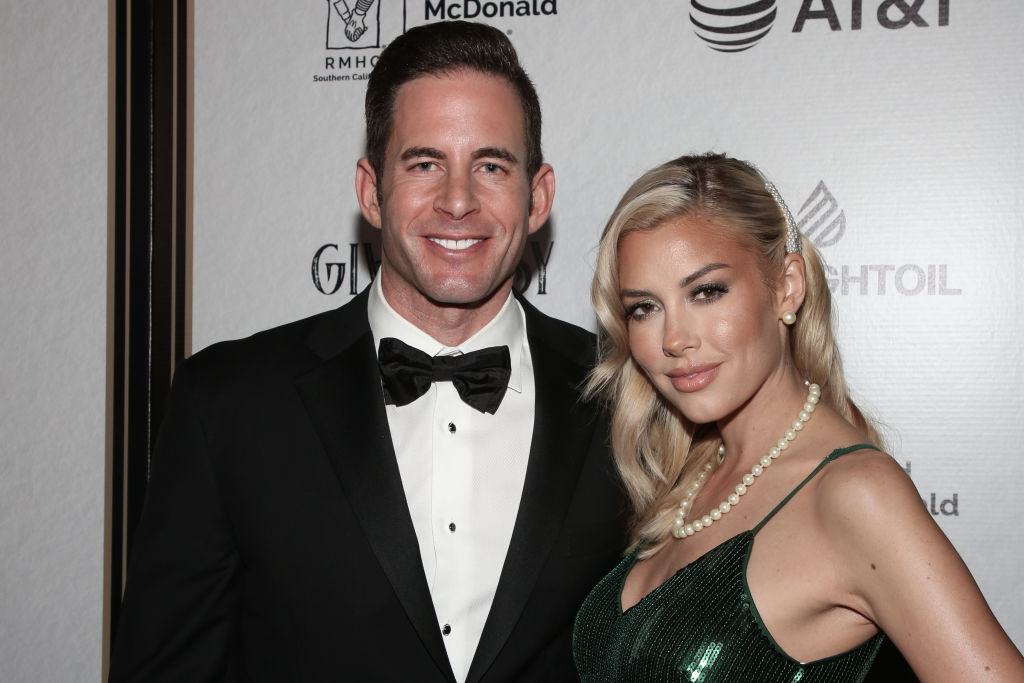 'Selling Sunset' star is ready to walk down the aisle
The Netflix star doesn't mince words when it comes to expressing her feelings for El Moussa. Young is clearly ready to make a permanent commitment to the Flip or Flop co-host.
"I can't wait to marry Tarek El Moussa. I can't wait to be engaged to him," she told E! News. "It's something that when we talk about it, it's real. I know that it's going to happen, but I don't like to push either and I don't like to bring it up all the time. I don't want to ruin any surprises but we definitely talk about it."
While Young is ready to hit the altar in the (very) near future, she wants the next step to play out on its own. "I don't want to put pressure because he knows I'm 100% the one, but I think it'll happen," she said. "Hopefully sooner than later, but I just don't know when."
RELATED: HGTV's Tarek El Moussa Was Seen Kissing This Netflix Series Star
Tarek El Moussa's new girlfriend meets the ex
In the hopes of having an open dialogue while co-parenting with Anstead, El Moussa made a point of introducing her to Young early on.
"I met her pretty quick into mine and Tarek's relationship," Young shared. "We'll text each other about the kids. We'll text each other food recipes and drink recipes. We'll meet up and do walks with the kids."
The Netflix star has taken quite a shine to El Moussa's children and is enjoying her new role in their lives. "They've fulfilled my life so much more than I ever thought could be filled," Young said of Taylor and Brayden. "They've brought a joy that I haven't had before. I don't have my own kids and I don't know if I ever want to have my own kids, so this has kind of filled that void of not having children."
Domesticity is apparently agreeing with the Selling Sunset personality. "I'm taking the kids on little bike rides so my shift has kind of been toward being a stay-at-home wife and step-mom," Young revealed. 
RELATED: What 'Flip or Flop's' Tarek El Moussa Says About Working With Ex Christina Anstead
Heather Rae Young reaches out to 'Christina on the Coast' star
In seeking a healthy relationship with her boyfriend's children, Young wanted to get advice from the person who knows Taylor and Brayden best and reached out to Anstead for some guidance.
"I really put myself in other people's shoes. I'm around the kids every day. Tarek and I live together, so it's only natural for me as a woman to want to reach out to her as their mom," Young revealed, sharing some questions she asked of Anstead. " 'Hey, I'm with your kids. Do you have any tips? Can you help me? I'm new at this. Like I don't know what I'm doing.' "
Young wanted to be sensitive to any concerns Anstead may have had on her ex's new relationship and the changes it brought into the children's lives.
"I was the first girl that he openly dated and introduced to his children since the divorce," Young explained. "I really think about, how would she feel as their mother, and a new girl is living with the kids? It's only natural for me."
No wedding date has been set as of now, but fans of El Moussa and Young are most likely waiting for engagement news!
RELATED: HGTV's Tarek El Moussa Said A Viewer Helped Save His Life by Noticing This