Why the Beatles Didn't Want to Release 'Revolution 1' as a Single
If you were looking for a political statement from The Beatles, you didn't hear anything in the band's early years all the way through 1967. After returning from their '68 trip to India, John Lennon planned to change that.
The first time the Fab Four got together in the studio, the band ran through John's new song, which he'd called "Revolution." After Beatles fans had digested "Hello, Goodbye" and "Lady Madonna," the song John proposed as the next single was going to be different.
"I wanted to put out what I felt about revolution," he told Rolling Stone in 1971. "I thought it was time we f–king spoke about it, the same as I thought it was about time we stopped not answering about the Vietnam war."
With Beatles manager Brian Epstein gone, John thought it was time for the Fab Four to grow up and make a statement. However, Paul McCartney and George Harrison had other ideas about diving into political matters.
Paul and George argued 'Revolution 1' was too slow for a single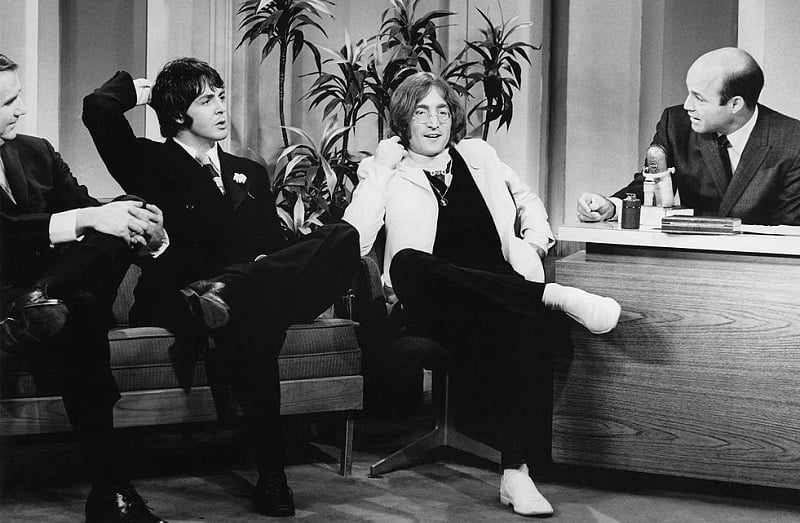 When John got started, he didn't need to number the song titled "Revolution." Only one existed, and it didn't change until his bandmates made clear they didn't want to make the track the next Fab Four A-side.
Yet instead of confronting John about the message of the song (or lack thereof), Paul and George argued the song wasn't commercial enough. (They pointed to its slow tempo.) "George and Paul were resentful and said it wasn't fast enough," John said in 1980.
But John cared little about the hit-making potential of his song. "If you go into the details of what a hit record is and isn't, maybe," he said. "But the Beatles could have afforded to put out a slow, understandable version of 'Revolution' as a single, whether it was a gold record or a wooden record."
Determined to get his message across, John cranked up the amps for the distorted, heavy version eventually called "Revolution." However, the band kept that version on the B-side of their next single, "Hey Jude." The slow one became "Revolution 1."
John's fast version of 'Revolution' caused controversy, anyway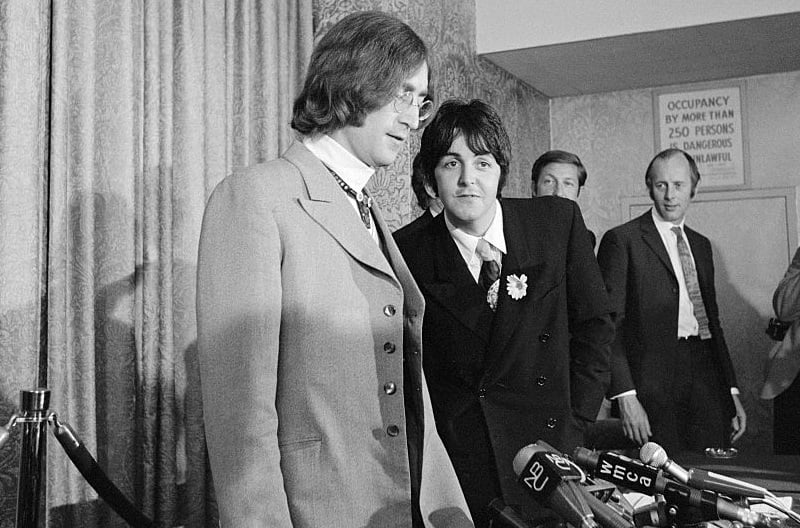 Though The Beatles hoped to hide "Revolution" somewhat on the B-side, that didn't work in the summer of '68. John's declaration to "count me out" struck many as a weak statement from such a powerful figure. And the Fab Four felt something of a backlash.
Ironically, the original version ("Revolution 1") sounded stronger, with John saying "count me out, in." (He couldn't say one way or the other. He wanted "to see the plan" first.) "I don't fancy a violent revolution happening all over," he explained to Rolling Stone in '71.
Of course, with "Hey Jude" dominating the charts from August '68 on, The Beatles didn't come close to being "canceled." When The White Album followed in November, more success followed. John still found ways to agitate folks; he just didn't get to do it on that particular A-side.
Also see: The Beatles Song With the Best Paul McCartney Guitar Solo