Why the Final Concerts of BTS's Love Yourself: Speak Yourself Tour Is Bittersweet for ARMY
Like BTS did with their Wings album, the group is holding a final series of concerts for their Love Yourself albums. BTS's Love Yourself: Speak Yourself [The Final] concerts take place in Seoul on Oct. 26, Oct. 27, and Oct. 29. The three concert dates mark the end of BTS's Love Yourself era.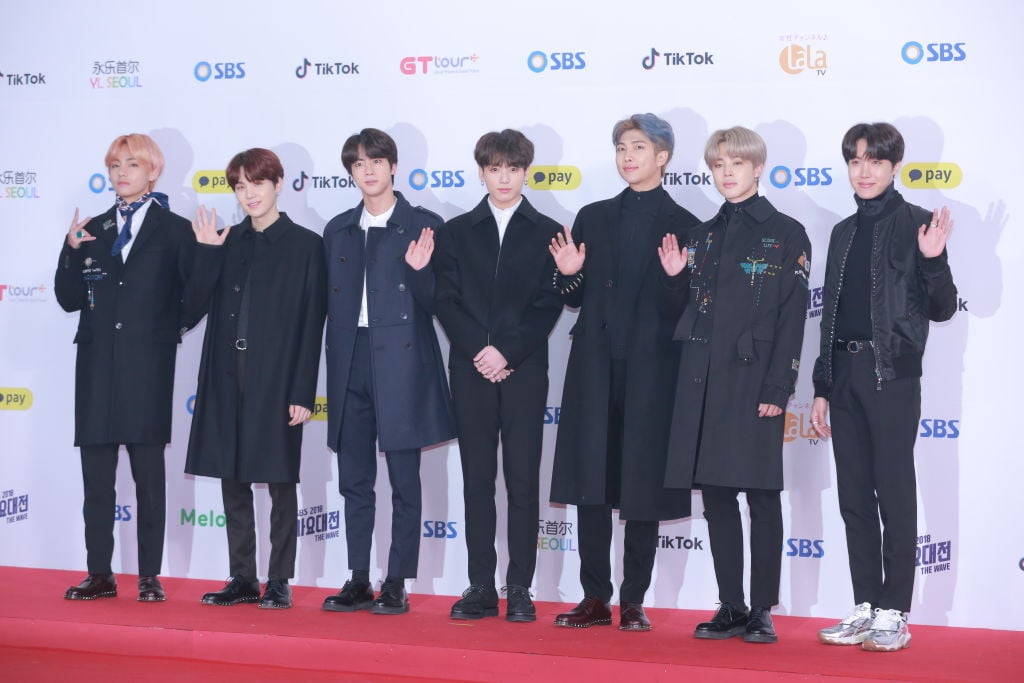 The concerts will be the last time BTS performs the solos from the tour
BTS's Love Yourself albums contain a lot of stellar songs. "Idol," "Fake Love," "Best of Me," "Mic Drop," "Outro: Tear," and "The Truth Untold" all originated from the Love Yourself era. It's likely popular songs like "Idol," "Fake Love," and "Mic Drop" will stay on future concert setlists as long as the songs blend with BTS's future concepts.
Like the Wings album, each member of BTS had a solo song from either Love Yourself: Her, Love Yourself: Tear, or Love Yourself: Answer. During the Love Yourself World Tour and BTS World Tour Love Yourself: Speak Yourself, the members perform their individual solos from the albums. For the vocalists, Jungkook performs "Euphoria," Jimin performs "Serendipity," V performs "Singularity," and Jin performs "Epiphany."
The rappers also have solo tracks and Suga performs "Trivia: Seesaw," J-Hope performs "Trivia: Just Dance," and RM performs " Trivia: Love." The Love Yourself: Speak Yourself tour extension included new songs from BTS's EP, Map of the Soul: Persona. As BTS adds to the Map of the Soul series, the solo songs from the Love Yourself era will be replaced.
BTS fans have mixed feelings about the possibility of new solo songs
With BTS dropping hints that they are working on their newest album, some fans suspect it will include new solo songs for the members. In the commentary for Bring the Soul: The Movie, the group seemed to let it slip they were working on solo songs.
"Hold on for a minute. The documentary was filmed after the Stadium tour and they're talking about Jin dancing for his next performance at a concert? Also Jimin mentioned a new song? Are we getting new solos for the new tour? Im freaking out right now," a fan tweeted.
ARMY is ready for BTS's next album, and has been predicting the comeback date since early 2019. While fans want a new album, some are not ready to say goodbye to the Love Yourself solos.
"i was listening to seesaw minding my own business and then i remembered that this month will be the last time bts is going to perform their solos live and :((," one fan tweeted.
The 'Love Yourself' era helped a lot of BTS fans
BTS is known for writing songs that are relatable to their audience. They have written about the struggles of adolescence, commented on social issues, and encouraged people to practice self-love with their music. With their Love Yourself albums, BTS encouraged fans to love themselves while the members also learned to love themselves.
"On their new album, Love Yourself: Tear, the group's youngest member, Jungkook, helped write and produce a song called 'Magic Shop' that features honest lyrics like, 'On a day you hate being yourself, on a day you want to disappear forever, let's build a door to your mind,' and 'I wanted to comfort you, move you, I want to end your sadness and pain. You gave me the best of me, so you'll give you the best of you,'" Nezariel Scott wrote for Flare.
While "Magic Shop" is not on the setlist for BTS World Tour Love Yourself: Speak Yourself, the comfort BTS provides fans is present. During Jin's solo, "Epiphany," thousands of fans sing the lyrics "I'm the one I should love in this world" with him. The central message of the era helped BTS fans discover self-love. Love Yourself: Speak Yourself [The Final] gives fans a chance to say goodbye to a monumental era while simultaneously enjoying BTS's new era.