Why Trina Braxton's Talk Show 'Sister Circle' Was Canceled
Trina Braxton made a splash on Braxton Family Values as the party girl of the bunch. She used her platform to release solo music and open her own tapas bar, which she chronicled on the show. Like Braxton's younger sister Tamar, she also expanded her resume by taking other television opportunities.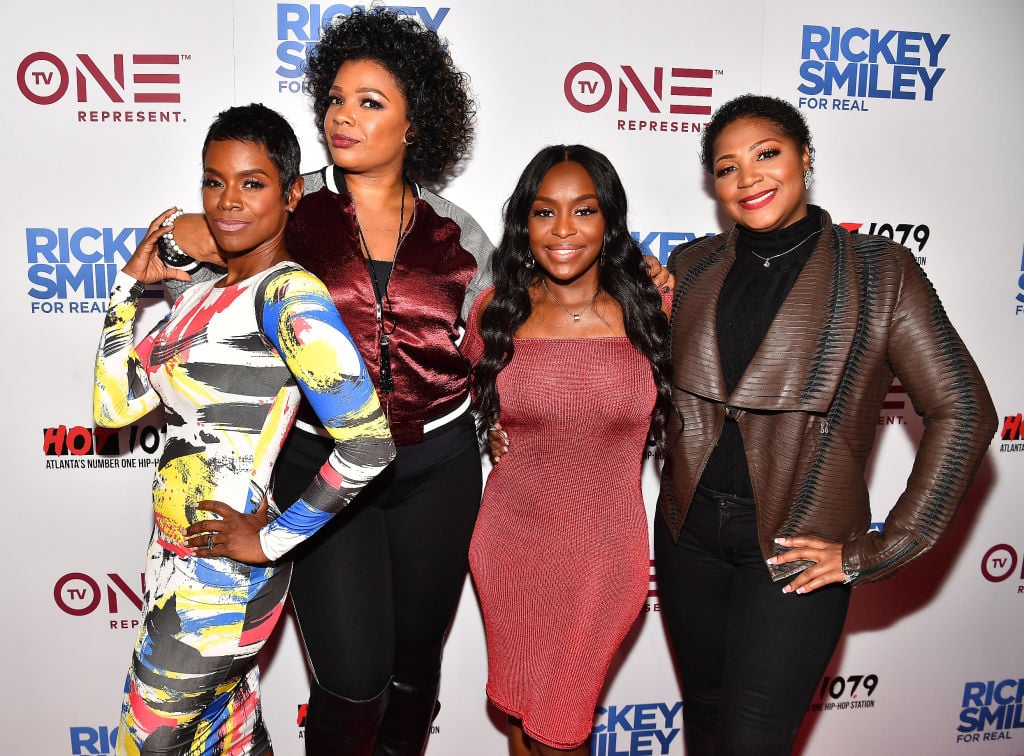 She joined the hosting panel of TV One's daytime talk show Sister Circle and helped to stabilize the show in its second season. Unfortunately, the network announced its cancellation due to low ratings.
Trina Braxton joined 'Sister Circle' in 2018
Sister Circle premiered on TV One in 2017. The daily talk show featured a panel of women who dished on hot topics related to social issues, entertainment, relationships, parenting, fashion, and personal finances – as well as celebrity interviews. Social media viewers were able to interact through Q&A and reactions as the show aired live.
Braxton joined the show a year after its premiere. Other hosts were reality star Quad Webb, Grammy-nominated singer Syleena Johnson, and TV and radio host Rashan Ali.
"From her musical roots as part of the legendary Braxton sisters and continuing to star with her famous family on Braxton Family Values, Trina brings a unique perspective to Sister Circle with her honest and candid perspective on relationships, motherhood, and managing it all," the VP of Tegna's original programming said in an official statement.
The show taped in Atlanta in partnership with Tegna and aired in 12 Tegna markets and on cable television, reaching 60% of U.S. TV households.
Braxton was open about how much she enjoyed filming the show throughout her almost two-year tenure. The hosts were able to showcase their life and struggles as a way to inspire others, including the death of Braxton's ex-husband and her finding love again, Webb's divorce and health battle with fibroids and Johnson's journey to fitness competitions.
'Sister Circle' was canceled due to poor viewership and ratings
The talk show got off to a rocky start after its DJ and male perspective, popular YouTube star Funky Dineva, was let go without explanation in its first season. Blogger Sandra Rose reported that viewers were not receptive to Dineva on the show due to his past hostile views on women. The report also alleged that he was tardy and missed work.
Rumors surfaced earlier this year that Sister Circle was in danger of being canceled. Reruns have been airing since Mar. 8, adding to the speculation that a cancelation was near. Tegna announced on the official Sister Circle Instagram account that the show was canceled due to low ratings.
"While there are many loyal fans of the show, the show has not grown its audience enough to continue," the statement read in part.
'Sister Circle' co-hosts speak out about the show's cancelation – fans react
Viewers were not happy with the show's cancelation and many expressed their disappointment on social media while calling for another network to pick the show up for another season.
Webb issued a statement during an Instagram live with Tami Roman, saying that though she's sad the show is ending, she's hopeful another network will pick it up and looks forward to the future.
Ali has also spoken out, telling the Atlanta Journal-Constitution that she's proud of the impact the show made and that it was a "privilege" to be part of the show.
The final episode of Sister Circle will air on April 24 at 12 Noon.