Why 'Venom' Star Tom Hardy Asked 'Lord of the Rings' Actor Andy Serkis for Help With First Movie
Andy Serkis has made his rounds through some massive titles over the years. Providing the voice and motion capture for Gollum in Lord of the Rings and The Hobbit, he also played Ulysses Klaue in the Marvel Cinematic Universe. Then, he tangled on the Sony side of things, as Venom star Tom Hardy consulted Serkis for help on the first movie.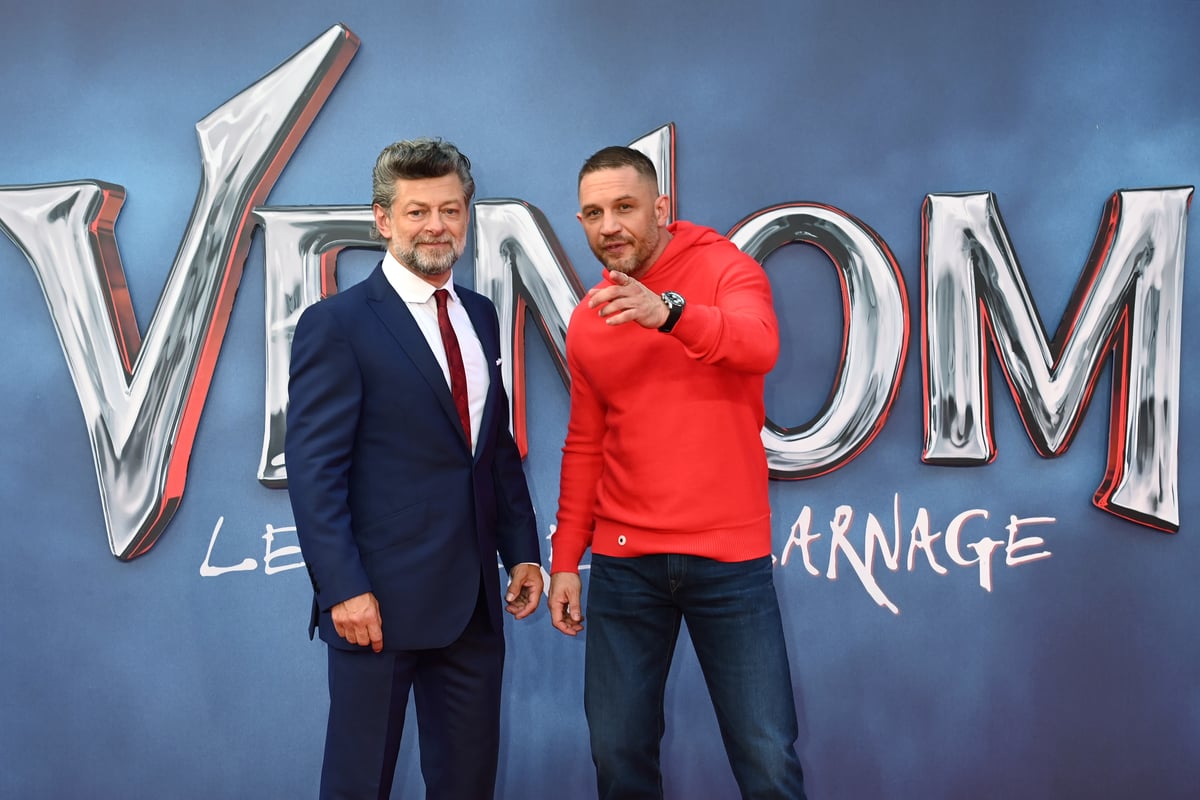 Hardy considered motion capture for 2018 'Venom'
In the titular role, Hardy was fully willing to take up a motion-capture suit. However, he need help from a professional.
When it comes to motion capture, it's hard to find a more prominent name in Hollywood than Serkis.
Peter Jackson's Lord of the Rings trilogy set monumental landmarks for filmmaking. The Two Towers broke a new mold for motion capture technology. Utilizing a real-time motion capture system, Serkis' actions were streamed directly into the computer-generated skin of Gollum.
Serkis also performed the motion capture for Caesar in Rise of the Planet of the Apes in 2011.
Hardy knew that if he took up motion capture acting, Serkis was the man to consult.
Hardy and Serkis tried to set up a motion capture session
Before the first Venom movie, Hardy called Serkis.
"He called me before the first Venom and said, 'Andy, I'm going to be doing this character, and it's going to be a digital character," Serkis said in an interview with Uproxx.
Hardy invited Serkis to the performance studio to assist in him learning how to perform in motion capture.
Unfortunately, plans for this meetup between the Venom and Lord of the Rings actor never amounted to much.
"And at that time, he was thinking of using it. But then I never heard from him again for a while. And then Venom 1 came out, and I thought, 'Oh, that was the character he was talking about.'"
However, this was not the last time that Serkis would have a story to tell about the Marvel symbiote.
Hardy wanted Serkis to direct 'Venom 2'
Fans following Venom: Let There Be Carnage know that Serkis ended up directing the sequel. This partially came from Hardy calling him again before Venom 2.
"Tom and I have quite similar sensibilities in a way – definitely swimming in the darker end of the swimming pool. Sort of grungy kind of sort of dysfunctional characters that are outsiders," Serkis said. "In many ways, I think that's why he wanted me to get involved."
Direct of the first Venom, Ruben Fleischer clashed with Hardy over the film's vision. An essential part of filmmaking, however, is synchronization between the actors and the director.
"He phoned me up, and he said, 'Look, we'd really love you to throw your hat in the mix for directing this.' Of course, everybody loved the lobster tank moment. That's the touchstone moment. That's the sort of the starting point for this next film," Serkis said.
And Hardy and Serkis were sure to work together in the sequel film. While very little resulted from Hardy contacting Serkis for the first Venom, a new friendship and vision took root for Venom 2.
The film releases on Oct. 1, 2021.