Why Was 'Freaks and Geeks' Canceled?
Freaks and Geeks was a teen comedy series that developed a cult following. Ironically, the show's time on television was short-lived. Find out why Freaks and Geeks got canceled.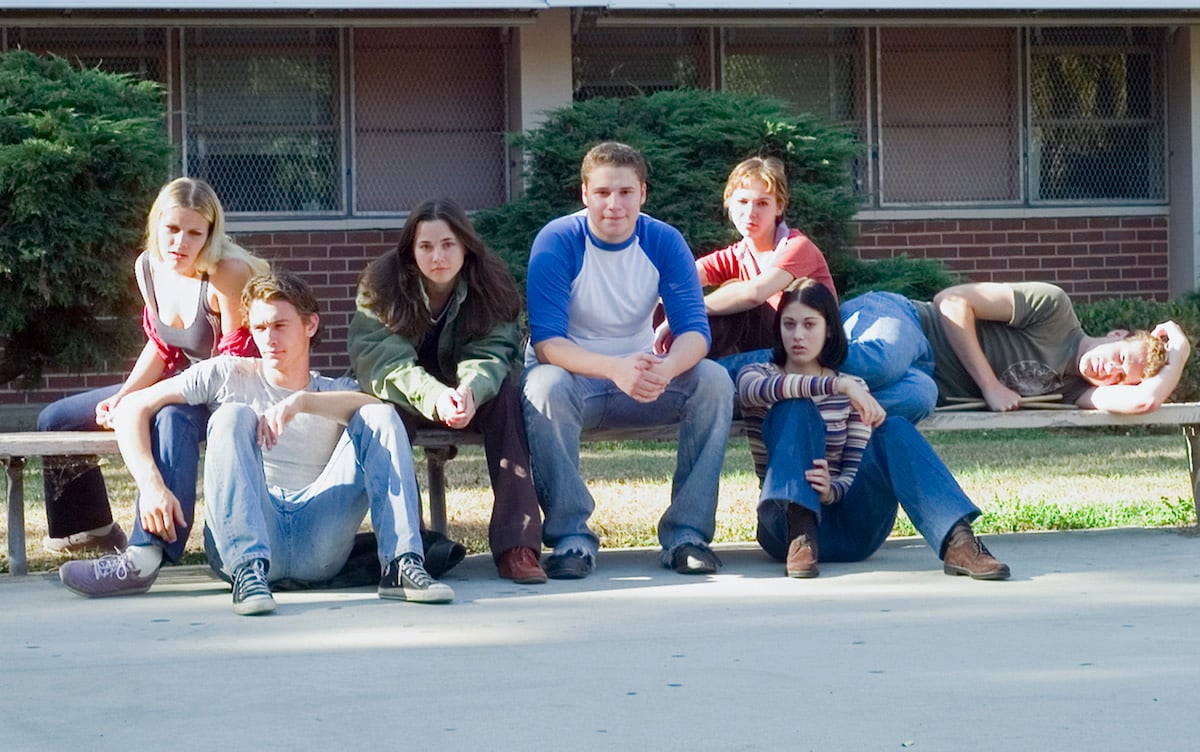 Many fans loved the honesty in 'Freaks and Geeks' 
The late-'90s teen dramedy gave up-and-coming actors like Seth Rogen, Linda Cardellini, Jason Segel, James Franco, and Busy Phillips their start in Hollywood. The Office writer Paul Feig created Freaks and Geeks, a show set in the '80s.
The story follows high school student Lindsay Weir (Cardellini) who belongs to a group of guys — the "freaks." Meanwhile, her younger brother Sam (John Francis Daley) is making a name for himself as a "geek."
Because of the show's honest lens — think high schoolers who feared having sex and felt uncomfortable in their skin — it quickly became beloved by viewers. But despite the cult fan base Freaks and Geeks developed, the show's time on NBC was short-lived. 
The teen dramedy only lasted one season on NBC 
Freaks and Geeks premiered on September 25, 1999. The show had the 8 PM slot on Saturday nights — something DreamWorks development executive Justin Falvey was concerned about. 
"You hear Saturdays at eight and you think, 'Who's home Saturday watching television?'" he told Vanity Fair. "But we also thought it was an opportunity: the bar's really low. It was like coming in second or third place — it was qualifying for the next round."
Despite this "opportunity," Freaks and Geeks was canceled after only 12 episodes. The final six episodes aired throughout 2000 after fan outcry forced NBC to do so. 
Why was 'Freaks and Geeks' canceled?
Despite the show's cult following, the ratings weren't there for Freaks and Geeks. 
"We were up against the 10th season of Cops," explained executive producer Judd Apatow. "I thought, 'If we can't beat the 10th season of Cops, we don't deserve to be on the air.' And, of course, Cops kicked our ass." 
An inconsistency in programming was another problem for Freaks and Geeks, as was Who Wants to Be a Millionaire.
"We were on for two weeks, off for four weeks because of the World Series," explained Feig. "[Then we were] on for another six and then off for two months, moved, put up against Who Wants to Be a Millionaire." 
In Feig's opinion, the "nail in the coffin" was the Mary and Rhoda reunion show — an ABC TV-movie sequel to The Mary Tyler Moore Show that aired the same time episode 10 of Freaks and Geeks. 
But in reality, all of those problems weren't as big as the network executives. 
NBC executives wanted more from the characters
When Freaks and Geeks was on television, Garth Ancier was the president of NBC Entertainment. Though the show was about the messier parts of being a high school student, Ancier wanted to see the characters have "more victories."
"The irony was that the network was very, very supportive," said Feig. "The interference we had was the interference of people that wanted to make it as good as they could. But Judd was a screamer back then. He would take them on hard-core." 
But no matter how much Apatow fought for Freaks and Geeks, the show was left to live out it's final days in "purgatory."
"What happens is they shorten your order," Apatow said. "Not that they officially shorten the order—they just don't order any more. Then you're in purgatory, wondering if someone's going to say, 'Next year we're going to give you a better time slot because it deserves to be on the air.'"
'Freaks and Geeks' had a prom-themed wrap party 
As sad as it was to have the show canceled, the cast and crew of Freaks and Geeks went out most fittingly for a show about high school misfits and geeks. The wrap party was themed like an '80s prom complete with 1970s/early-1980s formal wear. Phillips even wore her junior prom dress. 
During the event, Feig presented Apatow with a promise ring to treasure forever. Meanwhile, Cardellini kept the iconic green jacket that transformed Lindsay from a mathlete geek to a Deadhead freak.