Why Whoopi Goldberg Was Always Bothered by Eddie Murphy Comparisons
When Whoopi Goldberg was starting out in show business, there were few (possibly zero) black female stars who did stand-up and appeared in major Hollywood films. Once Whoopi received an Oscar for her performance in Ghost (1990), the list got very short, indeed.
In fact, you had to go back to 1939 to find a black woman who had won an Academy Award in the Best Supporting Actress category. (Hattie McDaniel did so for her role in Gone With the Wind.)
As for Whoopi's first nomination for The Color Purple (1985), she had been only the fifth black woman to vie for the Best Actress in a Leading Role Oscar. So you can start to see why critics and the entertainment press in general had some trouble covering her.
If writers got lazy, they would compare Whoopi to another black comic who'd become a box-office force: Eddie Murphy. However, that didn't work for a number of reasons and, as Whoopi told the New York Times recently, it got on her nerves.
Whoopi said she never wanted to follow in Murphy's footsteps.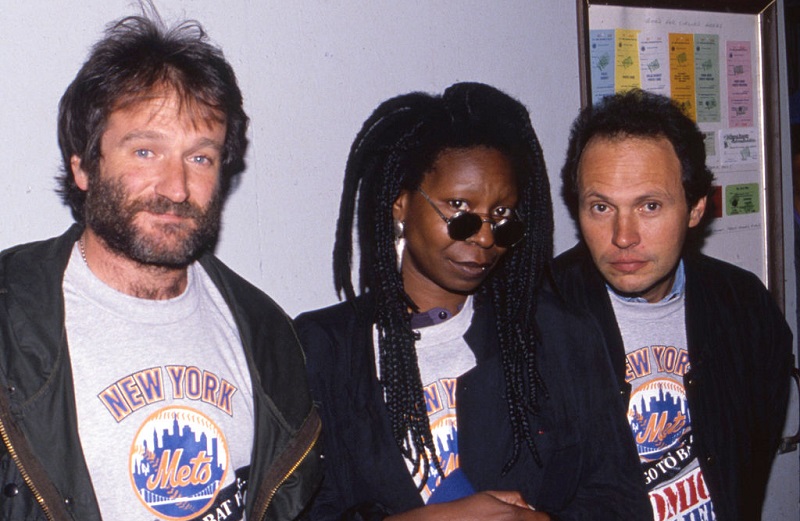 By the time Whoopi landed her first film role, Eddie Murphy was a huge star. He started on Saturday Night Live in 1980 and starred in both Trading Places and Beverly Hills Cop before she hit the screen in The Color Purple. Murphy continued rolling through the '80s with Coming to America and other films.
After her Oscar-nominated breakout, Whoopi had a few misfires with Burglar and Fatal Beauty. In a review of the latter movie in The Chicago Tribune, film critic Dave Kehr suggested producers were trying to make a combination of Murphy and Arnold Schwarzenegger.
Speaking to the Times Magazine in an interview that appeared July 8, Whoopi noted that she'd see this type of review all the time. "I read what people had to say critiquing me. It was like, 'She's not Eddie Murphy.' I wasn't trying to be! Why are you holding me up against all these people?"
After a while, Whoopi realized she made people uncomfortable for a number of reasons — beginning with the roles she would take. (Some were supposed to go to male leads.) They needed a reference, a way to place her, but didn't have anyone available at the time.
Other than being black comics, Whoopi didn't get the Murphy comparison.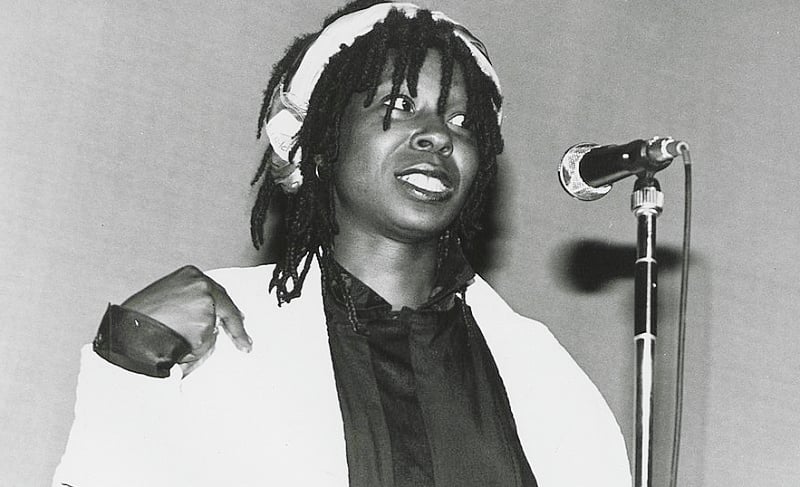 Asked by the David Marchese of the Times why she'd get the Murphy comparison, Whoopi acknowledged that it was probably because they were both young black stars. She also noted Hollywood has a certain structure.
"In our business, the hierarchy is white guys, white girls, black men, then black women. So I had to get compared to a whole bunch of folks before anybody would say, 'You're fine for the part.'"
As the comparisons to Murphy kept coming, Whoopi realized that it would have an impact on how her performances were received. "I'm never going to make you happy if that's where you going, because I'm not him," she told the Times.
Within a few years, it became a moot point with her Oscar win. She was Whoopi Goldberg, and everyone became fine with that.
Also see: Why Whoopi Goldberg Said Her 3rd Husband Will Be Her Last