Why Yao Ming Was One of the NBA's Most Marketable Superstars Ever
Hall of Fame NBA center Yao Ming spent nine years in the NBA. Although he was riddled by injuries for most of his career, his impact on the NBA may have been the greatest since the Bulls first drafted Michael Jordan.
The first Chinese superstar to enter the league, the 7'5″ Yao rose the ranks of the NBA and became one of its most marketable faces. Nearly a decade into his retirement it's time to look back. 
Yao Ming's rise to NBA fame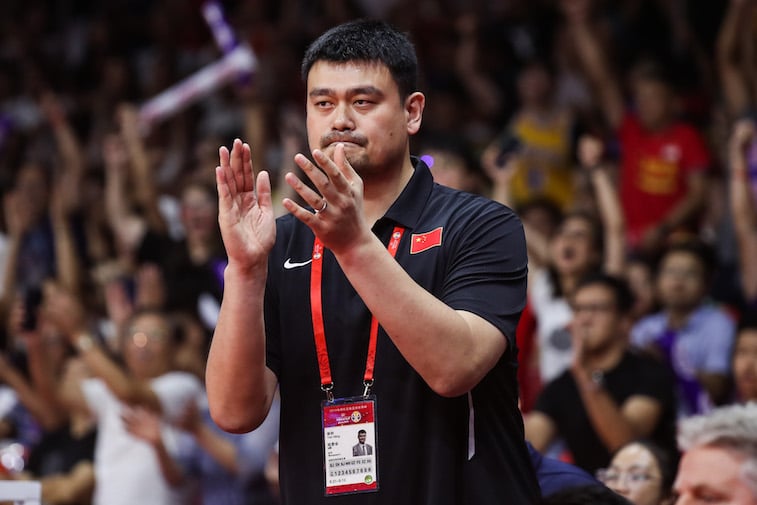 RELATED: Long Before He Became an NBA Star, Steph Curry Appeared in a Fast Food Commercial
One year before LeBron James took the NBA by storm, it was all about Yao. Jordan was in the second year of his brief comeback with the Washington Wizards, but Yao became the face of the international NBA as soon as he was drafted. Hailing from China, where basketball was growing increasingly popular locally, Yao unlocked a billion-person market for the NBA to feed off of. 
His 13 points and eight rebounds as a rookie were not record-breaking numbers, especially for his size. Although they were enough to show the promise of a future star, they might not have matched his presence in the marketing world.
Every year that Yao came back, however, his game looked a little better. 13 points a game became 18 points by year three. 18 points became 25 points by year five. 
Yao Ming's injuries and retirement
Yao showed all the promise that came with his hype. Just as he was entering the realm of a superstar big man whose talent matched his hype, however, injuries began to inhibit his ability to play.
Yao, who only missed two games during his first three seasons, never played more than 57 games in the following years. Paired with superstar Tracy McGrady, the Rockets struggled to get both on the court at the same time. 
After coming back with 77 games in 2009, Yao missed the entire following season with a foot injury and retired after playing just five games in the one after it. Despite these injuries, however, his international impact and play at his peak made him a surefire Hall of Famer. His image across the NBA, however, cannot go understated.
Yao Ming's international image
RELATED: NBA Players Are Actually Pretty Good at TikTok
Yao was a superstar in China before he ever laced up in the NBA. By joining the premier basketball league in the world, however, he became the league's most marketable player. Yao was a staple of commercials and print ad campaigns as soon as he donned the Rockets' hat on draft night and never looked back. 
Despite being rather shy and not yet being fluent in the English language, Yao became the go-to spokesperson in the NBA. Many of his ad campaigns, including an especially popular commercial featuring baseball legend Yogi Berra, played upon the culture shock that came with his newfound superstardom.
Yao took an NBA that was already growing overseas and tapped into a level of international celebrity that even Jordan may have envied at the time. 
McDonald's, Reebok, Garmin, and several other companies were paying Yao a lot of money to pitch their products. In 2010, he was reportedly earning as much as $35 million on endorsements alone, a far greater amount than his NBA salary.
Yao Ming's impact
When Daryl Morey sent shockwaves through the NBA with his comments in the preseason, China responded by limiting NBA access within the country. The far-reaching impact of this decision can be drawn back to Yao's presence in the league. Not only were the Rockets losing a loyal fanbase, but the Chinese market grew to love Kobe Bryant, LeBron James, and several other superstars. 
Yao might not have the accolades on the court of several other Hall of Fame big men, but his impact on the NBA's international product cannot be understated.
While Vlade Divac, Dirk Nowitzki, Drazen Petrovic, and other European products brought the European market to the NBA, none had a fraction of the impact that Yao had That impact is still being felt today, for better or worse, as the NBA tries to get back its biggest overseas market.