Will Archie Harrison Be Allowed to Work For the Royal Family Now That Harry and Meghan Have Left Royal Life Behind?
Now that Prince Harry and Meghan Markle have left the royal family behind, many wonder if Archie Harrison will be allowed to work for the royal family if he so chooses.
When Meghan Markle and Prince Harry welcomed their first baby, Archie Harrison Mountbatten-Windsor, in 2019, they opted against giving him a royal title. Instead, they gave Archie his father's last name in a bid to take him out of the royal spotlight. Although Archie Harrison does not have any official royal titles, there is a way he could become an active member of the royal family even with his parents out of the monarchy.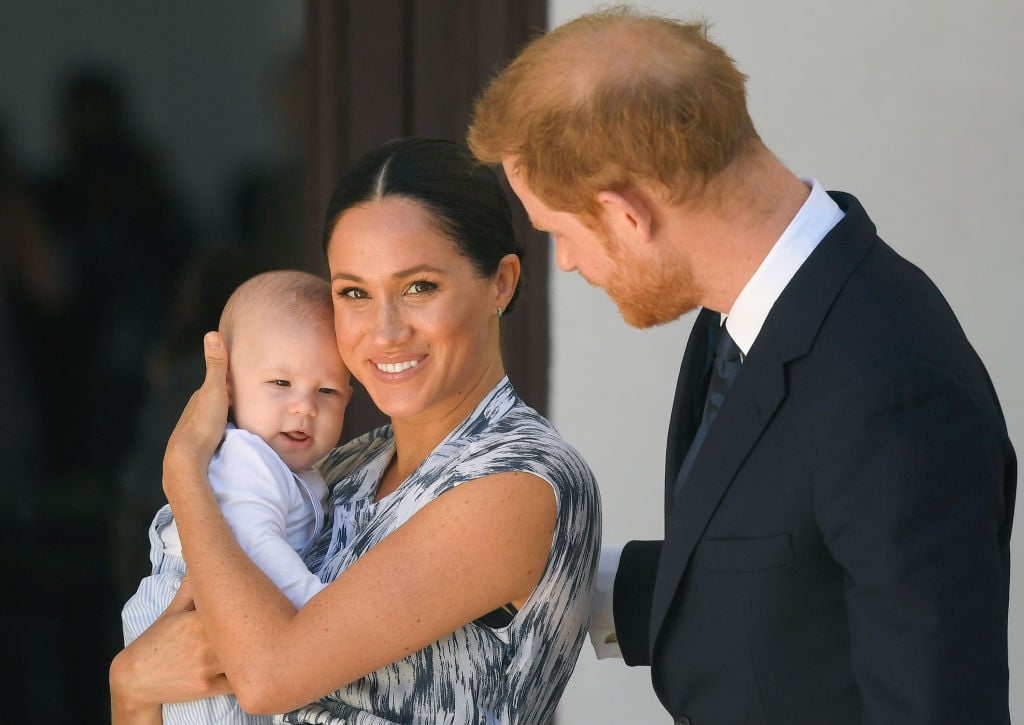 Will Archie Harrison get a title when Prince Charles is on the throne?
As things currently stand, Archie does not have an HRH title. But that will change once his grandfather, Prince Charles, takes the throne.
According to Daily Mail, King George V issued a royal decree in 1917 that granted all of his grandchildren HRH titles. From that moment on, all of the grandchildren of a reigning monarch are given courtesy titles.
When Charles takes the throne, Archie Harrison will automatically be given a royal title. The only way that would not happen is if Charles overturned the 100-year-old decree and allowed Archie to retain his non-royal status.
The royals have not commented on what will happen to Archie, but a source claims that Harry and Meghan, Duchess of Sussex, are OK with Archie becoming a prince — they just did not want it to happen upon his birth.
"The Sussexes have chosen not to give their children courtesy titles at this time, on the change of reign the George V convention would apply," the insider dished.
Will Archie ever work for the royal family?
If the decree is followed and Archie becomes a prince upon Charles' accession to the throne, then there would be an opportunity for Meghan and Harry's son to work on behalf of the monarch.
The only catch is that Prince Charles would have to approve Archie's standing within the ranks of the royal family. Exactly when Charles inherits the crown is anyone's guess, and Archie growing up in the United States could complicate that transition.
Archie Harrison is on the verge of turning one year old and is currently living in Los Angeles with his parents. Harry and Meghan are reportedly going to buy a home in the area and will be spending most of their time in the US.
If Archie grows up in LA, thousands of miles away from other members of the royal family, there would be a bit of a learning curve if he wanted to join the royal family. That, of course, would not prevent him from becoming an active royal, but it certainly would not make things any easier.
When will Archie Harrison see the royal family next?
With Harry and Meghan setting down roots in LA, Archie will likely be unable to visit the royals on a regular basis. Martina Mercer, who is an expert on parenting, believes this distance might affect his upbringing.
"On the surface, growing up away from his extended family may impact baby Archie in a similar way to how any family brings up their children abroad," she explained. "However, he's not only estranged from his family, his cousins and grandparents, he's also removed from the Royal circle and all that it represents."
Harry and Meghan may be living thousands of miles away from the rest of the royal family, but they are still keeping in contact via calls and video chats. The royals are currently in isolation due to the coronavirus pandemic and have been using video calls as a means to keep in touch.
The Sussexes have not said when they and Archie Harrison will return to the United Kingdom. They are planning on splitting their time between the US and the UK, so it's not like they will be gone forever.
When they do return to the UK, it will be interesting to see how much they interact with the rest of the royals, including Prince William and Kate Middleton.
Prince Harry never wanted Archie to grow up a royal
Harry and Meghan announced their exit from the royal family at the beginning of the year. Although the couple had struggled in the royal spotlight, the move shocked many royal watchers.
Dr. Jane Goodall, however, says that Harry and Meghan alluded to their exit at least six months before their announcement. According to Page Six, Goodall claims that Harry told her in the summer of 2019 that he does not want Archie Harrison to grow up learning royal protocols.
"At the end [of the conversation] Meghan came in to listen with Archie," Goodall recalled. "He was very tiny and very sleepy – not too pleased to be passed from his mummy. I think I was one of the first to cuddle him outside the family."
Goodall added that she played with Archie Harrison and made him "do the Queen's wave." When she remarked that he will probably have to learn that one day, Harry replied, "No, he's not growing up like that."