Will 'Below Deck Med' End With the Largest Cast Roster in the History of the Franchise?
Below Deck Mediterranean season 5 has been a whirlwind of new and departing cast members. The current season is up to a total of 12 cast members, following the departure of chief stew Hannah Ferrier and the return of second stew Aesha Scott. The season began with nine crew members, including Captain Sandy Yawn.
The season began with second stew Lara Flumiani offering her resignation after only one charter. She said the vibe on the boat was toxic as she battled every order from Ferrier. Christine "Bugsy" Drake replaced her. Then, chef Hindrigo "Kiko" Lorran stumbled in the kitchen and left the boat. Bosun Malia White's boyfriend chef Tom Checketts saved the day and became the chef.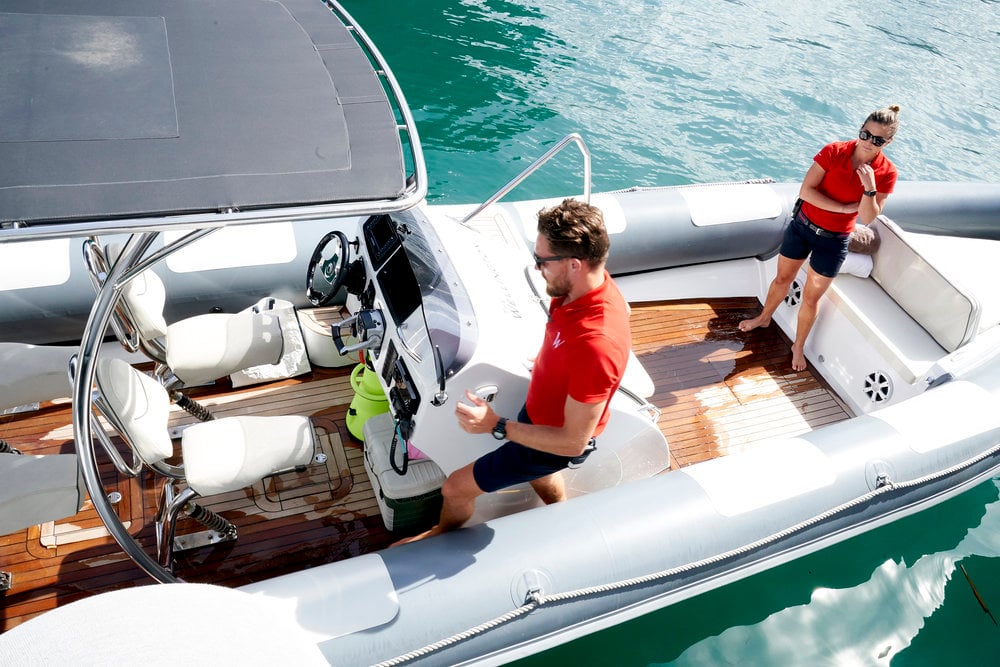 Finally, Ferrier was fired after White sent Yawn a photo of Ferrier's unregistered prescription valium. Yawn didn't feel comfortable going to sea with Ferrier. She promoted Drake to chief stew and second stew Aesha Scott returned.
In addition to the revolving door of crew members, deckhand Pete Hunziker was fired by production company 51 Minds and Bravo after he shared a racist and violent meme on Instagram. The company vowed to minimize his image in upcoming episodes. He was removed from the title sequence at the beginning of the show and has not made any After Show appearances. He was demoted from lead deckhand on the show and hasn't had a storyline since.
Season 5 has the most crew changes for 'Below Deck Med' but is tied with another season of 'Below Deck'
While Below Deck Med season 5 has had the most crew members within the series, Below Deck season 3 also ended the season with a total of 12 crew members. Led by Captain Lee Rosbach, the original crew unraveled quickly.
Like Below Deck Med, the season also had two chefs. However, chef Leon Walker did not have the same sunny demeanor as Lorran. Walker and chief stew Kate Chastain warred, openly sharing their disdain for each other. Walker was fired after a fire started in the galley kitchen oven. Rosbach learned that the cause of the fire was due to a dirty oven. Chef Ben Robinson replaced Walker.
RELATED: 'Below Deck Med': Hannah Ferrier Says Malia White's Actions Were 'Very Snakey' and 'Very Underhanded'
While the interior team remained in tact, the deck team had a few crew changes. Deckhand/engineer Don Abenante quit after being reprimanded for jumping into the water after Raquel "Rocky Dakota. Dane Jackson replaced Abanante but he didn't last long. He was fired after becoming drunk and beligerant with the crew during a night away from the boat. Finally, David Bradberry arrived to take over and finish the season.
These 'Below Deck' seasons had no crew changes
Only a few seasons featured a cast that lasted the entire season together. Below Deck Med seasons 2 and 3 had nine cast members who lasted the full season. Also, Below Deck season 1 featured nine crew.
However, other seasons saw at least one crew member get fired or quit. Danny Zureikat was fired during Below Deck Med season 1. Even though Zureikat was fired, he wasn't replaced so that crew ended with nine cast members.
RELATED: 'Below Deck': Captain Lee Doesn't Buy the 'Bad Edit' Excuse From Charter Guests on the Show
While Rosbach didn't fire anyone during season 7, he had one crew member quit mid-season. Season 7 was the second time Rosbach hadn't fired anyone on the crew.