Will Harvey Weinstein Survive Prison? What We Know About Wende Correctional Facility
The revelation of the evil acts perpetrated by sex offender Harvey Weinstein in October 2017 shocked the entertainment world and beyond. Prior to his arrest Weinstein was one of the most powerful film producers in the world, and the brave women that exposed his criminal activities were instrumental in his well-deserved downfall. The public call-out …
The revelation of the evil acts perpetrated by sex offender Harvey Weinstein in October 2017 shocked the entertainment world and beyond. Prior to his arrest Weinstein was one of the most powerful film producers in the world, and the brave women that exposed his criminal activities were instrumental in his well-deserved downfall. The public call-out also helped other women speak out against their abusers, sparking the #MeToo movement on Twitter and other social media platforms. Weinstein is now being held at the Wende Correctional Facility, and the sex offender's old age and various health problems have led some to wonder if Weinstein will survive his time in the prison system.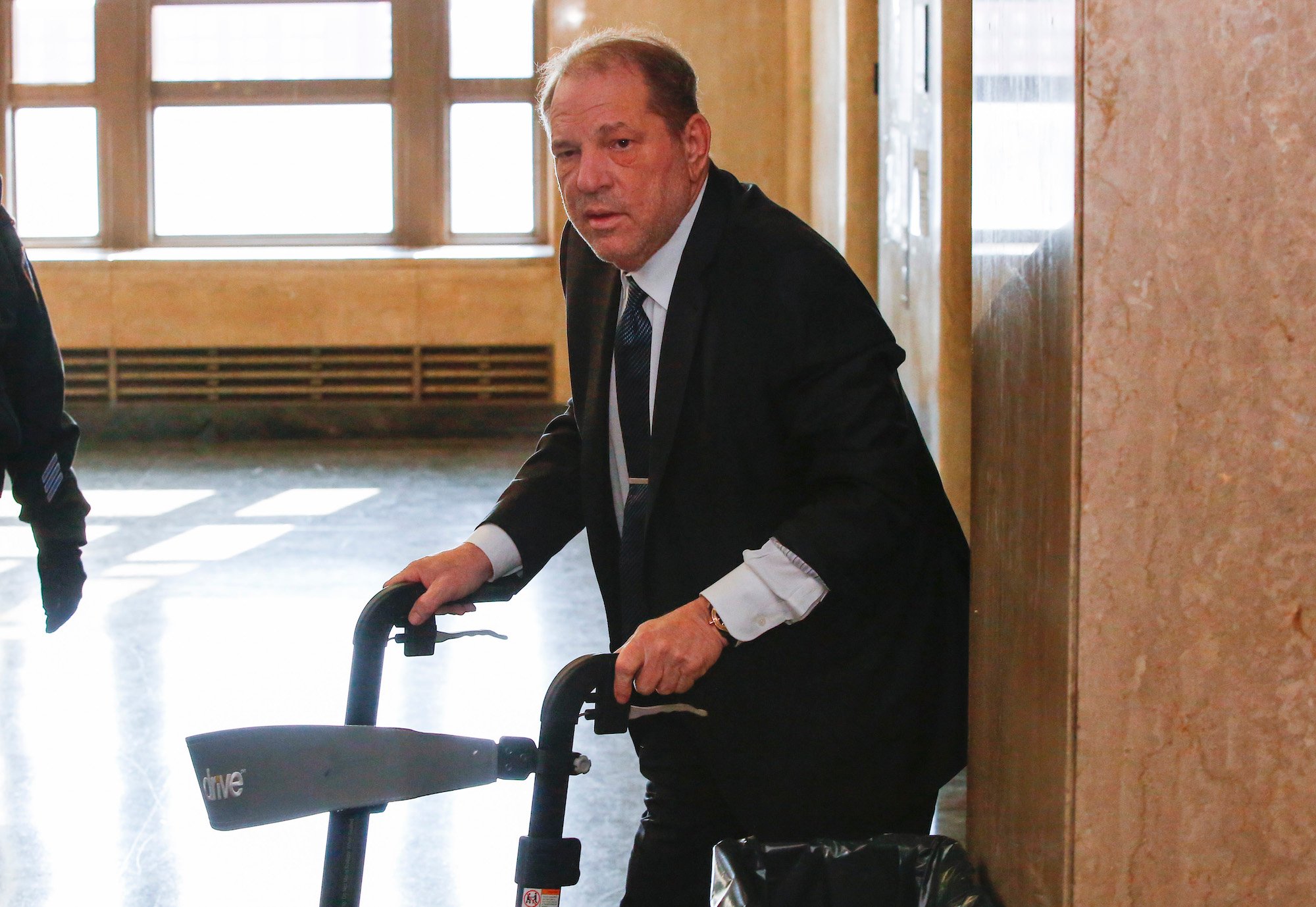 Harvey Weinstein trial and conviction
On May 25, 2018, Weinstein was arrested by the New York City Police Department for rape, criminal sex act, sex abuse, and sexual misconduct of two separate women. The disgraced former studio head was first called out for his despicable actions by over a dozen actors in a New York Times piece by journalists Jodi Kantor and Megan Twohey. Weinstein's victims and subsequent accusers are Rose McGowan, Annabella Sciorra, Ashley Judd, Mira Sorvino, Salma Hayek, Asia Argento, Lucia Evans, Paz de la Huerta, Gwyneth Paltrow, Miriam Haleyi, Dominique Huett, Natassia Malthe, Lysette Anthony, Cara Delevingne, Lea Seydoux, Angelina Jolie, Uma Thurman, Heather Graham, Zoe Brock, Louisette Geiss, Rosanna Arquette, and Daryl Hannah, among others.
Over time, these women all shared their frightening and unwanted sexual experiences with Weinstein. The first trial Weinstein faced was for the rape of Miriam Haleyi and Jessica Mann, and the trial began on January 6, 2020. The highly-publicized featured a number of his accusers speaking out about Weinstein's behavior and revealed the illegal acts he had committed. On February 24, 2020, was sentenced to up 25 years in prison, which he was ordered to serve 23 years of during his sentencing hearing. 
 Weinstein's time at Rikers Island and Wende Correctional Facility 
Following his conviction and sentence, Weinstein was sent to the notorious Rikers Island, which is one of America's largest jail complexes. Rikers is the main holding facility for the state of New York and is the home to several jail compounds and mental health facilities. While at Rikers, it was reported that Weinstein was receiving special treatment, an unfortunately common experience for rich criminals. Weinstein is now incarcerated at the Wende Correctional Facility, a maximum-security prison near Buffalo, New York.
Throughout its history, Wende has been the imprisonment site for a number of high-profile inmates besides Weinstein. These infamous criminals include the "Preppy Killer" Robert Chambers, the author of In The Belly of the Beast Jack Abbott, and John Lennon's murderer Mark David Chapman, who all spent time in Wende. Weinstein will remain in Wende while awaiting another trial for his sexual misconduct in Los Angeles, California. 
Weinstein's health problems 
Weinstein is currently 68 years old and has several health problems. These medical problems were used by Weinstein's lawyers in his New York case, as his lawyer Donna Rotunno claimed that her client's multitude of issues could easily result in his death while in prison. While awaiting his sentencing in March, Weinstein underwent a heart procedure, and was later taken to a hospital for chest pains. After a short time in Bellevue Hospital in New York, Weinstein returned to Rikers.
Besides his heart issues, Weinstein, like many other incarcerated people in America, has tested positive for the coronavirus (COVID-19). The proximity of prisoners has resulted in incredibly high numbers of positive diagnoses for the disease amongst inmates. It is not known how Weinstein contracted the disease. Weinstein's advanced age and serious medical concerns have caused some to wonder if the sex offender will survive his time in Wende long enough to face his trial in California. The disgraced media mogul's Los Angeles trial does not yet have a date.