Will Kevin and Danielle Jonas Have Any More Kids?
Kevin and Danielle Jonas have two young daughters. Will they have any more kids?
Kevin Jonas is one third of the Jonas Brothers, the ultimate boy band from the 2000s that has made a massive comeback as the biggest band of 2019. Now, Kevin is on tour with his brothers, and his wife, Danielle Jonas, and two daughters, Valentina and Alena, are along for the ride. With Jonas' two younger brothers having tied the knot in the last year, everyone keeps wondering when they'll have kids. But will Kevin and Danielle have any more babies?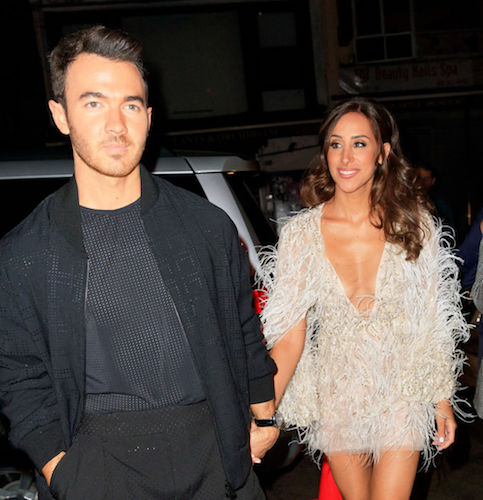 Kevin and Danielle Jonas were married in 2009
Danielle walked into Kevin's life right before he shot to fame. The couple, though both from Northern New Jersey, actually met when they were on vacation in the Bahamas. Kevin reportedly saw Danielle (Danielle Deleasa at the time) walking down the beach and instantly fell in love. As it turned out, the two only lived about 30 minutes from each other, and when Danielle's plane landed back in New Jersey, Kevin gave her a call. Though she didn't know who the Jonas Brothers were at the time, she's probably glad she gave the musician a chance. The couple tied the knot in 2009, at the height of the Jonas Brothers' fame.
The couple has two kids, Alena and Valentina
Since getting married, Danielle and Kevin have welcomed two daughters. Their first daughter, Alena, was born in February 2014. The couple had moved to Boonton Township, New Jersey, back in 2013 and built their dream home from the ground up just in time to welcome their little girl. By this time, the Jonas Brothers had already broken up, which allowed Kevin to focus entirely on his family and new career path in real estate. In October 2016, the couple welcomed their second daughter, Valentina Angelina.
If Nick and Joe have kids, Kevin and Danielle might have baby fever
At the moment, Kevin and Danielle haven't hinted at having any more children. With two young daughters and a massive, worldwide tour, Danielle and Kevin probably have their hands full. However, Kevin's younger brothers, Nick and Joe Jonas, both wed within the last year, and fans have been speculating the two will have children within the next year. When that happens, it's possible Danielle and Kevin will have some baby fever, which might lead them to have a third. For now, though, the two are probably at least waiting for Kevin's tour to be done before having another baby, and with Danielle's jewelry business taking off, she has a pretty busy schedule, too.
Danielle has said having multiple children is a lot of work  
Back in 2016, when Danielle and Kevin welcomed their second child, they told Today that having more than one child at home was a lot of work. Having another baby is literally like having five," Danielle said. One is asking you for one thing and then you're going to the next one and it's just — it is insane but I do — I love it." Now that the kids are getting a bit older, parenting has probably become more fun and less work. But there is still a lot to deal with, from the fame to being hands-on parents and everything in between. However, we're still secretly hoping the two decide to have another little one.