Will Meghan Markle Become the Next Gwyneth Paltrow? 'She's Pretty Goopy,' Says Goop Exec
Now that Prince Harry and Meghan, Duchess of Sussex have officially stepped back as "senior" working royals, their fans are obsessed with figuring out how this power couple plans to make money.
With millions in the bank, the Sussex family has a little bit of time to figure it out — unless they plan on purchasing that $36 million Vancouver mansion they've reportedly been eyeing. But either way, they're going to need to figure out some kind of revenue stream if they want to continue enjoying the lifestyle to which they've become accustomed.
Most fans assume Harry and Meghan will be exploring speaking engagements and other highbrow activities, like a book deal or perhaps producing a worthy documentary. But some followers are drawing comparisons between Meghan and actress Gwyneth Paltrow. Could the Duchess of Sussex create the next big lifestyle brand?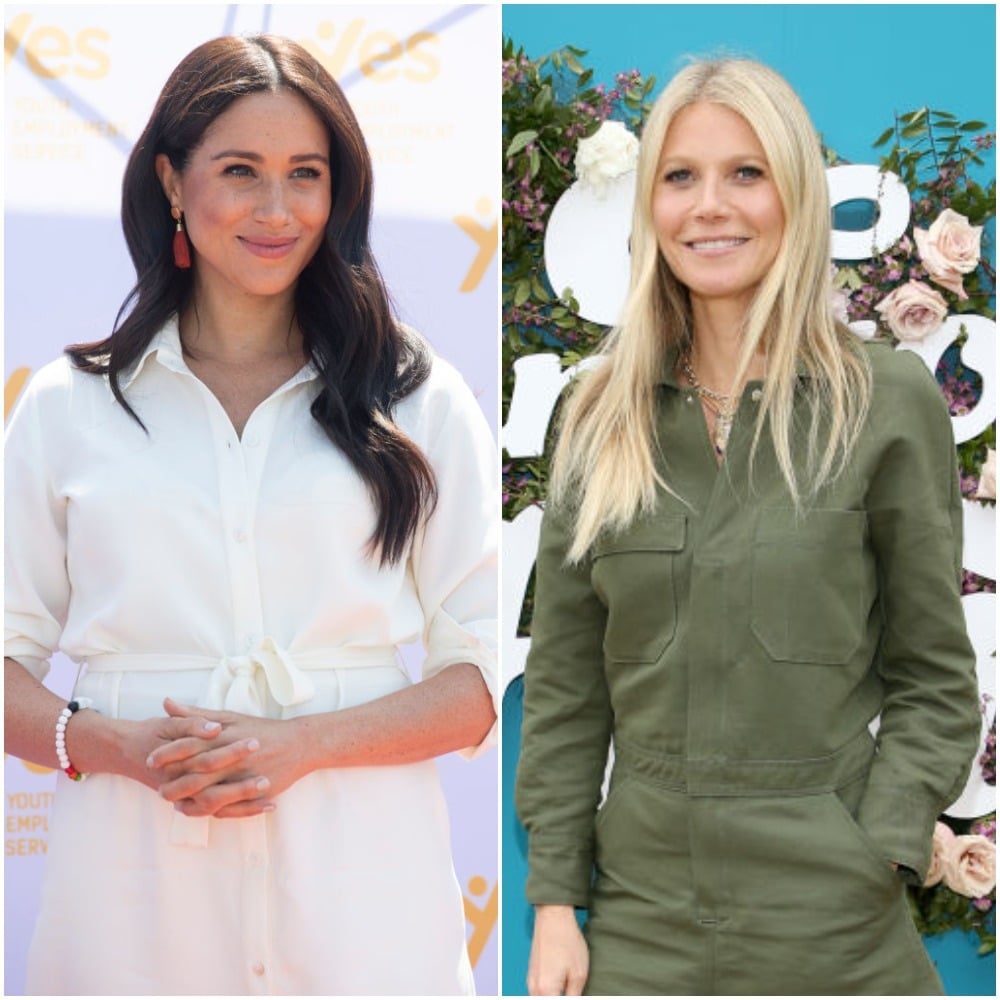 Meghan Markle will be weighing her next move carefully
The world is watching to see exactly what Meghan does next. Her first post-Megxit decision might be her most important because it will set the tone for the rest of the transition.
Even though the Duchess of Sussex would be wise to capitalize on her popularity right now, that doesn't mean we should expect a straightforward product line or — perish the thought — vagina-scented candles. There's a strong consensus that the public would react negatively to any move so blatant.
Instead, Meghan will probably take a subtler approach that's closer to what she formerly had with her lifestyle blog, The Tig. Some fans are even predicting a reboot of that exact brand.
How is Meghan Markle like Gwyneth Paltrow?
The Meghan/Gwyneth comparisons are happening because both women are former actresses who have unique messages to spread. They also believe wholeheartedly in the causes they support and seem intent on expanding their missions even if it costs them a few popularity points.
And they both understand the California lifestyle with yoga, mindfulness, clean eating, and yes, being very, very cognizant of your mental health. This mentality is what made Meghan want to quit the royal family in the first place.
"She's pretty Goopy," Goop chief content officer Elise Loehnen told The New Yorker of Meghan. "Examining your feelings is Goopy. Doing somatic yoga, working with a functional doctor." They may not be identical, but Gwyneth and Meghan have similarities.
There's a chance Meghan Markle's new brand could look like Goop
Modeling her own lifestyle brand to match Goop wouldn't be the worst idea the Duchess of Sussex ever had. Because for all the mockery it receives, Goop has managed to remain relevant and successful for years, which isn't guaranteed with so many other celebrity branding efforts.
Sure, they may feature controversial products and advice. But there are just as many admirers as there are haters. And mixed in with the weird advice, Paltrow has some nuggets of wisdom that all ring true as authentically hers.
The main reason Meghan's strategy might match Goop is that it's not so obviously intent on making money. A product line at Target would never work for the Duchess of Sussex. But some well-placed advice, documentaries, and interviews with influential voices could be precisely how Harry and Meghan should kick off their second act.