Will Season 10 of 'American Horror Story' Top Season 9 Because of Sarah Paulson's Return? (Fans Think So)
FX's horror anthology series, American Horror Story, premiered in 2011 and garnered praise from audiences and critics alike. The show features a revolving ensemble of stars who drop in and out of the various seasons, depending upon their schedules and individual agreements with show producers.
Each season, the show tells a standalone story with little or no crossover between seasonal characters or plot lines. Sarah Paulson, who quickly became a fan favorite on AHS, appeared in the first eight seasons of the show before taking a break during Season 9. Viewers did not respond well to her absence.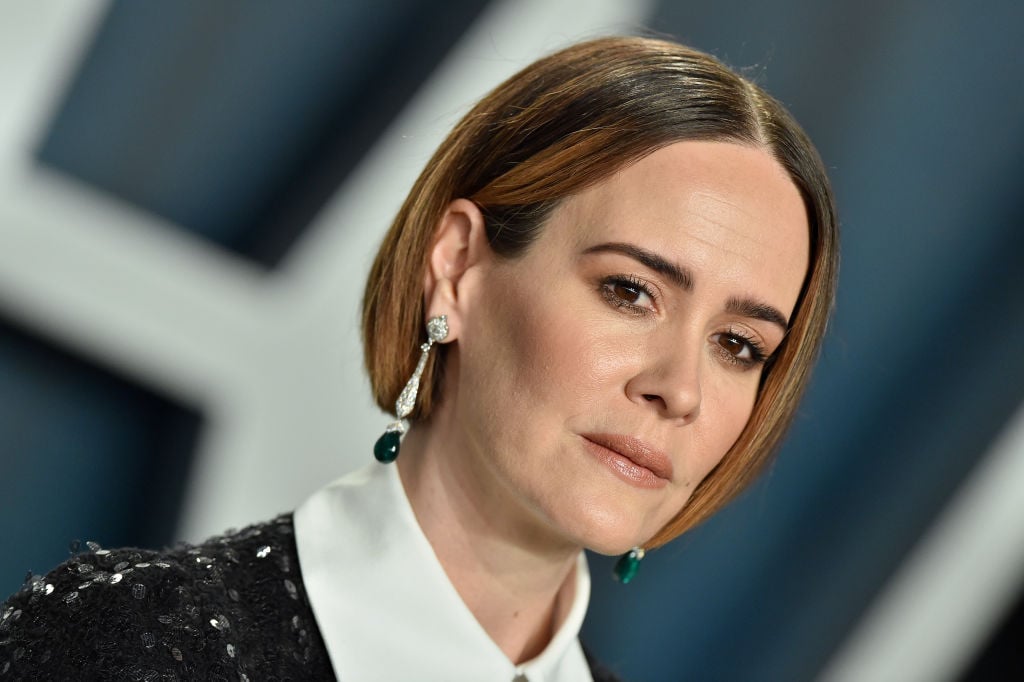 Critic and fan reactions to 'AHS' without Sarah Paulson
American Horror Story has enjoyed critical acclaim from the beginning. The show is currently holding a healthy average of 76% overall on Rotten Tomatoes' Tomatometer. Despite Paulson's absence, the ninth season, dubbed AHS:1984, is the clear winner when it comes to earning high marks from critics. When compared to previous seasons, it boasts the top spot on the Tomatometer with 87%. The lowest rated season is AHS: Hotel, which still managed a respectable 64% on the Tomatometer.
AHS:1984 fans were slightly less enthused than critics, as indicated by the average audience approval score of 71%. That could be due in part to Paulson's absence from the season. The Independent highlighted Twitter fans who expressed their dismay around the casting announcement, a subject that continued to trend throughout the season.
As reported by popbuzz.com, some viewers even called AHS: 1984 "the worst season ever." It appears that the negative buzz around the casting decisions might have made it difficult for some viewers to accept the changing landscape of the show, or to appreciate AHS: 1984 as a valuable piece of the American Horror Story universe.
What are fans saying about Sarah Paulson's Season 10 return?
As reported by Deadline, Paulson is making a comeback in the Season 10 of American Horror Story. Her imminent return has caused a Twitter storm of fan frenzy. Cinema Blend highlighted tweets from diehard Paulson fans who are eager to see her back on the show. It will be interesting to see whether the positive energy surrounding Paulson's return will help give audience and critic scores a lift.
Paulson doubled down on the good news by assuring fans that she would play a large part in American Horror Story Season 10.
She told The Wrap, "I have no idea what it will be … But I'm not coming back as a guest part, I will be a central character." Fans can only hope to see even more of Paulson in future seasons of the show. FX has renewed American Horror Story for three additional seasons. The future of the show after Season 13 is uncertain.
Where else can fans spot Sarah Paulson?
Production partners Ryan Murphy and Brad Falchuk created American Horror Story and placed Paulson front and center. Viewers can catch Paulson on American Crime Story, another partnership between executive producers Murphy and Falchuk. Paulson also stars as Nurse Mildred Ratched in Netflix's upcoming series, Ratched, which was created by Murphy and Evan Romansky. The drama will launch in September 2020.
Beyond Paulson's frequent collaborations with Murphy and Falchuk, she has nabbed various roles in feature films, including 12 Years a Slave, Bird Box, and Glass. Before becoming a household name, Paulson landed several guest-starring and recurring parts on television.
New episodes of American Horror Story will premiere this fall on FX. Catch up anytime on Netflix.