Believe It Or Not, Will Smith has 4 Grammy Awards
Will Smith has a few Academy Award and Grammy nominations under his belt. Here's what his actor earned Grammy Awards for, including 'Men in Black.'
He's done a lot more singing than just the Fresh Prince of Bel-Air theme songs. In fact, Will Smith has a handful of Grammy Awards and nominations under his belt, both for his work with films like Men in Black and for his rapping. Here's what we know about this actor and his relationship with the award show.
Will Smith as an Academy-award nominated actor, known for his roles in 'Men in Black' and 'The Pursuit of Happyness'
He may be at the box office right now for films like Spies in Disguise and Bad Boys for Life. However, Will Smith had a handful of acting roles in films and popular television shows.
He starred in The Fresh Prince of Bel-Air throughout the 1990s, also appearing in movies like Men in Black and Wild Wild West. During the early 2000s, Will Smith starred in The Pursuit of Happyness and Ali (earning Oscar nominations in the categories Best Performance by an Actor in a Leading Role and Best Actor in a Leading Role respectively.)
Will Smith also has four Grammy Awards
This actor is also an award-winning rapper and musician, with eight Grammy nominations and four Grammy wins. Throughout his career, he's won Best Rap Solo Performance ("Gettin' Jiggy Wit It,") Best Rap Solo Performance ("Men In Black,") Best Rap Performance By A Duo Or Group ("Summertime,") and Best Rap Performance ("Parents Just Don't Understand.") He earned his first Grammy in 1988, before films like I Am Legend and Men in Black.
"I'm really excited about winning this for one reason, because, about two-and-a-half years ago, the state of rap music was such that I didn't really even want to rap anymore. I like to refer to it as 'the rap dark ages,'" Will Smith said during his 1998 acceptance speech.
"And then with people like Tupac and Biggie, who I consider prophets, with the loss of Tupac and Biggie [Smalls], that kind of shook the industry and people realized that even though we are artists, we do have a responsibility for the ears—and for what goes into the impressionable ears that are listening to the music that we make," he continued. "So Jeff and I, we want to dedicate this GRAMMY to the memory of Tupac Shakur and the Notorious B.I.G."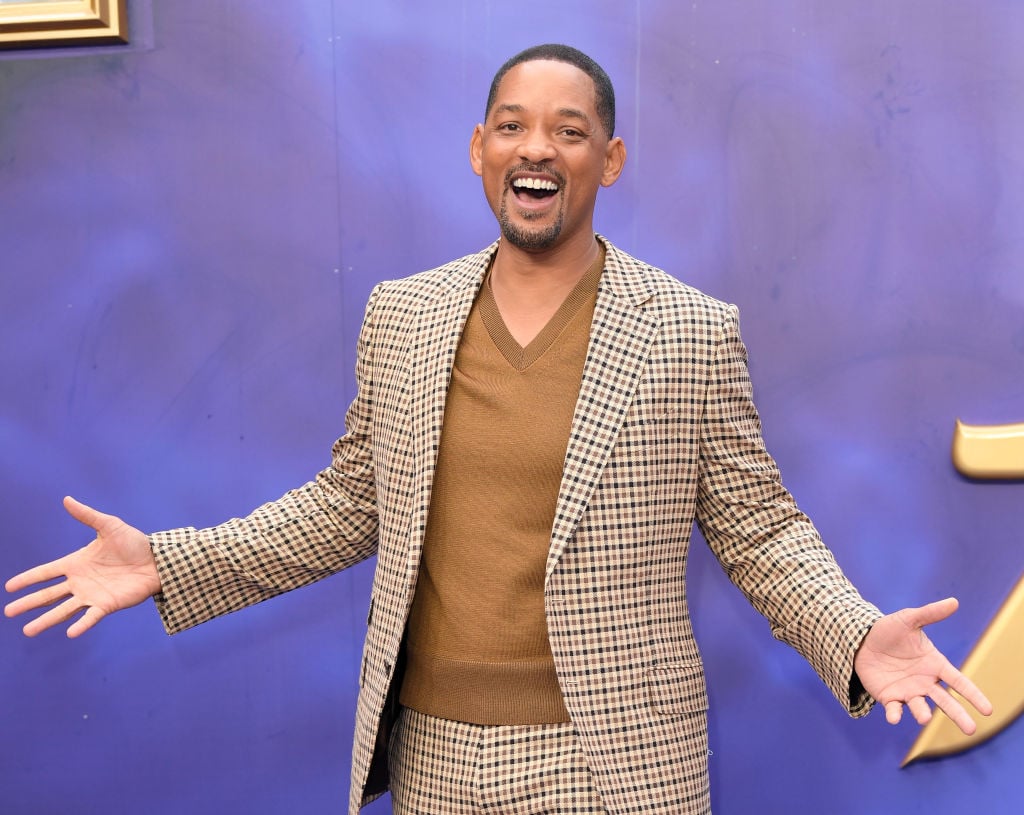 This actor also sang for Disney's live-action adaptation of 'Aladdin'
Although it did not earn any Oscar or Grammy nominations for the 2020 award show, Will Smith performed as the Genie for Disney's 2019 adaptation of Aladdin.
There he sang songs like "Arabian Nights," "Prince Ali," and "Friend Like Me," earning praise from fans and critics alike. As of January 2020, "Friend Like Me" has over 40 million plays on the streaming platform, Spotify. Still, that's not the song with the most number of streams, as "Gettin' Jiggy Wit It" has over 150 million plays.
It's unclear if Will Smith will attend the Grammy Awards on Jan. 26, 2020. Disney's live-action adaptation of Aladdin is available for streaming on Disney+. Another movie starring Will Smith, Spies in Disguise, is now playing in theaters.