Will Smith's Reaction to Willow Smith's Very First Tattoo Was Epic
Willow Smith got her very first tattoo for her 20th birthday, but she hid it from her father Will Smith because she was afraid of his reaction. When the actor finally did see his daughter's ink, he had the most epic response.
Willow Smith has always walked to the beat of her own drum. Her parents, Will Smith and Jada Pinkett Smith have always encouraged Willow and their sons, Jaden and Trey's individuality.
Since the Smiths allow their children to be so open and vocal, they have a very close bond. Recently on an episode of their Facebook Watch talk show, Red Table Talk, Willow, Pinket Smith, and the A Different World actor's mother, Adrienne "Gammy" Banfield-Norris, got matching tattoos from famed artist Dr. Woo.
The women agreed on a lotus flower blooming in three stages. However, this isn't the "Whip My Hair" artist's first tattoo. In fact, when Smith was first inked, she hid her tattoo from her dad.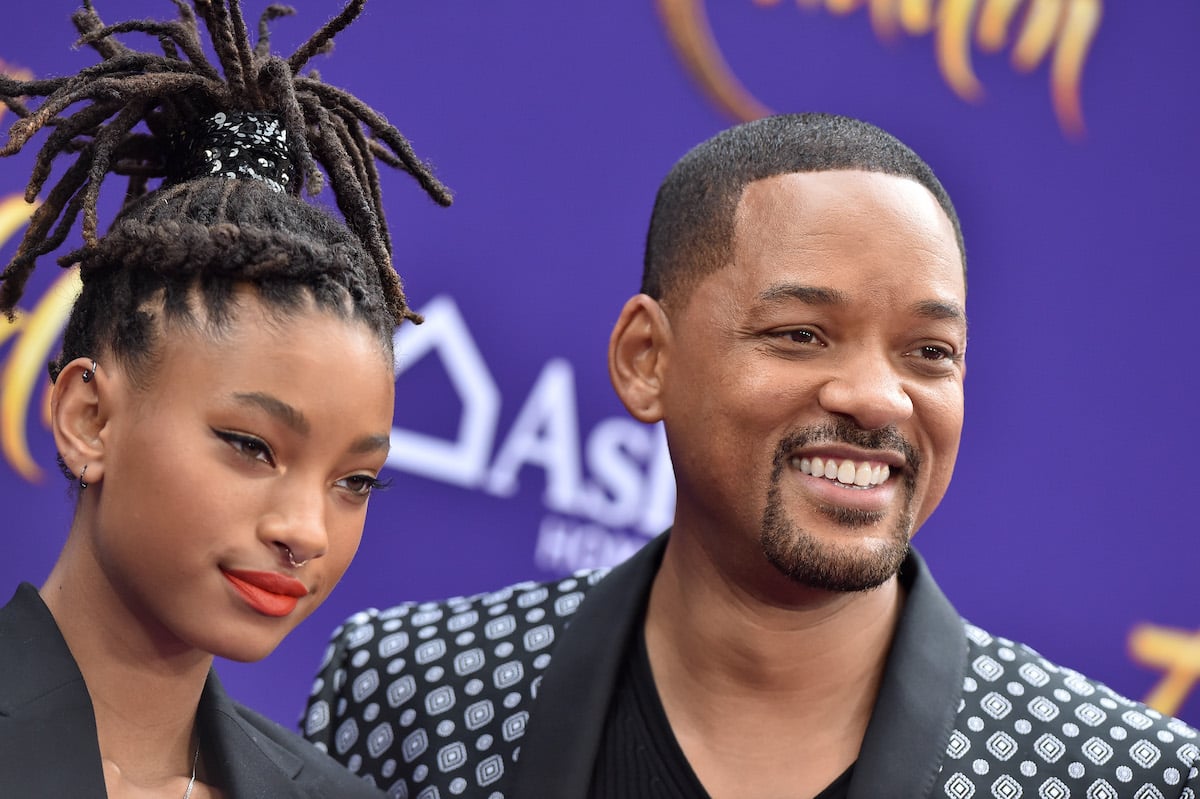 Willow Smith got her very first tattoo for her 20th birthday
Smith got her very first tattoo for her 20th birthday on Halloween 2020. The musician shared a video of herself, her brother Jaden and her cousin, Jade Pinkett, at LA-based tattoo artist Raymond Jimenez's tattoo shop.
The  "Summer Fling" singer later shared a video of herself laying down while getting her new sleeve ink. The tattoo appeared to be an overlapping circle in a grid on the inner part of her arm.
Though Smith has not shared what the tattoo means, she did caption her video, "First tattoo on Willoween." Though the "Female Energy, Pt. 2" singer was brave enough to share her tattoo adventure with her fans, she hid it from her dad for some time.
Willow Smith hid her first tattoo from Will Smith
While Smith was super excited about her very first tattoo, she was apprehensive about sharing her new ink with her dad. While the Ali actor appears to be a very easy-going father who allows their kids to be their own people, Smith still wasn't sure what he would think about her design choice.
"I showed my mom the art for my half-sleeve three weeks before I got it, but I didn't tell my dad because I knew he was going to be like, 'My baby has a half-sleeve?'" she shared on Red Table Talk.
Therefore, after getting her very first tattoo, Smith was careful to keep it covered whenever she was around her dad. However, she wasn't able to keep it secret for long.
Will Smith's reaction to Willow Smith's first tattoo was epic
Smith explained that her father found out about the tattoo a short while later, likely from another family member who mentioned it to him. However, the singer was incorrect about the Hitch actor's response to her very first tat.
"I showed it to him, and he was like, 'Everything is in divine order. Your path is your path, and I just love you,'" Smith recalled.
It's clear that the Smiths aren't conventional when it comes to their household or their parenting methods. However, it's clear from their children's perspective that they've done something right.