Will There Be a 'Zombieland 3'?
'Zombieland' received a sequel but will there be a third installment?
There was a time when sequels to films came out with a predictable rapid-fire release schedule, but that's no longer the case. There have been plenty of notable comedies that have gotten sequels years (even decades) after the previous installment wrapped up.
The latter was the case for Zombieland, which didn't see a sequel until a decade after its original debut. Zombieland: Double Tap was a hit with fans despite the wait, and now they're wondering if yet another film might be in the works. 
'Zombieland' premiered in 2009
Zombies have taken over America and a misfit group of survivors have teamed up to travel across the forsaken country in their quest to stay alive. That's the plot of the original 2009 Zombieland, which starred Woody Harrelson as Tallahassee, Jesse Eisenberg as Columbus, Emma Stone as Wichita, and Abigail Breslin as Little Rock. 
The star-studded cast and the unique blend of action, horror, and humor helped attract a dedicated fan base for the film. The film enjoys an 89% Fresh rating on Rotten Tomatoes and garners praise for its witty writing, snappy snark, and overall enjoyment. While most agree that it doesn't really reach the fright levels of a real horror, the film stays true to its comedic aims and provides viewers with dark laughs. 
That success was ripe for a sequel, but it took a long time to get there. In fact, it wasn't until 2019 that the team got back together for Zombieland: Double Tap. All four primary stars reprised their parts and were joined by the likes of Rosario Dawson (as Nevada) and Luke Wilson (as Albuquerque) to bring yet another star-studded affair. 
Will there be a 'Zombieland 3'?
Fans want to know if there's more to the story, and the answer is an enthusiastic (if not altogether satisfying) maybe. Ruben Fleischer, who directed both Zombieland and Double Tap, has certainly expressed interest to keep the franchise going. According to MovieWeb, Fleischer expressed excitement about the possibility: "Yeah, I'd do it tomorrow!"
That said, he's in no rush and is willing to wait until things come together the right way: "We joked that it should be every 10 years because the second movie was 10 years, almost to the day, from the first. I like the notion that maybe in 2029, we'll get to go back to that world with those people who would certainly be fun to see."
While a long wait might be frustrating for fans, it can also be reassuring to know that the creators aren't rushing things through just for a paycheck. It truly is a project that means a lot to those involved, and Woody Harrelson, in particular, seems invested in keeping the story going in the best way possible. When asked about a potential third film, he gushed over his co-stars and the fun they had on set: "That whole group is really… That's a singularly wonderful, fun, amazingly funny group of people. So what I'm saying is I'm open to it."
Why did 'Double Tap' take so long to make?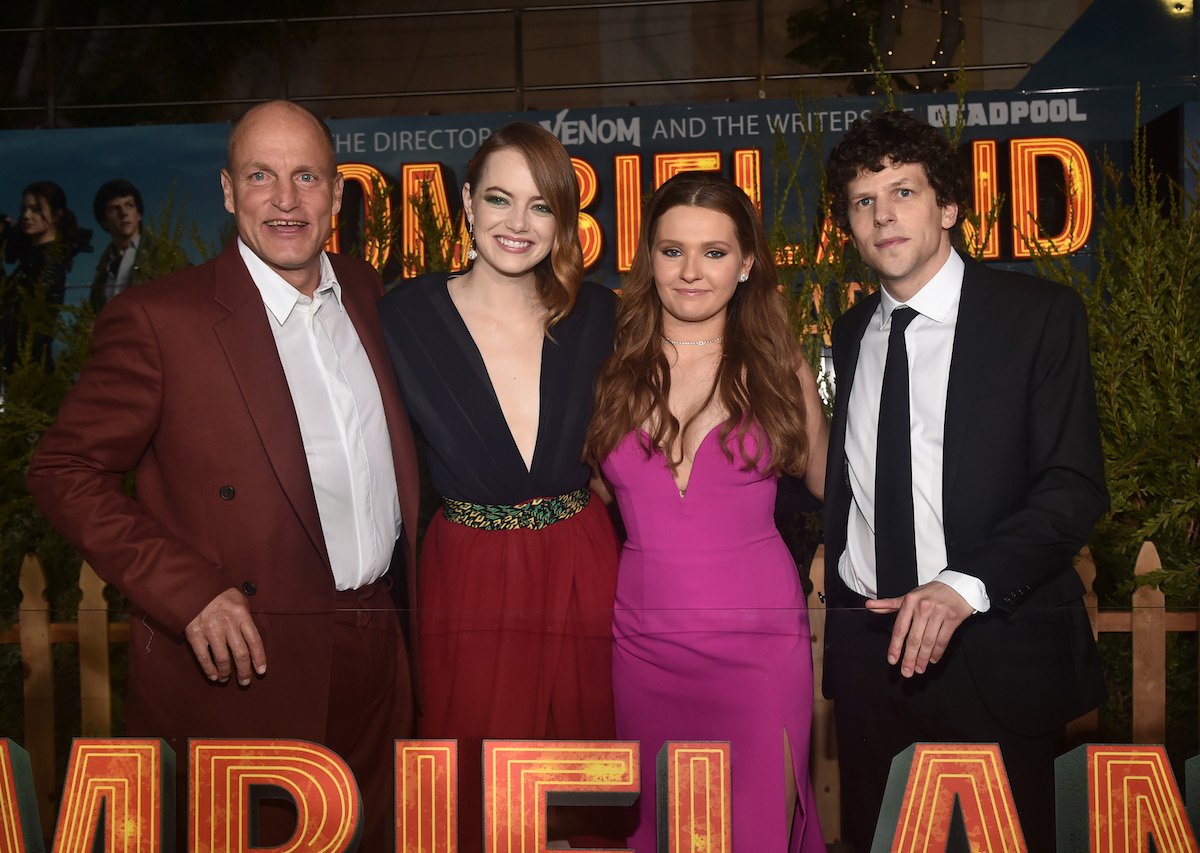 What took so long to make the sequel? Blame it on the script. There was a sequel written immediately after the original, but those involved agreed that it wasn't quite right. It took another five years to revisit the project and get it started, and then it took even more years — and some prodding from the stars — to get it back underway. 
While Double Tap did not enjoy the same level of attention from critics as the original, it still made an impressive showing. In fact, 88% of viewers (and 68% of critics) give it a Fresh rating on Rotten Tomatoes. The horror-comedy genre is a tough one to pull off, and sequels are even less likely to get positive reception, so the fact that so many fans continue to love the franchise is a testament to those involved taking their time and getting it right.
Here's hoping they do it again!