Willie Nelson Was Always as Close to 'Sister Bobbie' as When She Held Him on Her Knee
Before country icon Willie Nelson announced the death of his piano-playing older sister, Bobbie Nelson, the siblings spent the better part of a century making legendary music together. He said it "wasn't an easy life" at first, working alongside their grandparents for money starting at three or four. But through hardships and over almost nine decades, he said he remained as close to "Sister Bobbie" as when she once held him on her knee.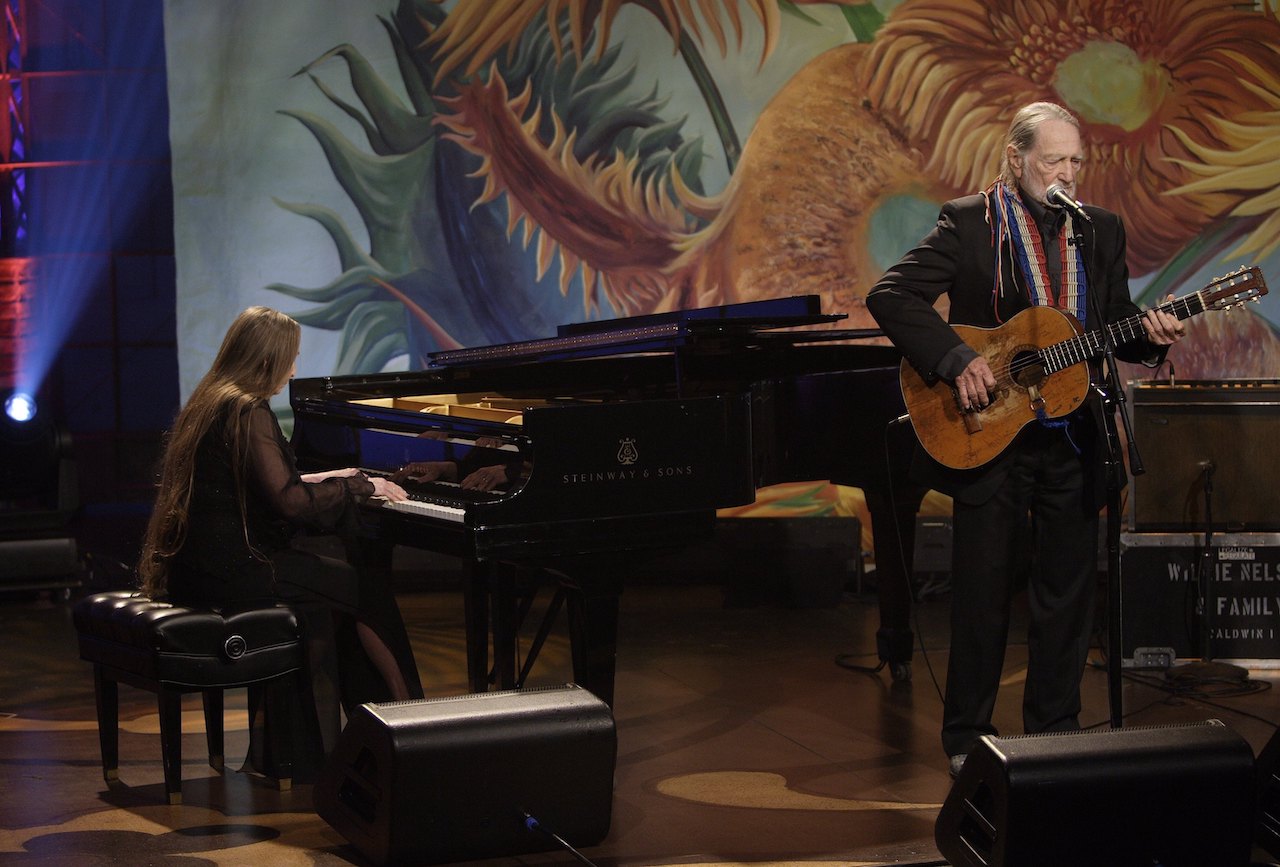 Willie Nelson: 'It wasn't an easy life, but it was the one I was born into'
In The Tao of Willie, a collection of autobiographical advice, Nelson described himself as a "hardheaded little cuss." He and Bobbie Nelson grew up in Abbott, Texas, born at the tail-end of the Great Depression. So, they experienced the hardships of poverty along with their grandparents, who cared for them.
He said their grandmother, Mama Nelson, would wake them up by throwing ice water on them. "With chores and work waiting to be done," he explained, "she didn't have time for coddling sleepy-headed children."
For his part, he said he was "full of spit and vinegar" and had red hair. The combination earned him the childhood nickname "Booger Red."
"Sister Bobbie says when I was a toddler, I was so bent on roaming that Mama Nelson had to stake me out in the backyard on a rope like a wandering goat," he wrote.
The Nelson kids joined their grandparents in the cotton fields at three or four years old. He wrote they "desperately needed the money," though it didn't make him like the work. "It wasn't an easy life, but it was the one I was born into," the "Crazy" songwriter concluded.
Willie Nelson and Bobbie Nelson remained close all their lives
RELATED: Willie Nelson Revealed His Drinking and Smoking Habits Started at Age 6
"There's a guy with a lot of lines on his face in my mirror every morning," Nelson wrote in The Tao of Willie, "but the boy from Abbott is there, too."
He explained how he and "Sister Bobbie" formed a bond with each other and with "the great mysteries of the universe" in their childhood. "When I was a boy in Abbott," he wrote, "the stars seemed closer, the fireflies shone brighter, and the mockingbirds had yet to hear the car alarms they imitate today."
Despite the decades which had passed and the many things which had changed for Nelson by then, there was one thing that hadn't — his steadfast companion. "I'm as close to Sister Bobbie as when she held me on her knee," he shared.
Bobbie Nelson didn't join Willie Nelson on tour before her kids were adults
RELATED: Willie Nelson Wrote a Hilarious Song About Heartbreak When He Was Just 7
Nelson has spoken at length about the ups and downs of building a country music career through the years. Before getting off the ground, he sold songs to legends like Patsy Cline for a while before returning to Texas.
According to NPR, Bobbie Nelson's marriage fell apart around 1955, and she lost her three sons for playing in honky-tonks — a scandalous choice for a woman at the time. "That was the hardest part of my life," she said. "And I couldn't play with Willie at that time, because I wasn't supposed to even enter into a club. They would not have agreed to let me have my children back."
She joined her brother in the '70s when her children were adults. Then, she spent more than 50 years in his band before her death at age 91.
RELATED: Willie Nelson Announces Death of Bobbie Nelson on Instagram: 'Our Hearts Are Broken'