Willow Smith Just Showed off Her Insane Guitar Skills With a Miley Cyrus Song
When you are the daughter of Will Smith and Jada Pinkett Smith it can be challenging to figure out your place in the world. Willow Smith knows first hand about some of those challenges. From the beginning of her life, she was thrust into the spotlight appearing on red carpets and in various interviews with her parents.
When she was just seven, she made her film debut in her father's film, I Am Legend. She followed that up in 2008 with roles in Kit Kittredge: An American Girl and with a voiceover role in Madagascar: Escape 2 Africa.
However, music has always been Willow's passion. At age 19, the singer is finding her footing as an artist and as a woman. She is using her voice alongside her mother and grandmother on their hit talk show, Red Table Talk.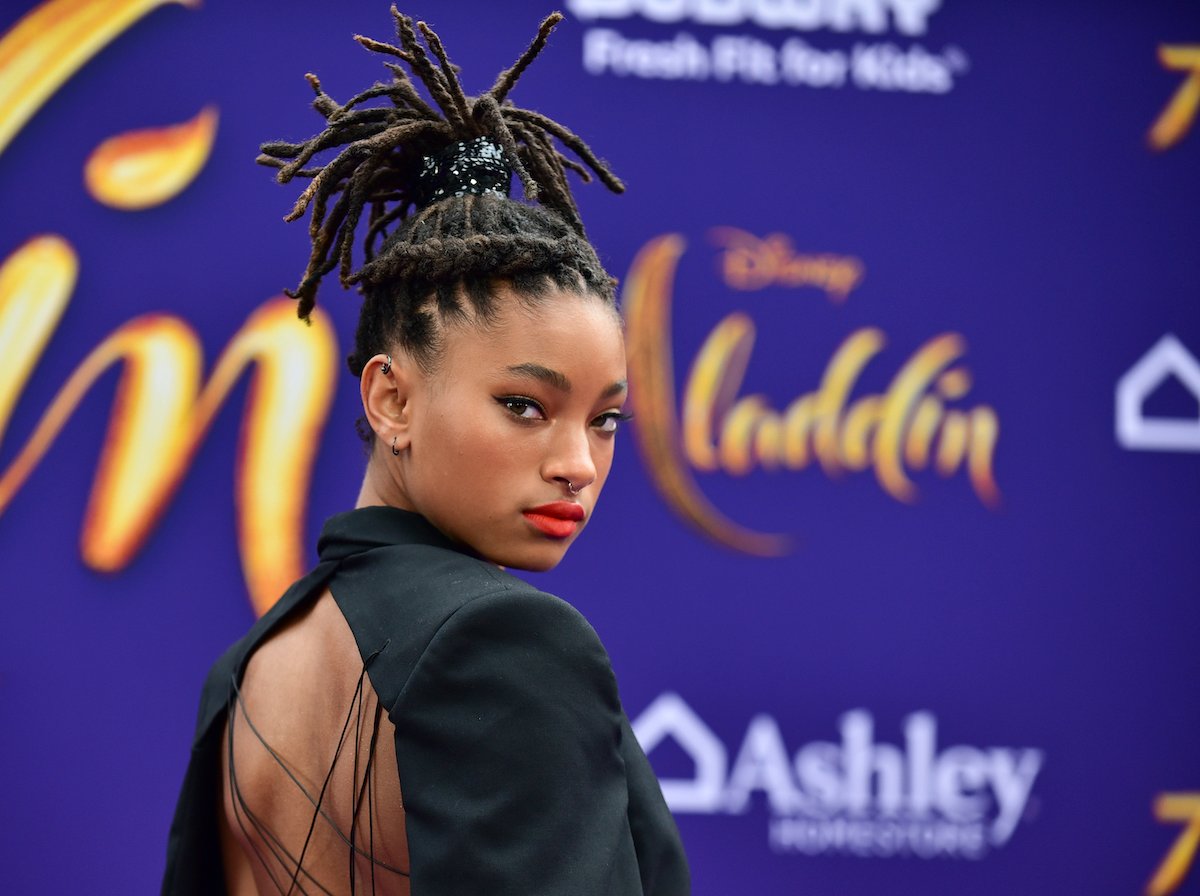 Willow Smith has always been passionate about creating music and art
Smith has been creating a name for herself in the music industry for a decade. In 2010, she debuted her viral sensation, "Whip My Hair" which made her an internet star in her own right.
Since then, she's gone on to debut singles like  "21st Century Girl," and "Summer Fling." She has also released two albums,  Ardipithecus and Willow. In addition to being a solo artist, the Red Table Talk host is also in a band called, The Anxiety.
In addition to music, she has also been involved in performance art with her rumored boyfriend and The Anxiety bandmate, Tyler Cole.
Willow Smith was compared to Rihanna when she was younger
Though Rihanna is over 10 years older than Smith, the younger singer was overwhelmed when she found herself being compared to the Anti icon following the release of "Whip My Hair."
Though their sounds are vastly different, Smith and Rihanna were compared for their rocker haircuts and their style. "I think Rihanna is awesome, and I would love to be a mini Rihanna," Smith told  97.9 The Box at the time. The singer recently walked in Rihanna's Savage x Fenty Vol. 2 fashion show. However, having comparisons and pressures from her parents was overwhelming for the young star. On an episode of Red Table Talk, she told her mother,
I definitely had to forgive you and daddy for that whole 'Whip My Hair' thing. It was mostly daddy because he was so harsh at certain times. It was a couple of years, honestly. Trying to regain trust for not feeling like I was being listened to or like no one cared how I felt. And I had to forgive myself because I felt guilty. Because, everyone is trying to make me better, trying to make my dream. But I didn't really understand what my dream entailed.
Willow Smith just showed off her guitar skills using a Miley Cyrus song
Now, Smith is in total control of her career and her music. In fact, she just showed off her insane guitar skills. She shared a video of her rocking out on the instrument on Instagram. She captioned the video, "Who can guess what Miley Cyrus song this is? I added a couple passing tones and riffs to make it less obvious 🤓."
If you didn't catch on, the song she played was Cyrus' hit 2010 song, "Who Owns My Heart." Cyrus was so moved by the tribute that she commented under the video, "Love love love," Smith responded, "you're an icon."