Witness in R. Kelly Trial Says She Caught Him In a Sexual Act With Aaliyah When Aaliyah Was '13 or 14′
A former background dancer and singer of R. Kelly's claims she caught R. Kelly having sex with Aaliyah when Aaliyah was underage. The witness also says she too began a sexual relationship with Kelly when she was 14.
Despite Aaliyah's family denying a relationship between Aaliyah and R. Kelly, Kelly's former employees say otherwise. As Kelly's criminal trial is underway, more witnesses are testifying that they saw Kelly and Aaliyah together on several occasions in compromising situations. Recently, a former background dancer of Kelly's says she caught Kelly engaging in a sexual act with an underage Aaliyah.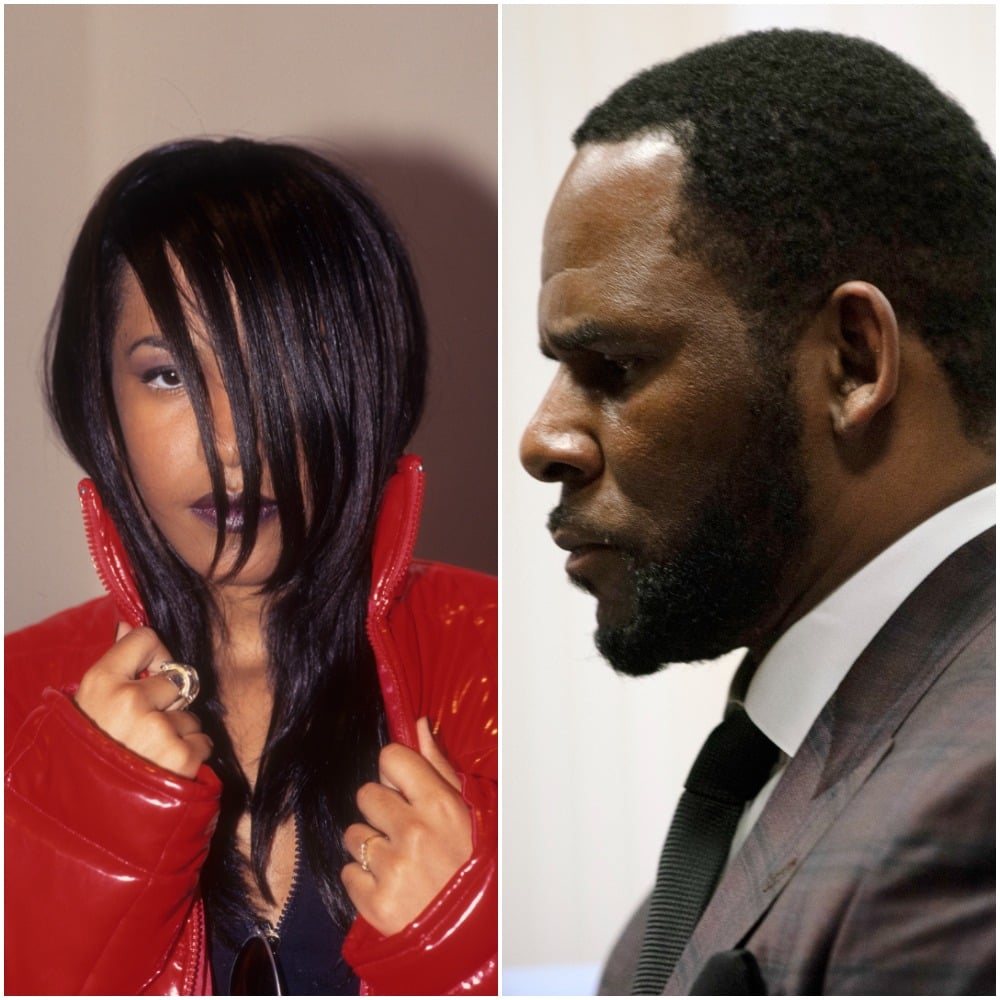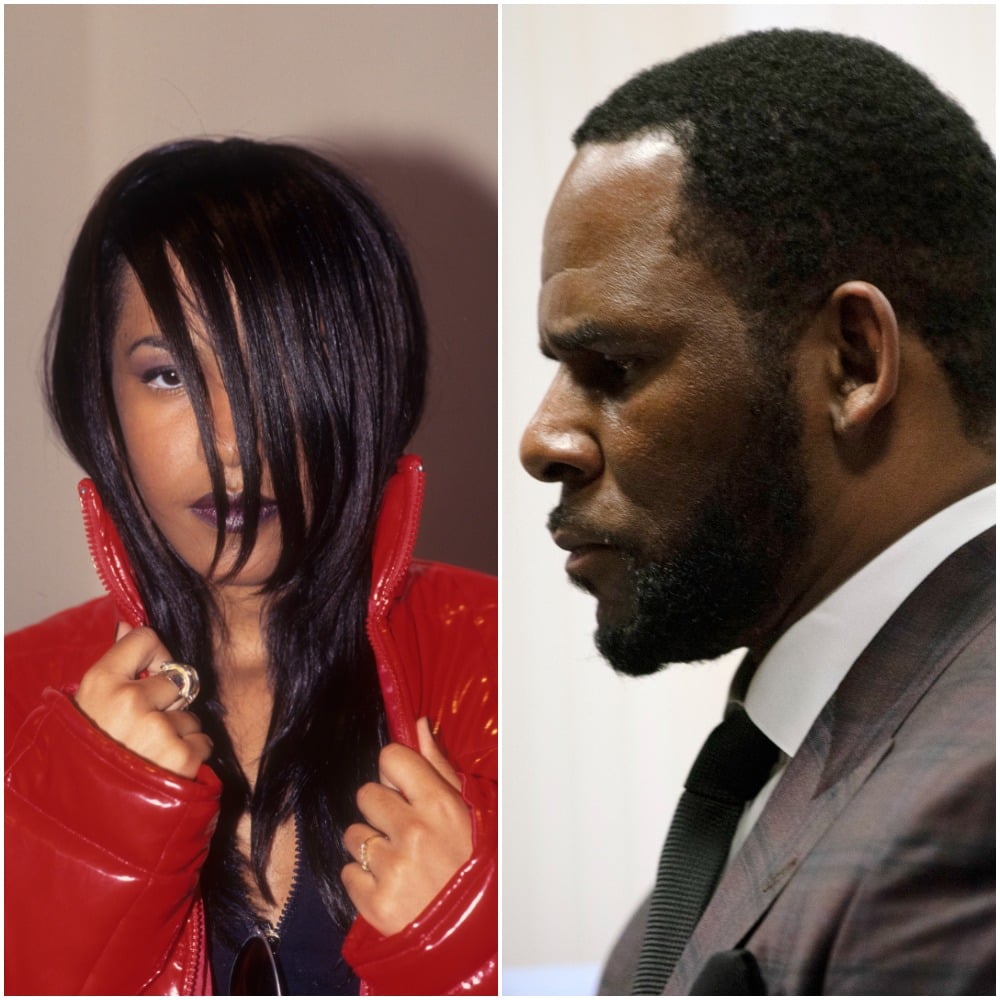 Witness says she caught R. Kelly giving Aaliyah oral intercourse
According to a report from The Huff Post, the 10th witness to testify in Kelly's current trial took the stand on Monday, Sept. 13, and alleged she saw firsthand Kelly engaging in a sexual act with Aaliyah. The witness, previously referred to as Jane Doe, says she caught Kelly giving Aaliyah oral sex on the back of a tour bus in 1991. 
Jane Doe, who now identities herself as "Angela," told the court that she worked as a background dancer for Kelly at the time. She alleges that she and another member of the crew were playing a pranking game while on tour. At some point, they decided to prank Kelly, which they admit to doing often. Angela says she "slightly opened the door and saw Robert and Aaliyah in a sexual situation." 
Related: R. Kelly's Former Road Manager Testifies About Kelly's Illegal Marriage to Aaliyah
Kelly's head was allegedly between Aaliyah's legs while he was on his knees. Angela says Aaliyah was underaged at the time of the alleged incident, which would have made her 12 or 13, as Aaliyah's birth year is 1979. 
Additionally, Angela admits that she too began a sexual relationship with Kelly when she was underage, saying their relationship started when she was 14. This isn't the first time someone who worked for Kelly during that time claimed they walked in on Kelly and Aaliyah. 
In the Lifetime docuseries Surviving R. Kelly, Kelly's former backup singer/dancer Jovante Cunningham told producers that she walked in on Kelly and Aaliyah on the back of a tour bus having sex. Many assume that Cunningham is the witness known as "Angela," but there's no official confirmation. 
Aaliyah's parents have fiercely denied she was ever in a relationship with R. Kelly
After the docuseries aired that featured Cunningham's allegation, Aaliyah's mother, Diane Houghton, released a statement refuting Cunningham's claims on Twitter. "My husband and I were always on tour with [Aaliyah] and at interviews and every place she went throughout her entire career," the statement read in part.
Related: There's an Aaliyah Biography Set for Release in 20201 That Includes Details About Her Relationship With R. Kelly
The statement continued: "Whoever this woman is [who is making the allegations], I have never seen her before anywhere on planet earth, until now." She also called Cunningham's story "lies and fabrications."
Kelly and Aaliyah were illegally married in August 1994, as MTV News was the first to report such. At the time of the illegal nuptials, Aaliyah was 15-years-old – and Kelly was 27. Kelly's former road manager, Demetrius Smith, testified that Kelly married Aaliyah to avoid jail time under the belief that Aaliyah was pregnant with his baby. Smith admits to helping orchestrate the wedding by bribing an Illinois government employee $500 for a fake ID. Aaliyah's parents had the marriage annulled in 1995.
The late singer's uncle admits that Aaliyah's relationship with R. Kelly caused their family pain
While Aaliyah's parents deny the relationship between their daughter and Kelly, the late singer's uncle and owner of her former record label does not. Barry Hankerson recently became emotional when asked by The Rickey Smiley Morning Show how the marriage impacted his family. 
I had to really consider what my actions would be and I found out that I was not a hardcore criminal because I couldn't kill nobody. So I took it to Minster Farrakhan, prayed about it, and decided to let God handle him…I just put a wall up to that. It's just too emotional for me. It just brings back too many bad thoughts for my whole family. He impacted my whole family. It's just a bad thing. 
Hankerson also admits that his relationship with his sister Diane, Aaliyah's mother, has been estranged since Aaliyah's tragic death in 2001. He's hopeful their family can reconcile at some point.