Is WNBA Star Liz Cambage Single, and What Is Her Net Worth?
Las Vegas Aces star center Elizabeth "Liz" Cambage is one of the tallest players actively competing in the WNBA, standing at six-foot-eight-inches. She's also one of the highest-paid female players. Recently, artist Drake shouted her out in his "Sicko Mode" feature, rapping his shot is "wet like I'm Lizzie," as the Aces star is a lead scorer. Is the basketball player single, and what is her net worth?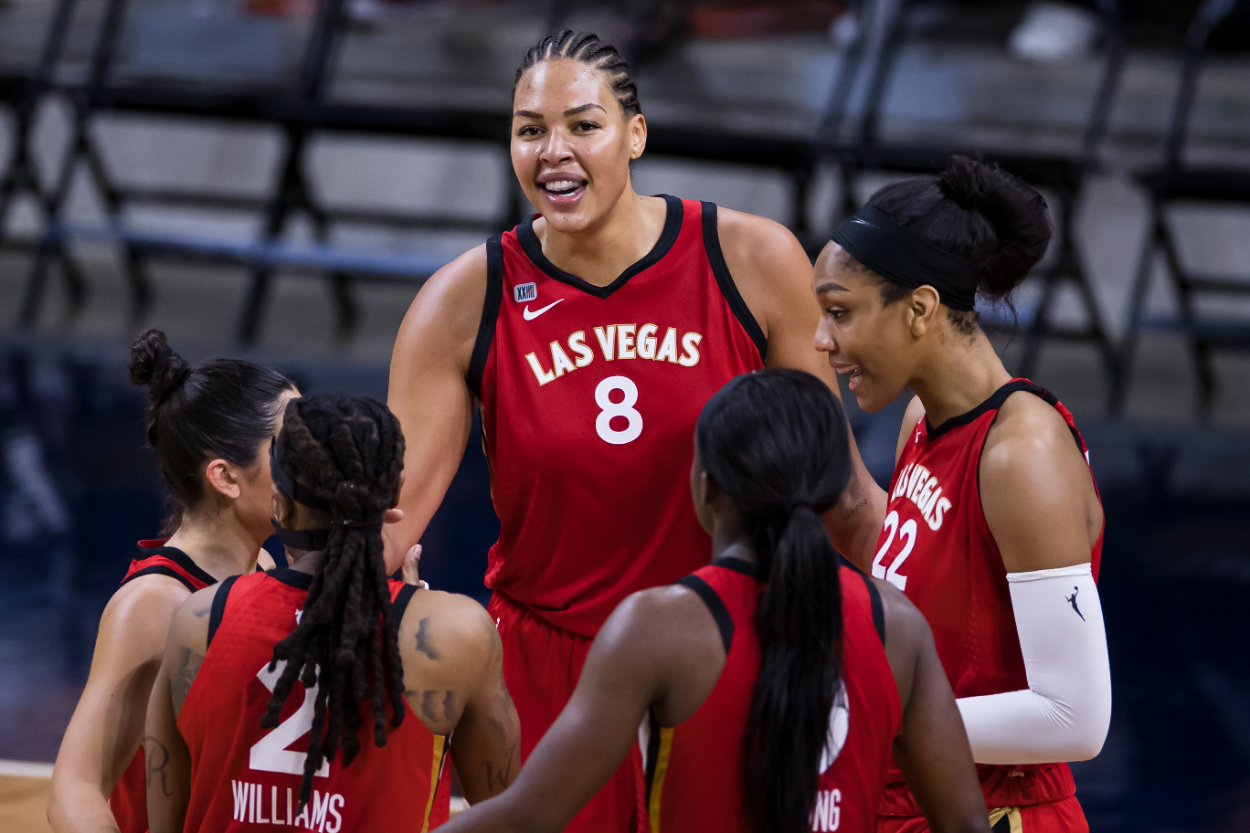 Is Liz Cambage single?
Around 2011, basketball star Elizabeth Cambage, who played for WNBA's Tulsa Shock at the time, reportedly began a relationship with fellow Australian basketball player Alex Lee.
The two allegedly dated on and off for three years until their breakup in 2014, when she suffered a knee injury. Cambage spoke to the Daily Mail Australia, where she noted her recent setback gave her clarity regarding her relationship.
The ball player said, "Going through things like this shows you who's there for you and who's not." The star hasn't publicly dated anyone following the split and is seemingly currently single.
RELATED: Kevin Durant Was Briefly Engaged to a WNBA Player
She later opened up about "embracing her sexuality" in a Sept. 2020 Playboy interview alongside a risqué photoshoot and answers to 20 questions.
Cambage explained how she feels she's not able to be a "straight six-foot-eight woman who likes to have sex" as she thinks society only wants her to focus on her sport.
Therefore, the WNBA player admitted she "spent years confused" about her sexuality as she believed "everyone's always expecting me to be gay."
What is her net worth?
Born Aug. 18, 1991, in London, England, Cambage moved to Australia at three months old. As she reached the height of 6 feet by ten years old, her mother encouraged her to compete in basketball to make friends.
She began playing professionally by 16-years-old and was drafted second overall by the WNBA Tulsa Shocks (2011) at the age of 20.
After playing in the 2012 Summer Olympics and making the All-Rookie and All-Star teams, she played in China and Australia before returning to the WNBA in 2018 with the Dallas Wings.
During a Jul. 2018 game against the New York Liberty, the center scored a record 53 points and finished the season with the Wings before a trade to the Las Vegas Aces in 2019, where she currently plays.
While in China, Cambage signed with the Zheijang Chouzhou club for a $400,000 salary in 2012, making her one of the highest female basketball players in the world at the time. She's currently playing on a one-year $221,450 salary.
The center reportedly has a net worth of $3 million.
Is Cambage the tallest WNBA player?
When she turned 10, the Aces star reached 6 feet and hit 6'5" by the age of 14. Cambage presently stands at the height of 6 feet eight inches. Only two international players are taller than her; Margo Dydek, who stands at 7 ft. 2, and Sue Geh at 6 ft. 9.
RELATED: Steph Curry vs. Seth Curry: Which NBA Star Has the Higher Net Worth?
The basketball star is currently the second tallest active WNBA player behind Indiana Fever's Bernadett Határ, who is listed at 6'10.