The Woman Who Discovered Bob Ross Called Him a 'Tyrant'
Renowned painter Bob Ross is best known for painting "little happy trees" on PBS alongside his magnificent hair and effervescent optimism. But, behind Ross's success, there's the woman who "discovered" him. Annette Kowalski became the owner and co-founder of Bob Ross Inc., after a heartbreaking accident. Eventually, her relationship with Ross deteriorated. When Ross died, she didn't attend his funeral and lawsuits ensued. Here's what we know.
Annette Kowalski discovered Bob Ross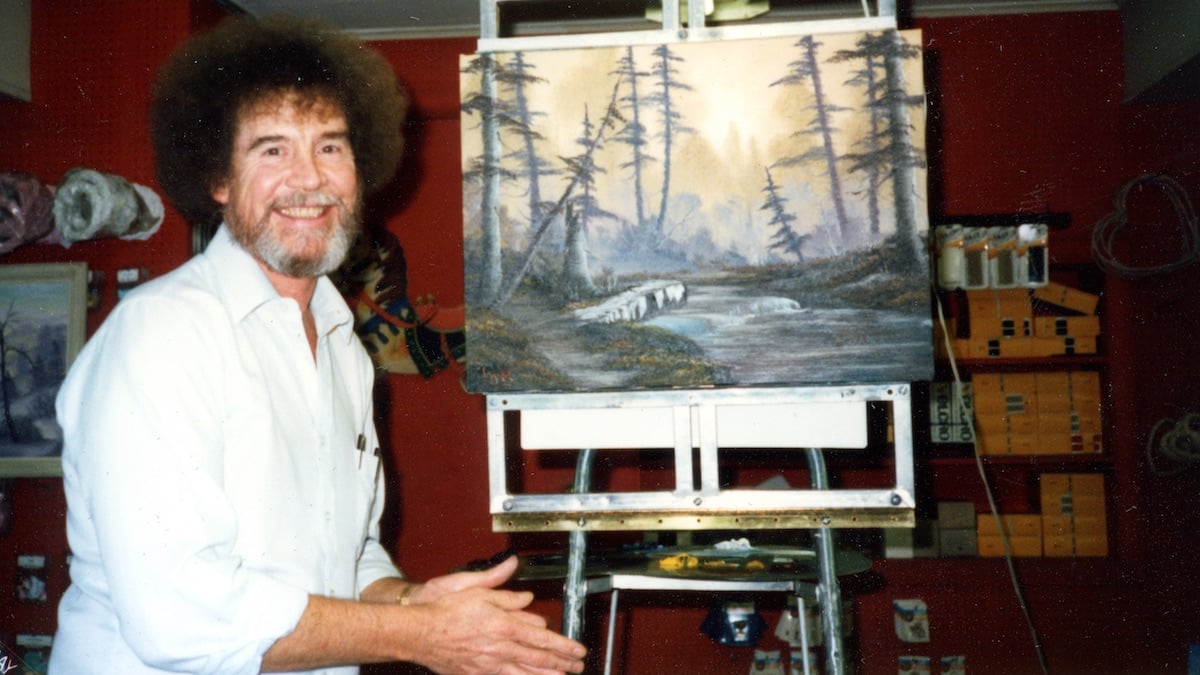 According to the New York Times, Ross painted in 381 of the 403 episodes of PBS' The Joy of Painting, which debuted in 1983. The remainder were painted by guests. Likewise, he created three versions per painting to obtain the right camera effects. To know more about Ross, it's worth looking at the woman who discovered him.
"My oldest son was killed in a traffic accident. It was very difficult," Kowalski told NPR in2016. "I was so devastated. All I could do was lay on the couch and watch television."
PBS aired a program at the time featuring Bill Alexander. He created and perfected the Alexander technique of "wet-on-wet" painting to teach viewers how they could do the same at home in 30 minutes or less.
Kowalski's husband Walt signed her up for Alexander's painting class to help with grief which was located 900 miles from where they lived. Around that time, Alexander welcomed Ross to his seminar which led to Ross's apprenticeship for Alexander.
"I was very disappointed," Kowalski said. "I so wanted to paint with Bill Alexander. But my husband said, 'Get up. Get in the car. We're going.'"
Ross taught the class in a five-day workshop. Those classes led to a business deal where Annette would become Ross's manager. She garnered commercials and TV spots that eventually garnered the PBS spot.
"I was so mesmerized by Bob," she said. "Somehow, he lifted me up out of that depression. I just think that Bob knew how to woo people. I said, 'Let's put it in a bottle and sell it.' "
Ross had a feeling he'd die young
Between 1982 and 1994, Ross filmed those near 400 episodes. The show ended after producers felt that Ross should "focus on his health." Many didn't realize Ross had long since felt he'd die young. This was due to chronic health issues, a heart attack in the 1980s, and a lymphoma diagnosis in 1994 — just two years after the death of his wife, Jane.
Ross died on July 4th, 1995 but some of Annette's memories of Ross don't paint him in a good light. In fact, Daily Beast reported that the Kowalski's didn't attend Ross's funeral but she and her husband did send flowers. He's buried in Gotha, Florida.
Kowalski called Ross a 'tyrant'
Ross was so meticulous about how his PBS show came across, Kowalski said he not only made multiple paintings per show but also rehearsed his "relaxed" lines.
"Bob used to lay in bed at night, he told me, he rehearsed every word," she said. "He knew exactly what he was going to say on every one of those programs."
All the preparation and attention to detail didn't come across so well, according to Kowalski. She deemed him a "tyrant," but explained why she used the term.
"You don't believe that?" she asked. "Do you really think this company would be as successful as it is if he didn't insist that everything be done a certain way? I don't want to leave the impression that he was rude or nasty."
She added that "he just wanted things done his way and that "he was wonderful."
Ross's death sparked a lawsuit for company control
RELATED: How Did The Bob Ross Revival Start?
The Joy of Painting became a cultural phenomenon but Ross didn't make any money from it. His company, Bob Ross, Inc. utilized Ross's free appearances to promote instructional videos, paintings, supplies, and more. The company registered trademarks using Ross's name and likeness with Ross's written consent. But, their deal was structured by distributing shares equally among surviving partners. When Ross's wife died, he only owned one-third of Bob Ross, Inc, and the Kowalski's had two-thirds.
After Ross's terminal diagnosis, the Kowalski's offered a new deal that would allow them to use his name, image, voice, biographical material, and creative works and in return, his heirs would receive 10 percent of profits for 10 years.
Ross didn't sign and instead, modified his estate plan to keep all rights in the family. In one of the last amendments to his will, Ross created a trust that gave 51 percent intellectual property to his brother, Jimmy Cox, and 49 percent to his son, Steve Ross.
At the time, his estate was worth an estimated $1.3 million and the Kowalski's sued his estate posthumous. A settlement was reached. However, more than 20 years later, [Steve] Ross found a clause explaining his entitlements. He filed his own suit against the Kowalski's for unauthorized use of the Bob Ross name and likeness, but in 2019, his case was denied.