Woodstock at 50: When Jimi Hendrix's 'Star-Spangled Banner' Rocked the Festival
In mid-August 1969, an estimated 500,000 people made the trek to Bethel, New York for the Woodstock Music & Art Fair. Starting on a Friday and continuing on through the morning of August 18, the festival featured 32 performers, including The Who, Janis Joplin, and Santana.
While singer-songwriter Richie Havens kicked off the festivities with a long set, Woodstock's headliner wasn't set to take stage until Sunday at midnight. That was Jimi Hendrix, who took home the highest pay of any act that weekend.
By Sunday night, delays due to bad weather and technical difficulties pushed the schedule back nearly nine hours. While Hendrix was offered the chance to play at midnight, he opted to close Woodstock the following morning.
That meant taking the stage near 9 a.m. on Monday the 18th. By then, well over half the festival-goers had departed. But those who stayed saw magic that morning, including Hendrix's version of "The Star-Spangled Banner."
Hendrix played his 'Star-Spangled Banner' toward the end of a 2-hour set.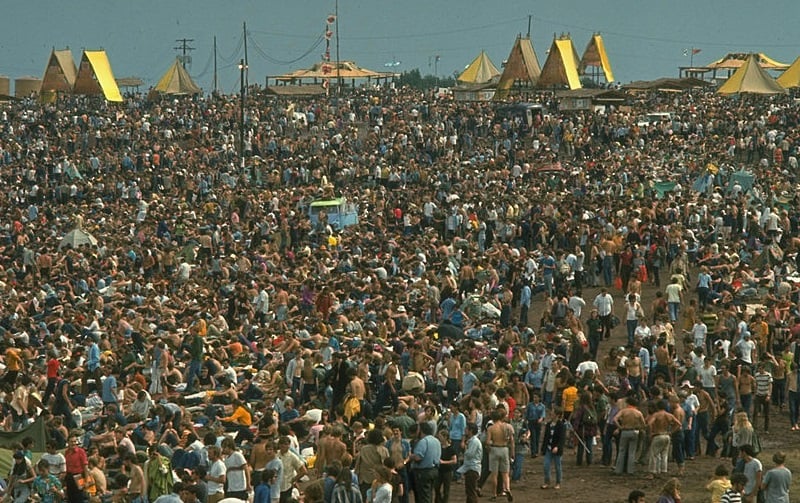 You can probably imagine the level of exhaustion for most those arrived at some point over the weekend then lasted through Monday morning. Hendrix seemed entirely at ease, and told bassist Billy Cox he wanted to feed off the vibe pulsing through the crowd.
"Look, the audience is sending a lot of energy to us on stage," Hendrix said. "Let's use that and send it back to them." In the course of a two-hour set (one of the longest of his career), Hendrix and an unusual band lineup worked through "Spanish Castle Magic," "Red House," and "Foxy Lady."
In the second half of the set, the band embarked upon a long medley that included "The Star-Spangled Banner." By then, it was probably after 10 a.m. in Bethel.
Within that 30-minute medley, the national anthem fell in between "Stepping Stone" and "Purple Haze." After that, the band mostly improvised before Hendrix closed the set and came back for an encore of his early hit "Hey Joe."
Hendrix made people 'so ecstatic, so stunned and moved.'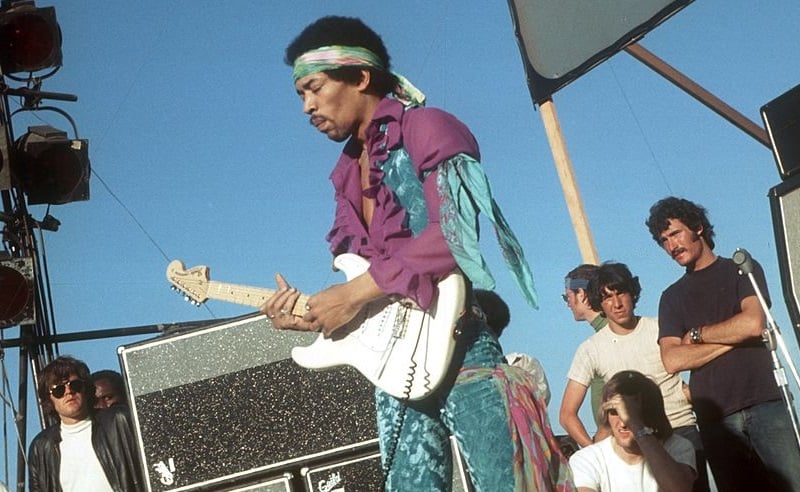 Cameraman Michael Wadleigh described the scene that morning as Hendrix worked through "The Star-Spangled Banner," with drummer Mitch Mitchell occasionally thrashing behind him. Wadleigh "saw people grabbing their heads, so ecstatic, so stunned and moved" by the performance.
As Hendrix fans know, it was far from the first time he'd played the song live. (Joel Brattin counted 28 live recordings of him playing it before Woodstock.) Regarding the political import of the performance, we'll let Hendrix, an army veteran, speak for himself.
"All I did was play it," Hendrix told Dick Cavett. "I'm an American, so I played it. I used to have to sing it in school." When Cavett asked about the controversy of him playing it in "an unorthodox way," Hendrix responded as coolly as ever.
"Unorthodox? That's not unorthodox. I thought it was beautiful." No one can disagree with that.
Also see: The No. 1 Beatles Song John and Paul Recorded Without George or Ringo