Would Charlie Hunnam Return For Kurt Sutter's 'Sons Of Anarchy' Prequel?
Fans are eager to know if Charlie Hunnam will return as Jax Teller for the 'Sons of Anarchy' prequel, 'The First 9.'
Kurt Sutter answered the prayers of many fans when he launched the first official Sons of Anarchy spin-off, Mayans MC, last year. The show largely lived up to the hype and featured some unexpected crossovers with the original show. But what about Sutter's plans for a Sons of Anarchy prequel?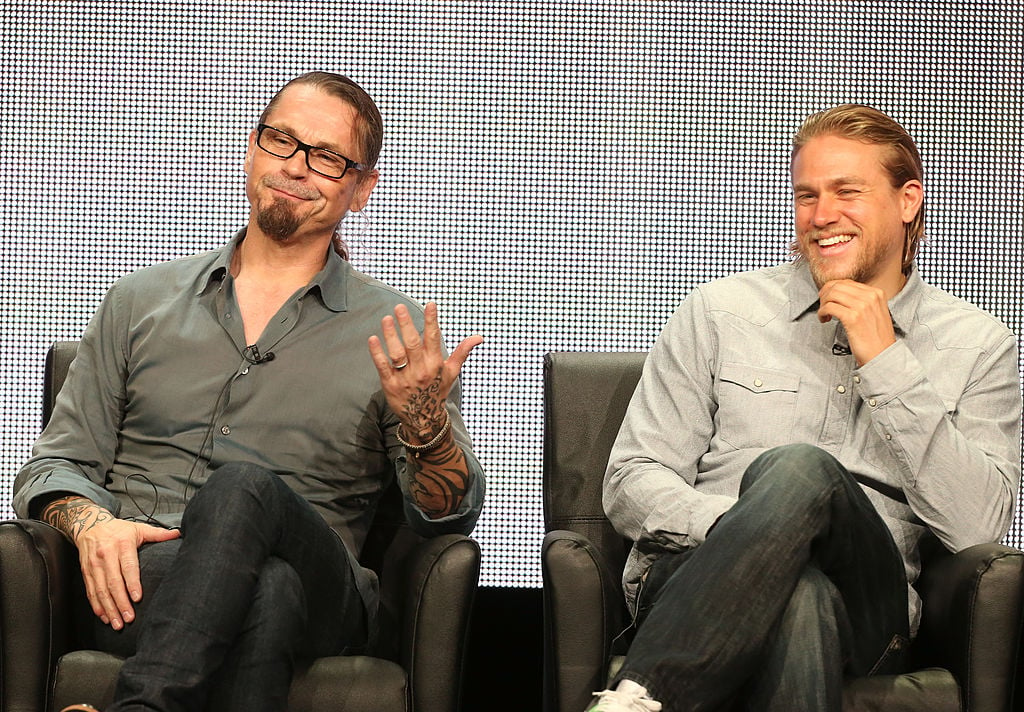 In an interview at the TCA winter press event, the president of FX, John Landgraf, was asked about an update on Sutter's SOA prequel, tentatively titled The First 9. Landgraf revealed to Cinema Blend that development on the project has not started, but he has been talking to Sutter about doing the show while Mayans MC is still underway.
"Kurt does still talk about doing The First 9," Landgraf shared. "He hasn't given me a date or timing, but it still seems to be something he wants to do."
'The First 9' storyline
The SOA prequel would explore the early days of the club by focusing on the founding members. This includes Jax Teller's (Charlie Hunnam) father, John, and Opie Winston's (Ryan Hurst) dad, Piney. Depending on how long the series goes and the exact timeframe, there is a possibility that Jax could be a part of the project.
So far, Sutter has only expressed interest in doing one season of the prequel. Unless the timeline moves rapidly, this would probably prevent Hunnam from making a significant contribution. Given the popularity of Mayans MC, however, Sutter could easily justify more than one season. This would open the door for Hunnam reprising the role, though that would depend on Sutter's vision for the series.
Which cast members might return for the prequel?
With the focus being on the founding members, fans will undoubtedly be introduced to some new cast members in the prequel. The biggest unknown is who will play Jax's dad. Several names have already been thrown into the mix, though official casting will not begin for quite some time.
Other founding members that were not featured in the original series include Thomas "Uncle Tom" Whitney, Wally Grazer, Otto "Lil' Killer" Moran, and Chico Villanueva.
Founding members that were a part of SOA include Piney Winston (William Lucking), Lenny "The Pimp" Janowitz, Keith McGee (Andrew McPhee), and Clay Morrow (Ron Perlman). It is unclear if Sutter plans to recast everyone or keep the original actors. Considering how the prequel will be set several decades before SOA, casting could go either way.
When will Sutter start working on the prequel?
Sutter has not revealed when he plans to start development on the prequel. He is currently working hard on Season 2 of Mayans MC and it is unclear if he has time to commit to another project. Sutter is not as involved in Mayans MC as he was on SOA, so it is possible he'll have some room in his schedule in coming years.
What has Hunnam done since the end of 'SOA'?
After the final season of SOA, Hunnam successfully jumped to the big screens. The actor has appeared in a number of films over the past few years, including King Arthur: Legend of the Sword, The Lost City of Z, Papillon, and Triple Frontier. While Hunnam has been active in the movie industry, he has yet to return to television.
When Mayans MC was under development, there were rumors that Hunnam might reprise his role in a flashback, much like Katey Sagal did when Gemma Teller appeared in Season 1. As noted by ET Online, Hunnam was quick to shut down the rumors and explained to fans that Jax would not have a cameo in the spin-off because the show takes place after his death.
What are the chances Hunnam will return for the prequel?
We already know that Hunnam will not be appearing on Mayans MC, but there is a chance he will play a small part in the prequel. After all, the prequel will take place years before Jax's death, which definitely provides Sutter with an opportunity to bring Hunnam back one last time.
According to The Wrap, Hunnam has expressed interest in portraying Jax at some point. In fact, the actor admitted that he would do anything for Sutter, even if it was only a one-off cameo.