WWE Stars Carmella and Corey Graves Latest Couple to Get Reality Show
WWE wrestlers Carmella and Corey Graves are becoming reality TV stars. The duo joins The Miz and Maryse as the latest wrestling couple to get their show. Read on to learn more about their upcoming series.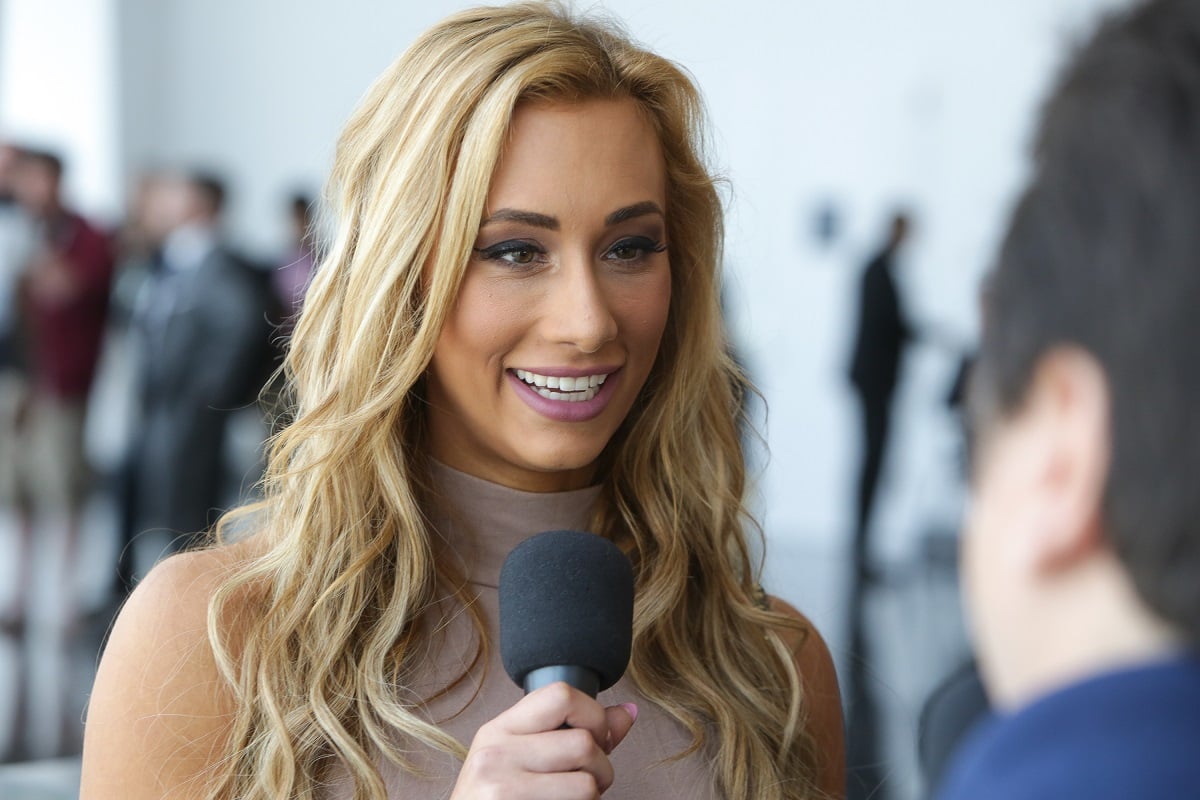 WWE couple Carmella and Corey Graves to star in reality series for YouTube
Carmella and Corey are one of wrestling's most talked-about couples. The two began dating in 2019 and became engaged in October 2021. Now fans will take a sneak peek into their home life with their reality series Corey & Carmella. 
RELATED: 'Rhodes to the Top' Isn't Cody and Brandi Rhodes First Reality Show
The show will premiere on WWE's YouTube channel on Feb. 28. A trailer gave viewers a hint at what to expect from the outrageous couple. Clips show the two working out at the gym, house-hunting, and snuggling in bed. The duo proves they're an open book as they share details about their love life.
This isn't the couple's first time on a reality show
Carmella and Corey are no strangers to reality TV. In October 2019, they became cast members for the ninth season of Total Divas. During their run, Carmella opened up about her relationship with Corey.
When he and Carmella began dating, Corey was separated from his first wife, with whom he has three children. However, Corey's estranged wife took to social media and claimed Corey cheated on her. This led to criticism over Carmella and Corey's relationship and being labeled a homewrecker.
Carmella shared her side of their story on the show, saying she didn't break up Corey's marriage. Her emotional confession garnered lots of support from her co-workers, friends, and fans.
What's different about their new show?
Two years after their first reality show stint, Carmella and Corey are ready to give it another shot. In a recent episode of the After The Bell podcast, Carmella explained how their show is different from Total Divas. "This is different first of all because it's just Corey and I, whereas before there were seven or eight or nine castmates when it was Total Divas," she revealed.
RELATED: 'Total Divas': Nikki Bella Admits Producers Scripted Most of the Drama
Carmella also said the couple has creative control and will only show what they want to reveal. Based on the trailer, nothing is off-limits with this couple. Fans will get to see more of the couple's home life when Corey & Carmella debuts on Monday, Feb. 28.