'You': Penn Badgley Just Got Super Real About Why People Like Joe
While on 'The Late Show With Stephen Colbert,' Penn Badgley got super real about why fans forgive Joe from 'You' so easily.
Season 2 of You premiered on Netflix on Dec. 26, 2019. You stars Penn Badgley as everyone's favorite serial stalker and murderer, Joe Goldberg. While appearing on The Late Show With Stephen Colbert, Badgley did not shy away from revealing the true reason people like Joe.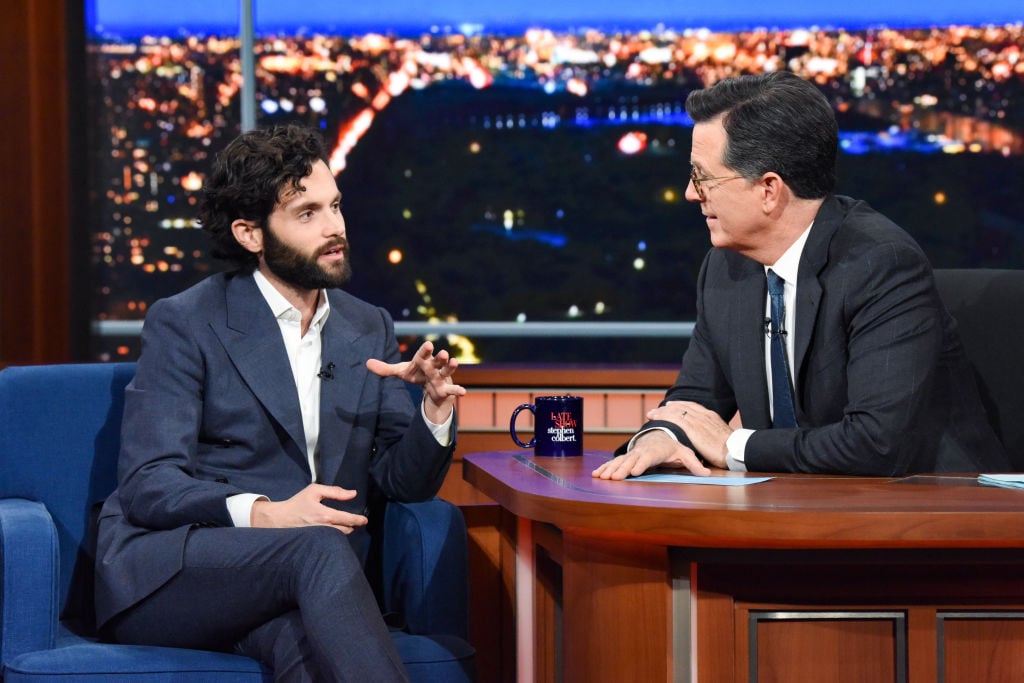 Penn Badgley and Stephen Colbert discussed how people are attracted to Joe
Badgley appeared on The Late Show With Stephen Colbert on Jan. 9. During the interview, Colbert brought up the actor's character in You.
"You play a sociopathic killer named Joe, and do you have anything to say — people love Joe. Do you have anything to say to the people out there who say they want to date Joe despite the minor flaw of murdering people?" Colbert asked Badgley.
"I have to say though, it's not entirely fair to put that on the viewer because we're purposefully creating a device that is meant to be provocative, hopefully thought provoking and not just titillating," Badgley said.
Penn Badgley got super real about Joe in 'You'
As Colbert and Badgley discussed Joe in You, Badgley mentioned that the character and show act as social commentary for viewers.
The actor said, "It's not a clinical portrait of a serial killer… I think it's intended to function as a social commentary."
"What is it commenting on, Penn Badgley?" Colbert asked.
Badgley then admitted he struggled with playing someone like Joe who is then portrayed as being likable.
"What do you think it says about our society that people are attracted to people like this guy?" Colbert asked.
"Well, it says something about how much we're willing to be patient and forgive someone who inhabits a body that looks something like mine, the color of my skin, my gender, these sorts of things, these sorts of privileges," Badgley said.
He continued, "And you know, and how much less willing to forgive people who don't fit those boxes, you know."
This pointed and aware explanation led to a round of applause from the audience.
The actor does not enjoy playing his character in 'You'
While Badgley understands why people like Joe, he frequently voices how viewers should not like the character. The actor famously started replying to fans on Twitter in 2019 to call out their worrisome behavior. Badgley has also made it very clear he is uncomfortable with Joe as a character.
"Playing Joe is not this terribly enjoyable experience," he told Variety.
While on The Late Show With Stephen Colbert, Badgley said, "I struggle greatly with the conflict of playing such a guy and him being partly so likable and people having such a, as we say 'thirsty' response to him."
Sera Gamble, the showrunner of You, says that Badgley's discomfort with the show's material makes him great in the role.
"… part of the reason Penn does such a beautiful job playing Joe is because as a person, he is so horrified by him. He's deeply uncomfortable with roughly 96% of everything in every script," she said.