'You' Season 3: Every Single Detail Available About the Netflix Series
In 2018, audiences were introduced to Joe Goldberg, a seemingly charming clerk working in a quaint New York City book shop. Underneath the sweet facade, however, Goldberg is a sociopathic murderer obsessed with "love." The Netflix series You became an instant hit, with audiences falling in love with Joe and his witty inner monologue. The craziest part is that the audience is still in love with him, even now that we know just how dangerous he is.
Who is Joe Goldberg? 
In season one of You, we learned that Joe really does his homework. When he becomes fixated on his love interest, Beck, he does a whole slew of research to learn practically everything he can about her. This is how he sweeps her off her feet, offering her everything she ever wanted in a man. 
In addition to being a sociopath, Joe has what EW refers to as a hero complex. He is most attracted to women who are suffering or in abusive relationships. He wants to save them but only remains the hero as long as they behave exactly as he wants them to. He's also incredibly jealous, and this jealousy is one of his triggers. 
Joe's jealousy leads him to kill Beck's best friend, Peach, who was also in love with her. The green-eyed monster rears its ugly head again when Beck begins to see a therapist, Dr. Nicky, to deal with Peach's death. Joe is extremely threatened by Dr. Nicky, and Beck begins to see a different side of him. This arouses her suspicion, and she (finally) starts digging into his past. 
Beck's digging leads to the discovery of a box hidden in Joe's bathroom — a box of souvenirs from his victims. As well as mementos from Peach and Benji (her ex-boyfriend), Beck discovers a necklace from Joe's missing ex-girlfriend, Candace. She puts two and two together and realizes what kind of a monster she's dating. 
Unfortunately for Beck, her discovery seals her fate. Joe locks her in a cage in the basement of the bookstore and ultimately ends up killing her. He then frames Dr. Nicky for her murder (and all the others) and escapes to California to start over. 
Was season 2 just like season 1?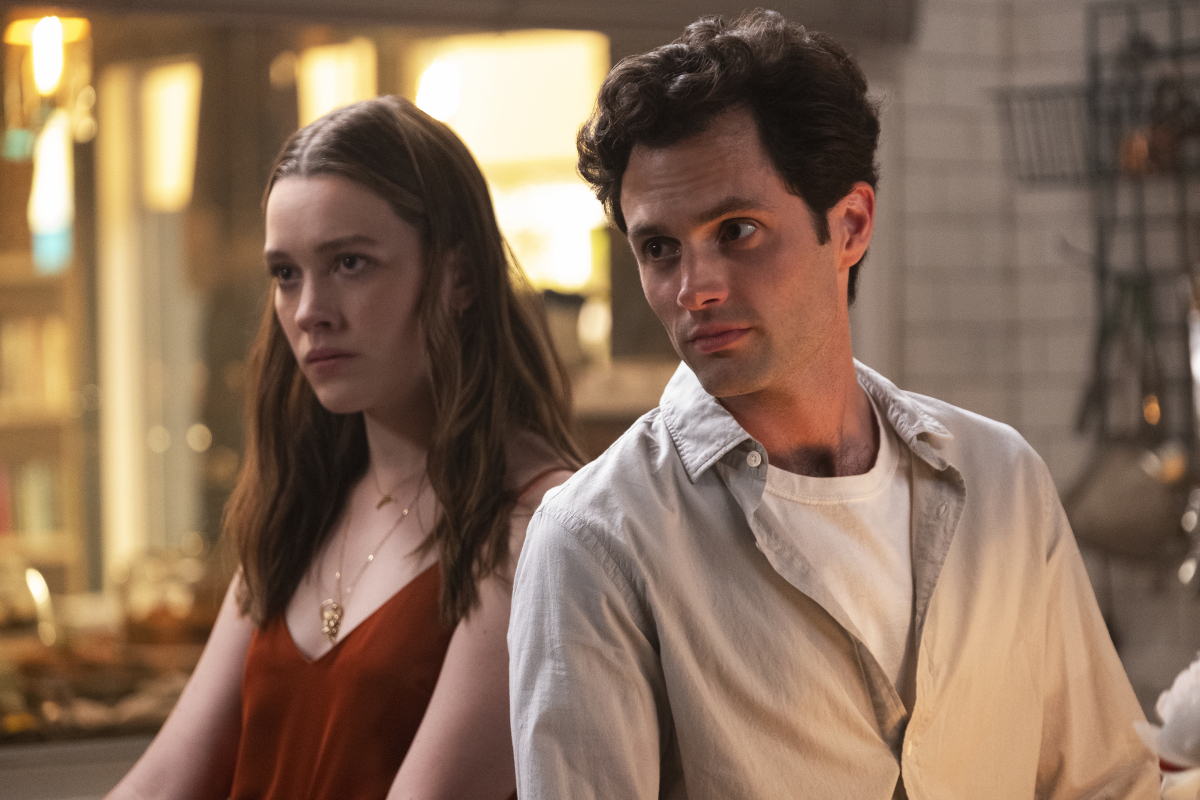 When Joe escaped the mess in New York and moved to California, we assumed season two would just be a repeat of season one. It certainly looked like that in the beginning, with Joe falling for a quiet, creative chef, Love (yes, her name really is Love). Like Beck, we reveal that Love has plenty of issues, including a brother with a history of addiction and abusive, controlling parents. 
However, unlike Beck, there seems to be something off about Love from the very beginning. While we instantly fall in love with Beck—she's adorable, intelligent, and unwaveringly kind—it's not so easy to love Love. It's very clear that we are supposed to feel sorry for her, always trying to care for her brother and dealing with unloving parents. There's just something about her that isn't quite right. 
By the end of the season, we find out what it was that nagged us all along–she's a complete psychopath! When Joe ends up locked in his own prison by Candace (the ex-girlfriend he left for dead), he thinks his story has come to a close. He's stuck in his glass cage with the dead body of his former friend Delilah (who he didn't even kill) and Candace is about to call the police. 
Then Love comes along and saves the day. She slices Candace's throat and tells Joe she killed Delilah in order to protect them. Joe had a fleeting moment when he wondered if Candace could have been right, and he was really a villain. That vanished after Love admitted to killing Delilah, though. As Vulture describes it, Love's confession allows Joe to believe himself a good person who only kills people who deserve it. 
What's coming in season three? 
Season two ended with Joe and Love moving into a new suburban home. Love is sporting a growing baby bump, and Joe is checking out the new neighbor… This leaves us with numerous questions that will hopefully be addressed in season three. Will the neighbor be Joe's next love interest? Will he feel like he's trapped with Love and the new baby? Will Love continue to spiral further into madness in a desperate attempt to keep her family together?
According to US Weekly, Joe and Love are not soulmates. In fact, they even point out that it's likely Joe is afraid of Love after learning what she's really capable of. It's clear that neither one of these people should be parents, yet they have a child on the way. A teaser trailer was released in August, featuring a cake with "Welcome Baby Henry" written on it. Joe's voice-over talks about how he will be a good father to his son, but he hopes he will not follow in his footsteps.
Season three will bring some brief characters back for more substantial roles, including Joe's new neighbor and Love's mother. There will also be a few new faces, including Marienne, the neighborhood librarian, and Theo, a college student with stepdad issues. Scott Speedman, known for his roles in Animal Kingdom and Felicity, will play Matthew, a wealthy, mysterious CEO. 
Fans can also expect to learn more about Joe's childhood through numerous flashbacks this season. Season three of You will premiere on Netflix on October 15.