'You' Season 3 Stars Considered It 'Iconic' and 'Poetic' to Be Locked Inside the Cage
Many fans couldn't stand mommy influencer Sherry Conrad and her seemingly blockheaded husband Cary at the beginning of You Season 3. However, their opinion changed on the couple, and they became the most rooted for characters in the show. After the season premiered on Netflix, the actors behind Sherry and Cary, Shalita Grant and Travis Van Winkle, talked about their time locked in Joe and Love Quinn Goldberg's cage, calling it an "iconic" and "poetic" experience.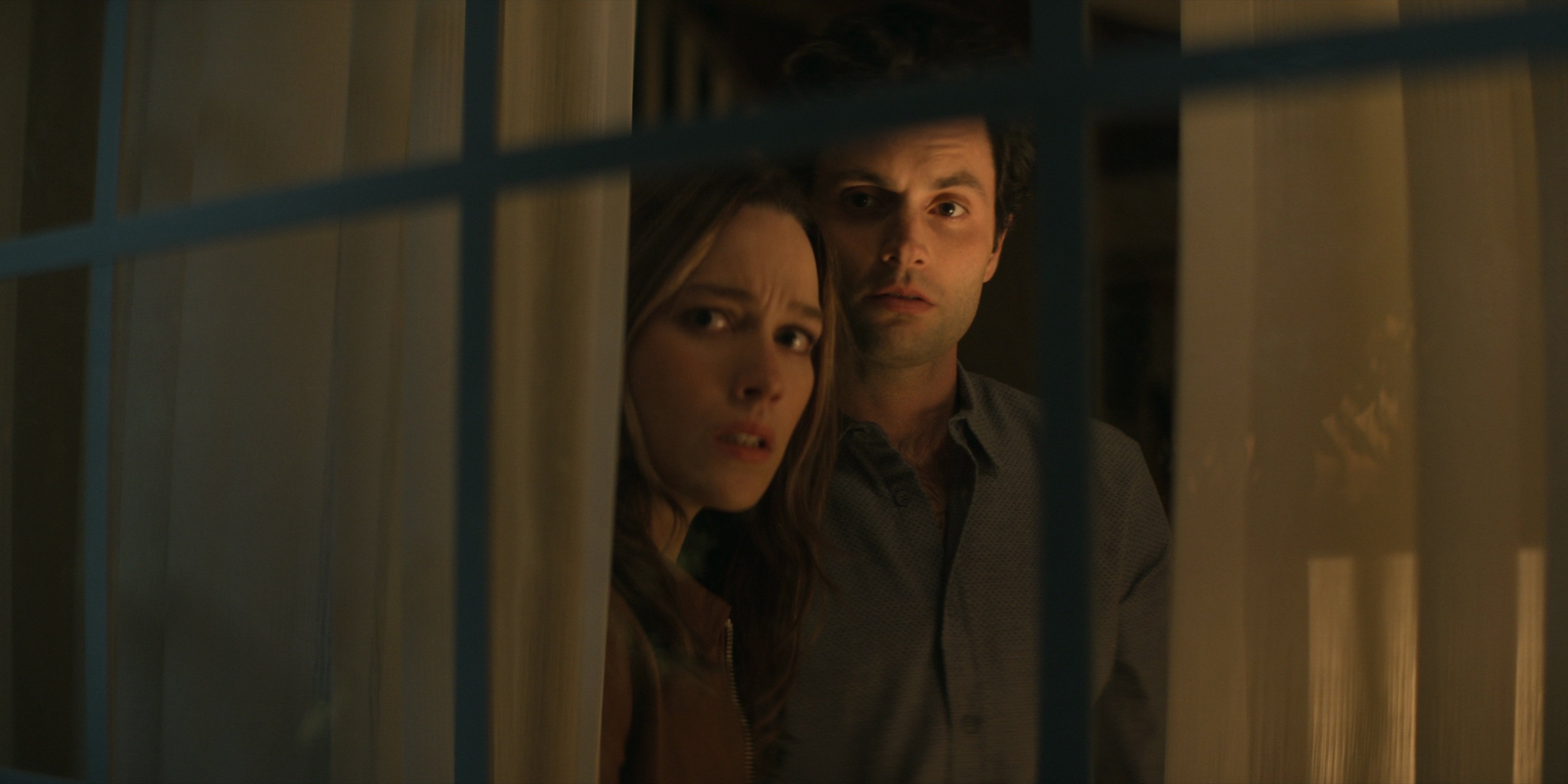 Sherry and Cary Conrad ended up in Joe and Love Goldberg's infamous cage
Viewers first meet mommy influencer Sherry Conrad and her husband Cary, who runs a supplement company, when Joe and Love Quinn Goldberg move to a Los Angeles suburb, seeking to escape their criminal past and start a new life with their baby.
She eventually welcomes Love into her tight-knit elitist circle, and Joe develops a friendship with Cary, finally feeling truly accepted. As Joe got distracted by his new obsession with a librarian and co-worker, Marienne and Love wanted to spice up their relationship; the two tried a couple swap with the Conrads.
RELATED: 'You' Star Talks Their 'Emotional' Death in Season 3 Finale
However, the Goldbergs got into an argument, and Love loudly revealed her involvement in Natalie Engler's murder, alerting the couple who attempted to escape.
They ended up locked inside the Goldberg's infamous cage, but the two left them as they had their own problems to sort out. Ultimately, the Conrads discovered the hidden key after realizing the Goldberg's didn't trust each other.
Cary's actor Travis Van Winkle referred to their experience in the locked cage as 'iconic'
After escaping the cage, the married couple held Ted Talks about their experience and how it strengthened their marriage.
Following the season's premiere on Netflix, actors Shalita Grant and Travis Van Winkle, who portrayed the Conrads, spoke to TV Line about their time in the cage, referring to themselves as the "first caged couple."
Grant explained showrunner Sera Gamble informed them of their history-making appearances early on in the filming process. Van Winkle talked more about the fictional couple's experience in the cage, noting it "peeled back" their layers, allowing the viewers to recognize them as a "damn good team."
The actor also pointed out that many fans didn't like his and Grant's character at the beginning of the season but changed their minds after watching the couple navigate the cage. "They are who they say they are, and there's something beautiful about that," he said. "It was so iconic to be in that damn cage. But it was even more iconic to make it out."
Sherry's Shalita Grant admitted she was initially disappointed to discover she would live
Although the showrunner informed the actors they would end up in the cage, she apparently left out that they would end up as some of the only survivors after encountering the Goldbergs.
However, Grant admitted she was initially disappointed once she learned they would make it out. "When I found out we were going to survive, I was like, 'g—— it!'"
RELATED: 'You': Who Did Love Quinn Kill in Season 2?
The actor explained she hadn't died on camera before and began practicing how she would go out when the time came. However, she realized she and her on-screen husband would survive around Episode 6 or 7, noting, "these are two people who know they're going to succeed in life."
Additionally, she considered it "poetic" that the Conrads made it out of their "dehumanizing situation" while "the house of Love had to burn down." You is airing on Netflix.