'You' Season 3: Will Joe and Love Stay Together? Penn Badgley Teased a Great Deal About the Characters' Relationship
Will Season 3 of Netflix's 'You' see Joe Goldberg and Love Quinn living blissfully as a couple, or does the upcoming have other plans for the pair's romance?
If you're like us, then you can't wait for Season 3 of You to drop on Netflix. Last season, we watched as Joe Goldberg fell hard for Love Quinn, whom he thought was the woman of his dreams. Come to find out, Love also has an obsessive streak that led her to murder two women just so she and Joe could stay together. With the new season on the horizon, many of us have questions regarding Joe and Love's relationship, and thanks to Penn Badgley, we now have an idea of how their dynamic will look in upcoming installment.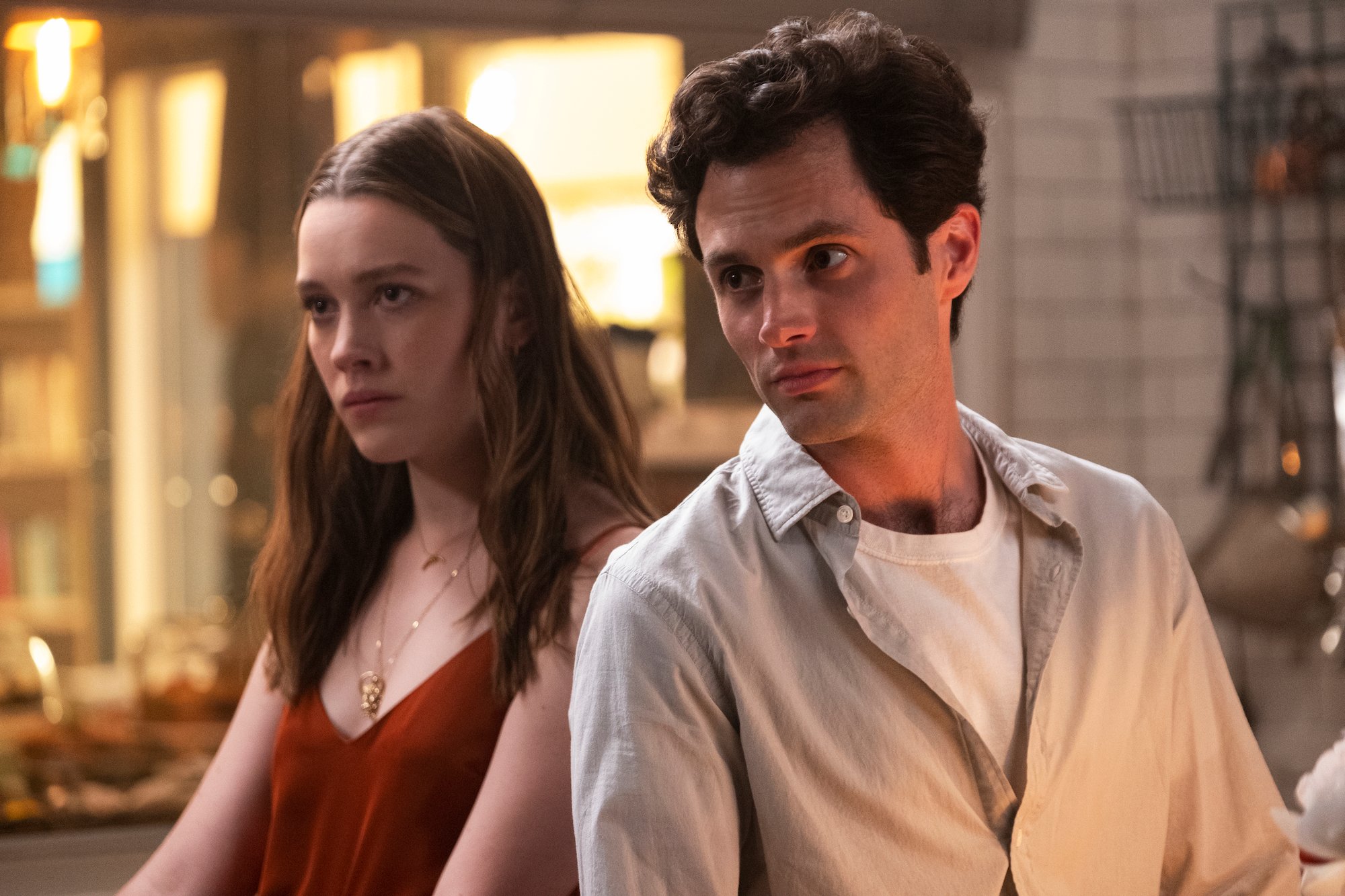 Season 2 of 'You' sees Joe Goldberg infatuated with Love Quinn
While Season 1 of the Lifetime-turned-Netflix series You centered around stalker/ serial killer Joe Goldberg (Penn Badgley) and his obsession with writer Guinevere Beck (Elizabeth Lail), the show's second season saw Joe smitten with aspiring chef/ fellow sociopath Love Quinn (Victoria Pedretti).
The two first met inside Anavrin, a high-end grocery store in Los Angeles which Love and her family own. As soon as Joe lays his eyes on Love, he's instantly infatuated with her and begins stalking his way into her life. Eventually, the two begin a romance, which fans soon learned wasn't as sweet it seemed.
Like Joe, fans discovered that Love was hiding a dark past of her own. Not only did she stalk Joe while he sneakily followed her around, viewers learned that Love was also a cold-blooded killer, having slit Joe's neighbor Delilah's throat after finding her locked in his storage unit cage.
She later kills Joe's ex-girlfriend Candace who followed him to Los Angeles to ruin his life.
After that shocking turn of events, Joe becomes afraid of Love.
The season concludes with Joe finding out that Love is pregnant with his child. Rather than running for the hills, Joe stays in a relationship with Love, and the two move into a quaint suburban home to raise the child. But their love story doesn't end there as You Season 3 sees the pair experiencing even more twists and turns.
Penn Badgley says Joe and Love are 'each other's arch nemesis' in Season 3
For the last two years, fans have been speculating what could possibly be in store for You Season 3.
While the story details have yet to be revealed, actor Penn Badgley previously dropped a few hints about his murderous character's relationship with Love in the upcoming season.
While speaking with TVLine in December 2019, Badgley revealed that You Season 3 doesn't show Joe and Love living happily ever after.
"Even Joe says, pretty unequivocally, that they're not soulmates," the Gossip Girl actor told the outlet. "He's afraid of her at the end. Basically, it's set up for Season 3 in a way where they would be each other's arch-nemesis."
As for whether trouble will ensue due between the pair in Season 3, Badgley's not sure what the show's writers have in store.
"It's definitely a dangerous cycle," he said. "It's kind of like old patterns and habits. We recognize them more as we get older, and we often find that they're extremely hard to break. Maybe that's what we're seeing with him? His particular cycle is so awful. Technically, he has improved. Yes, he was going to kill Love, but he stopped when she told him she was pregnant. I really don't know what's in store there."
The actor compared Joe and Love's relationship to a Chinese finger trap
A month after his interview with TVLine, Penn Badgley spoke more about Joe and Love's Season 3 relationship while appearing on SiriusXM.
Though the actor still didn't know much about the upcoming season of the hit Netflix series, he shared his speculations for what viewers can expect to see in the forthcoming installment.
"I think it's actually kind of like going to be an examination of marriage in a way. To me, what Joe has never had before is he's going to be in a relationship with somebody that he's… it's like a Chinese finger trap," Badgley explained. "He's going to always be worried that [Love] will kill him or, I don't know, the child? I'm not even sure. It's sort of perfect because they are going to see each other as their arch-nemesis, which in a relationship, past a certain point, you always are threatening. It's not right, but it's the way that people view it, and it's unfortunate."
So, based off of Badgley's interviews alone, it seems that Joe and Love's relationship is a ticking time bomb in You Season 3. Whether they stay together throughout the entire season remains unclear, but from what we can tell, the new season will be just as crazy and mind-boggling as the first two.
Season 3 of You will return sometime later this year.